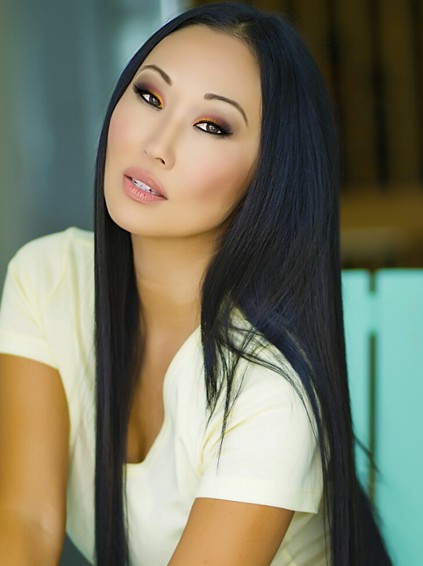 Asian American actor Candace Kita spent her early childhood living in the United States and throughout Europe, attending the American School in London and the Antwerp International School in Belgium. At 11, she began her professional career acting opposite Ruta Lee in South Pacific. She also played classical flute for 12 years and was invited to play in the Palm Beach Atlantic Symphony Orchestra as a teenager.
At 16, she began modeling after being scouted while waiting for a friend in a hair salon. She balanced modeling and her education, finishing college with a BA majoring in philosophy and contemporary religion. She was also the Fellowship recipient her senior year, voted most outstanding student by members of the faculty. During this time, Kita became fluent in American Sign Language and worked with deaf immigrants by helping them to pass their citizenship exams. She was offered a full scholarship to Texas A & M for a Master's degree in oceanography, but turned it down to pursue her goals of becoming an actor and model. She later worked on a master's degree in sociology. Her modeling career was managed by the Wilhelmina Agency in Los Angeles. She appeared in print campaigns for Neiman Marcus, Nordstrom, Marshall Fields, Takashimaya among others.
After moving to Los Angeles, Kita found success as a series regular lead in 40 episodes of FOX TV's "Masked Rider". She also had series recurring roles on "Son of the Beach", "Dance Fever", "Complete Savages" (opposite Mel Gibson) and "Running With Scissors". Some of her feature work includes "I Now Pronounce You Chuck and Larry" with Adam Sandler and Kevin James, " The Bad News Bears" with Billy Bob Thornton and Greg Kinnear, "Barb Wire" with Pamela Anderson, "Wild Side' with Christopher Walken and Anne Heche, and "Rennie's Landing" with Jennifer Garner and Peter Facinelli.
Kita is also active in charity work and supports Read Across America, The USO, the Humane Society and PETA. She was quoted in Variety, "Someone called me the Ann-Margaret of today's generation for supporting the troops. I wear that title proudly."
She has also campaigned to make the anti-stalking laws more stringent in the state of California. Most recently, she wrote a book, The Hottie Handbook: A Girl's Guide to Safety, a safety primer for women of all ages. She has also been interviewed by CBS, CNN, The Actor's Network, The ID Network, The Jay Leno Show, Inside Edition, among others, emphasizing safety for people in the Entertainment Industry.
Candace is the Managing Editor of Viva Glam Magazine and most recently, she was voted one of the Top Ten Most Beautiful Women by Rukus Magazine. She divides her time between Los Angeles, New York and Texas.