JUST ANOTHER DAY IN PARADISE...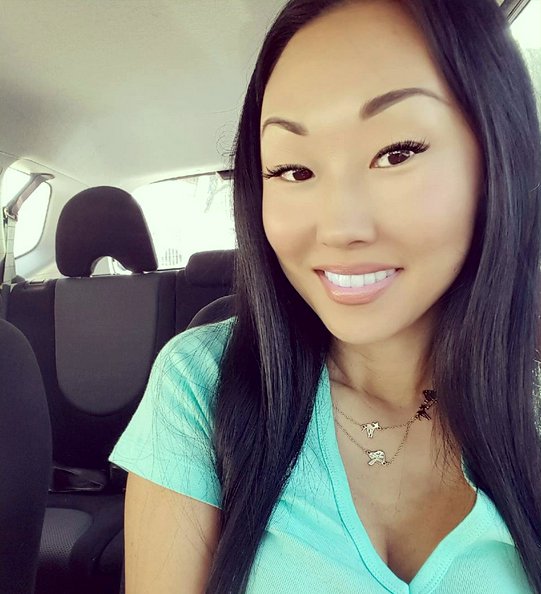 August 15th
Just another day in sunny California in the middle of summer. It is 100 degrees right now! This weekend I'm off to a job in Vegas where it will be 109! Bikini time for sure!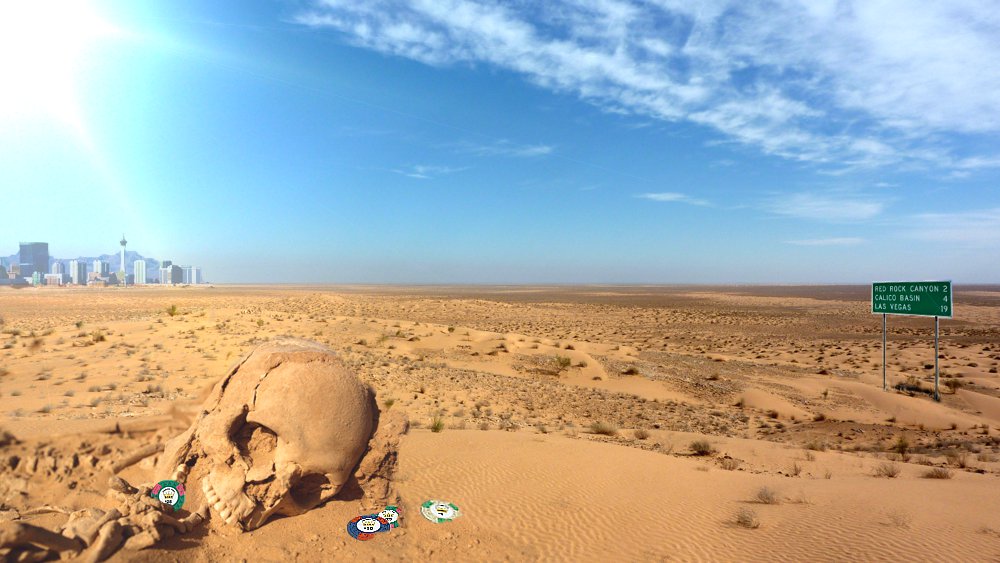 SWIMSUIT CENTERFOLD SCREENING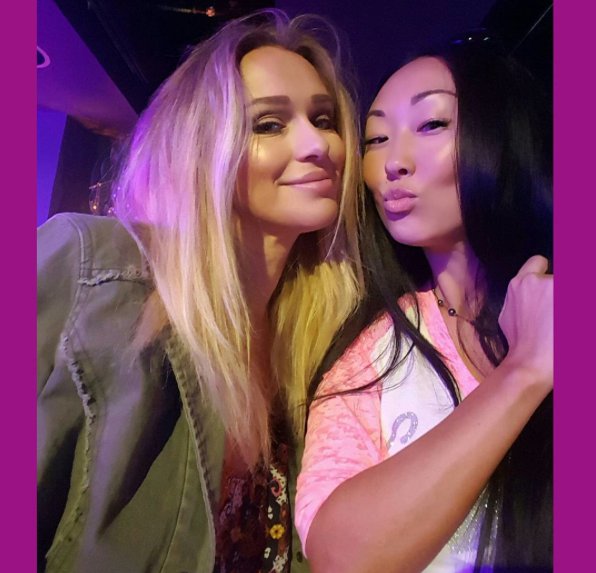 August 10th
It was great catching up with friends from Cancun, Mexico here in Los Angeles at the screening of the first episode of Swimsuit Centerfold. The first episode looks amazing and it reminded me of what a wonderful time we had at the Grand Oasis Resort and Spa in Cancun! I can hardly wait to see what's next! A special thank you to Swimsuit Centerfold, VIVA GLAM Magazine and The Friend Movement!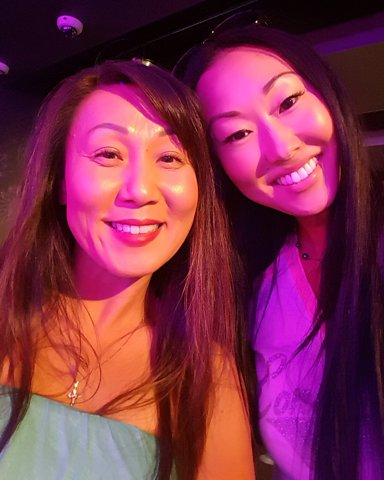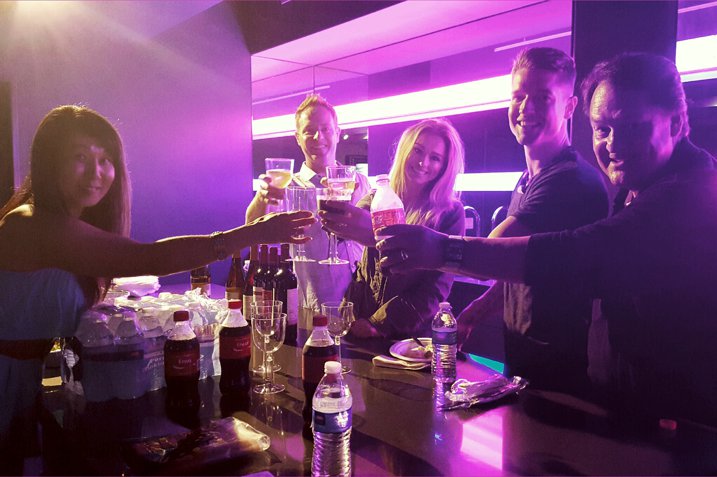 EXACT Digital Photoshoot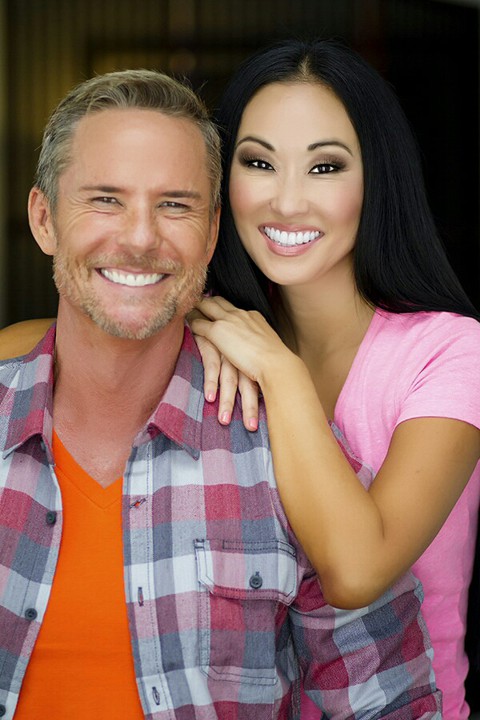 August 1st
This week we had the pleasure of working with Andy Rooney and Exact Digital. Andy is known for his amazing lighting which you can see in these images. To shoot with Andy, visit www.exactdigital.com, @exactdigital!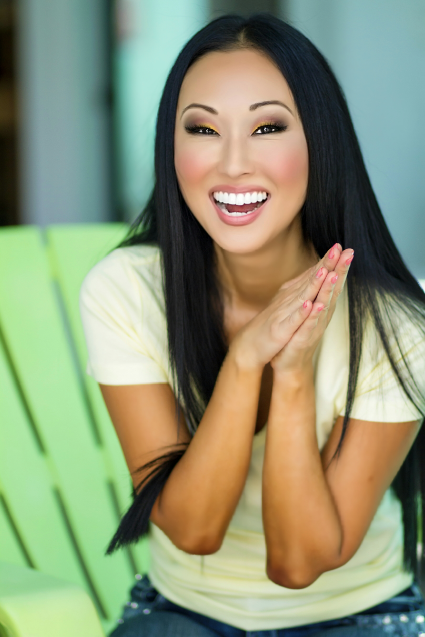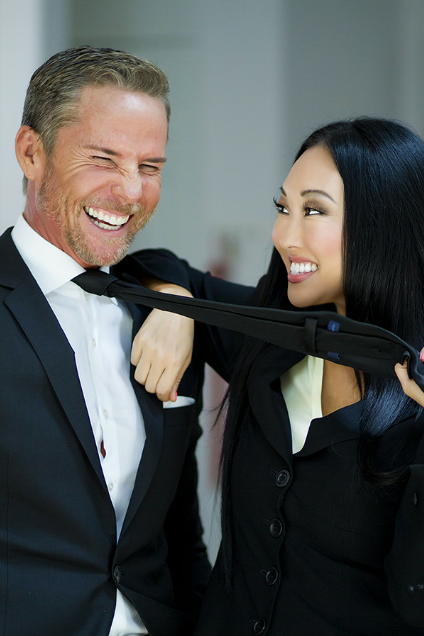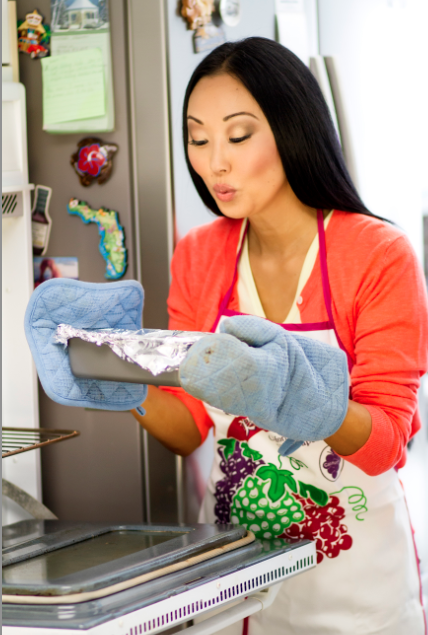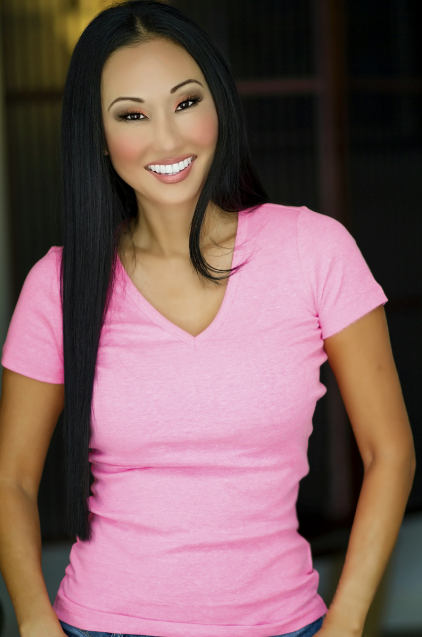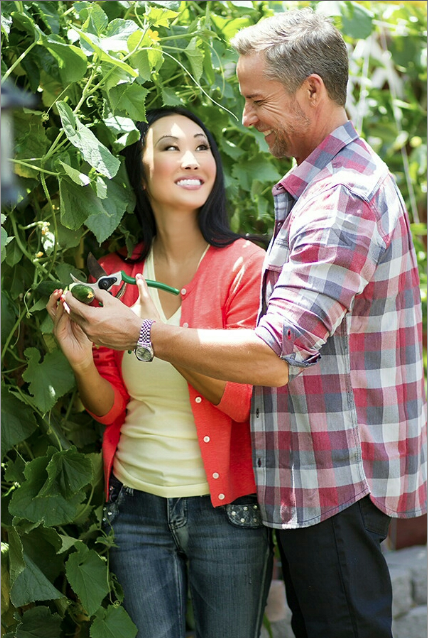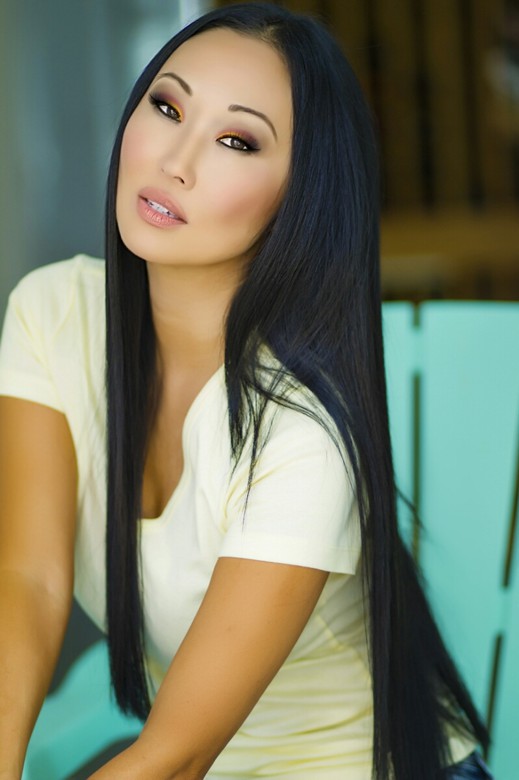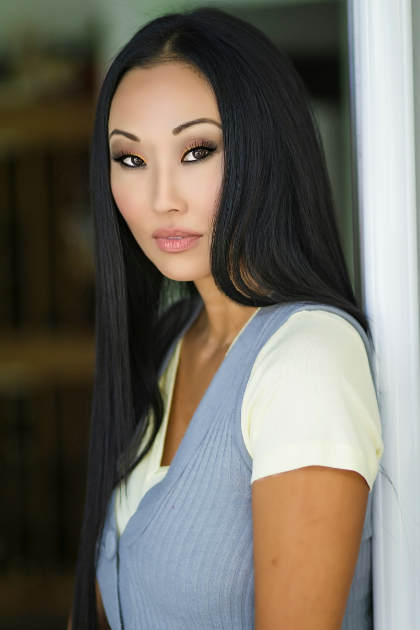 PALM SPRINGS part deux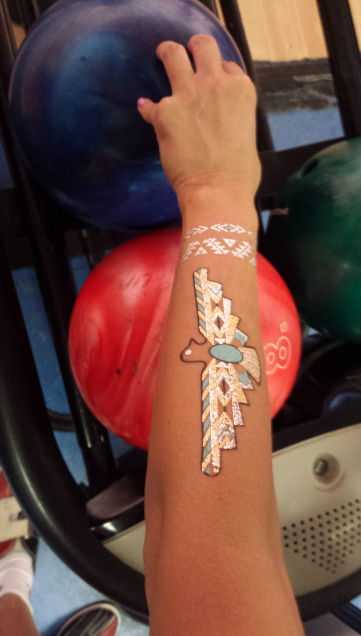 July 10th
Here are a few more pics of our trip to sunny Palm Springs. Snow cones, bowling, swimming and sitting in the sun was the order for the day. And we are very thankful and appreciative to VIVA GLAM for it!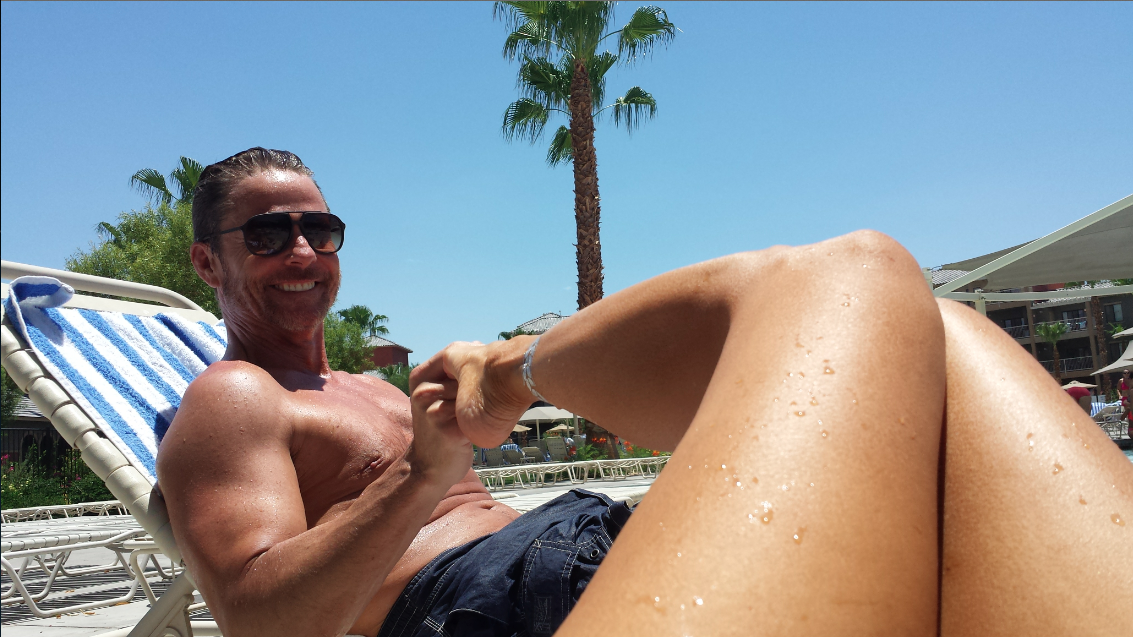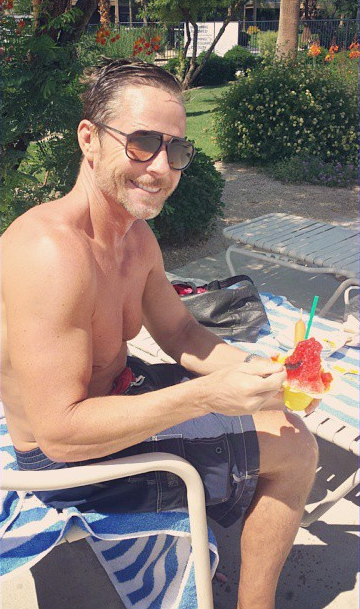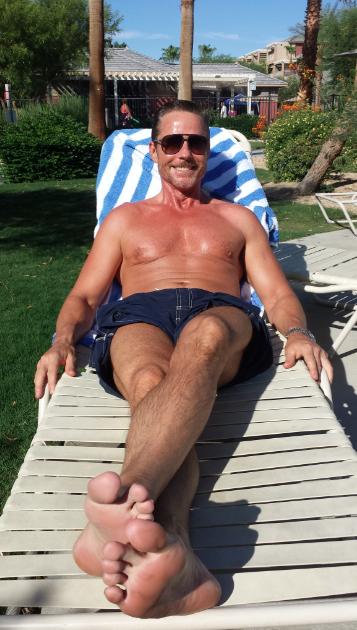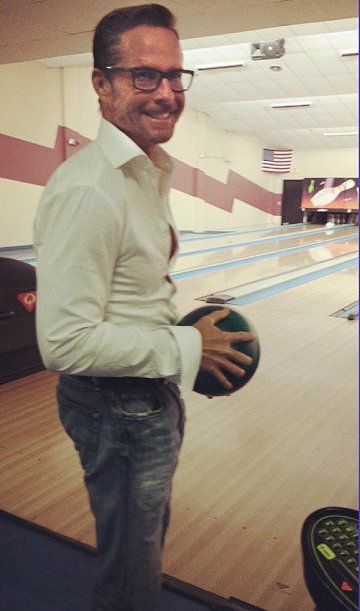 A PALM SPRINGS GETAWAY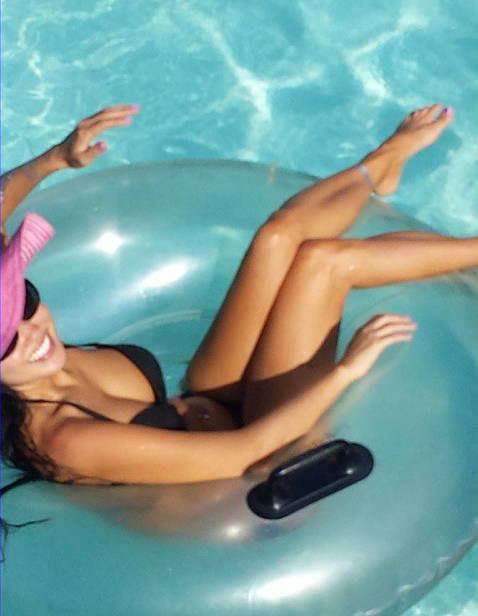 July 10th
A special thank you to the Editor-in-Chief of VIVA GLAM Magazine who allowed us to use her timeshare in Palm Springs this week for a quick getaway! We spent most of the time at the lazy river and pool because it was 107 degrees! Loved the beading classes, golf, bowling and watching movies at night!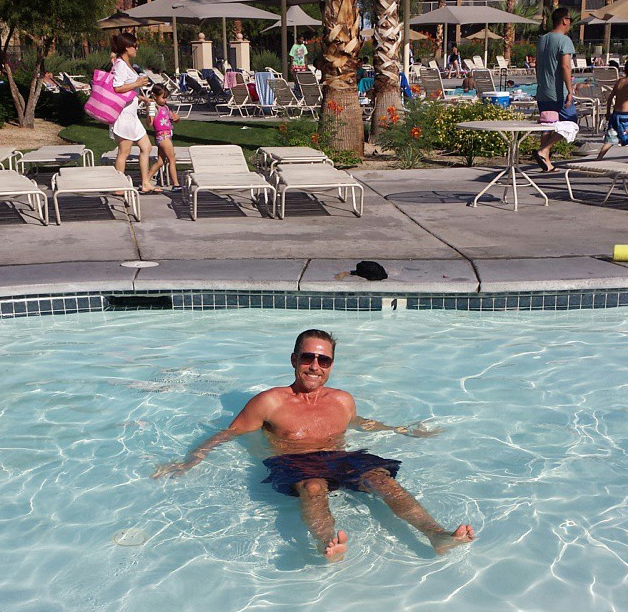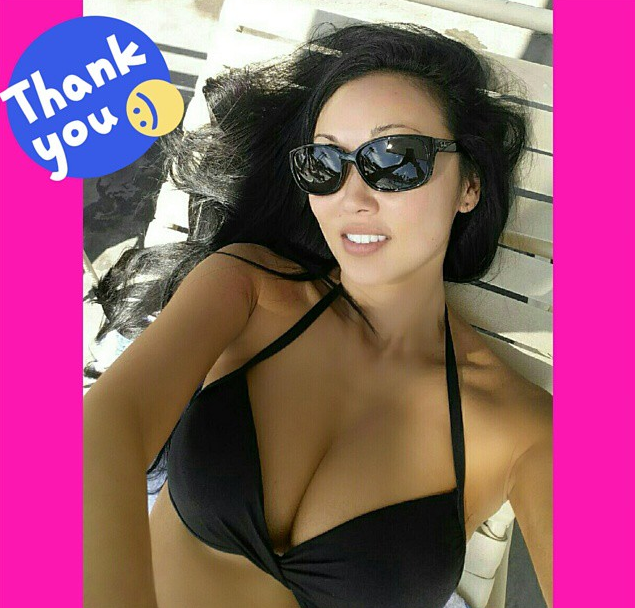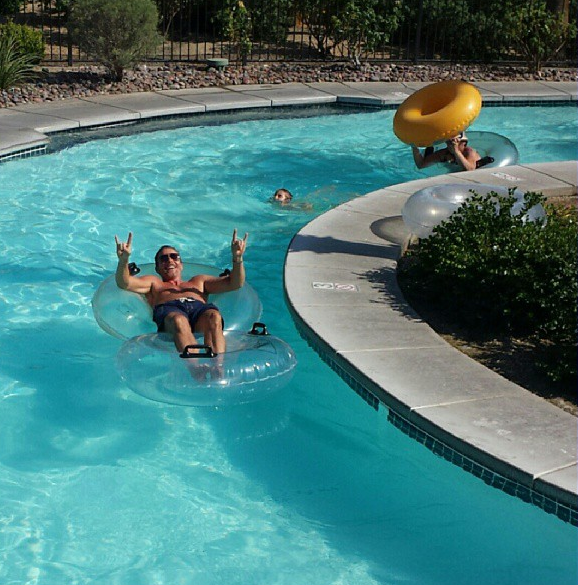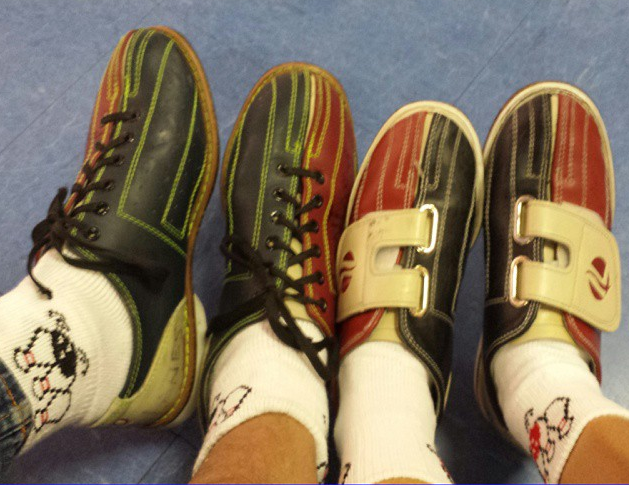 The Fourth of July Redux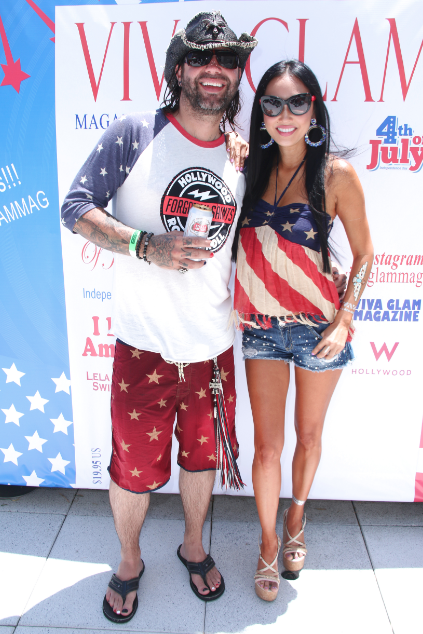 July 6th
Here are some more pics of our 4th of July at the W Hotel in Hollywood, CA with VIVA GLAM Magazine!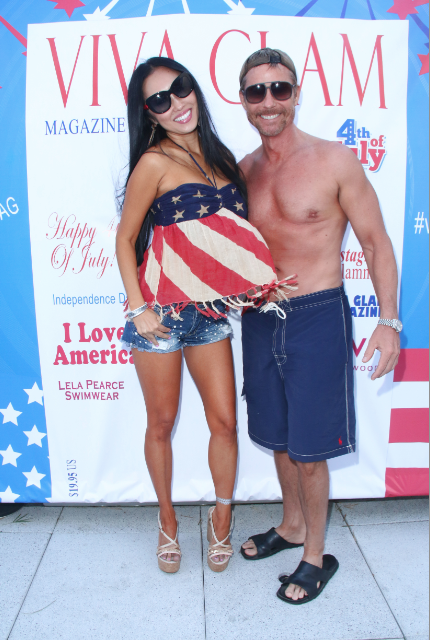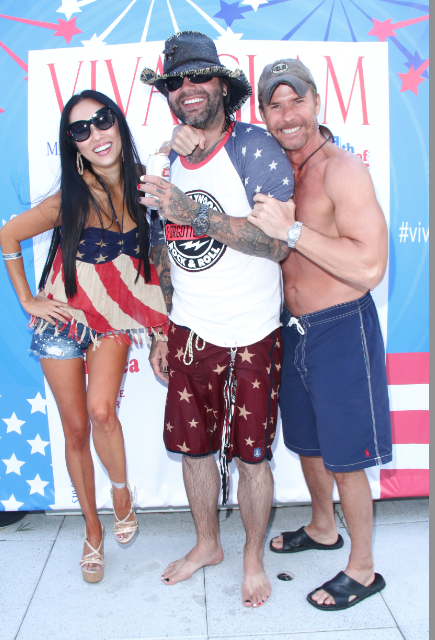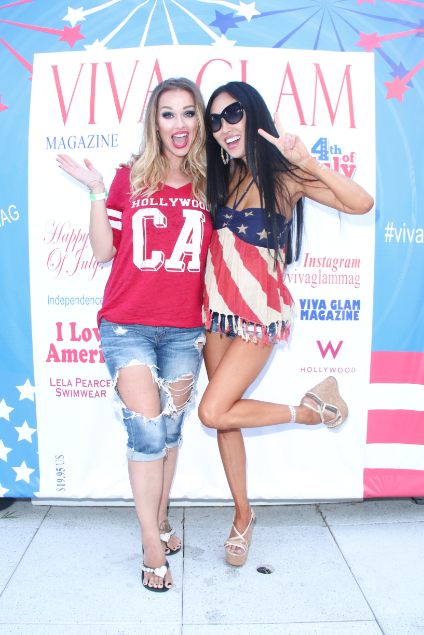 The Fourth at the W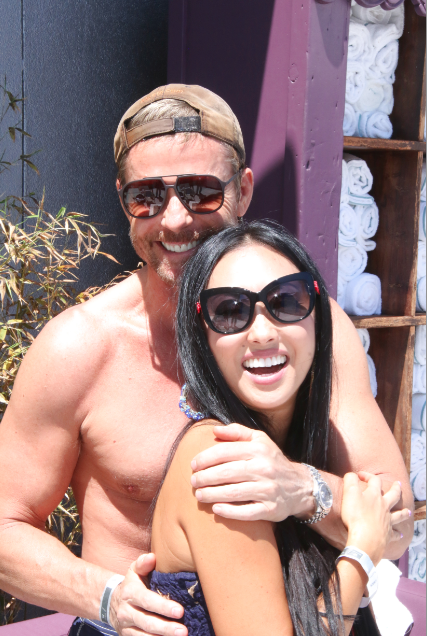 July 5th
Happy 4th of July! We were happy to spend it at the W Hotel in Hollywood, CA with VIVA Glam Magazine. We had a great time catching up with friends and making new ones!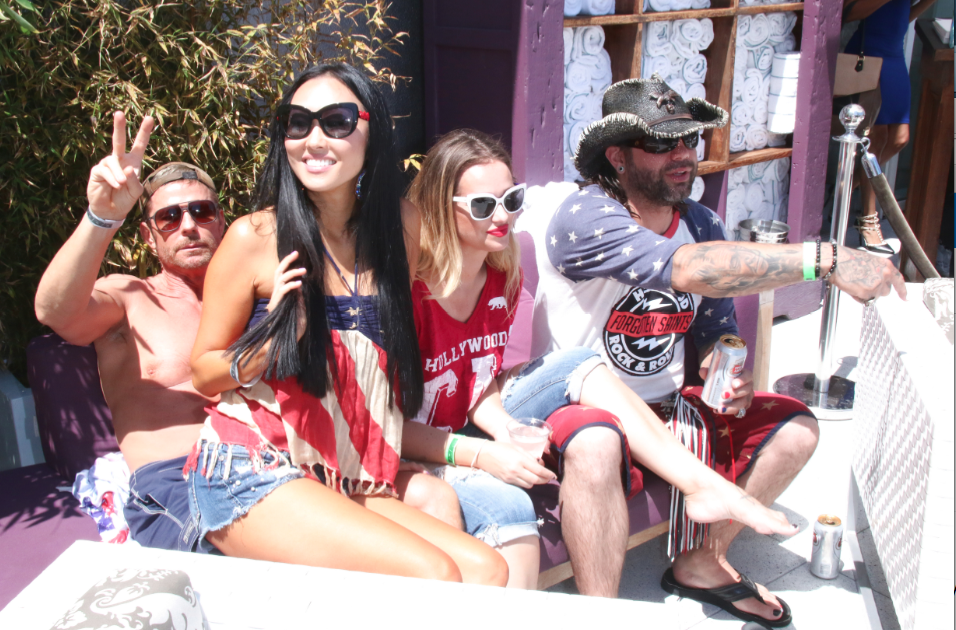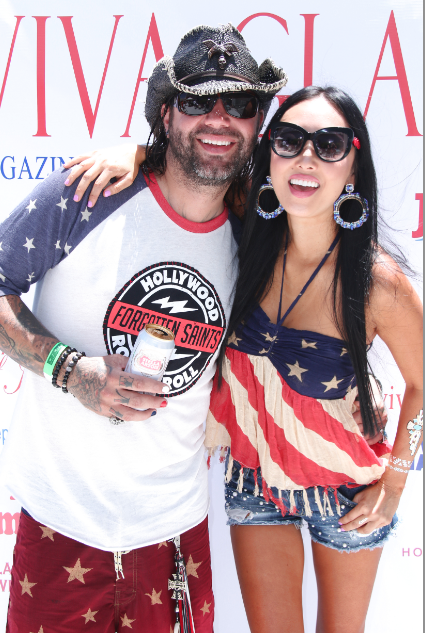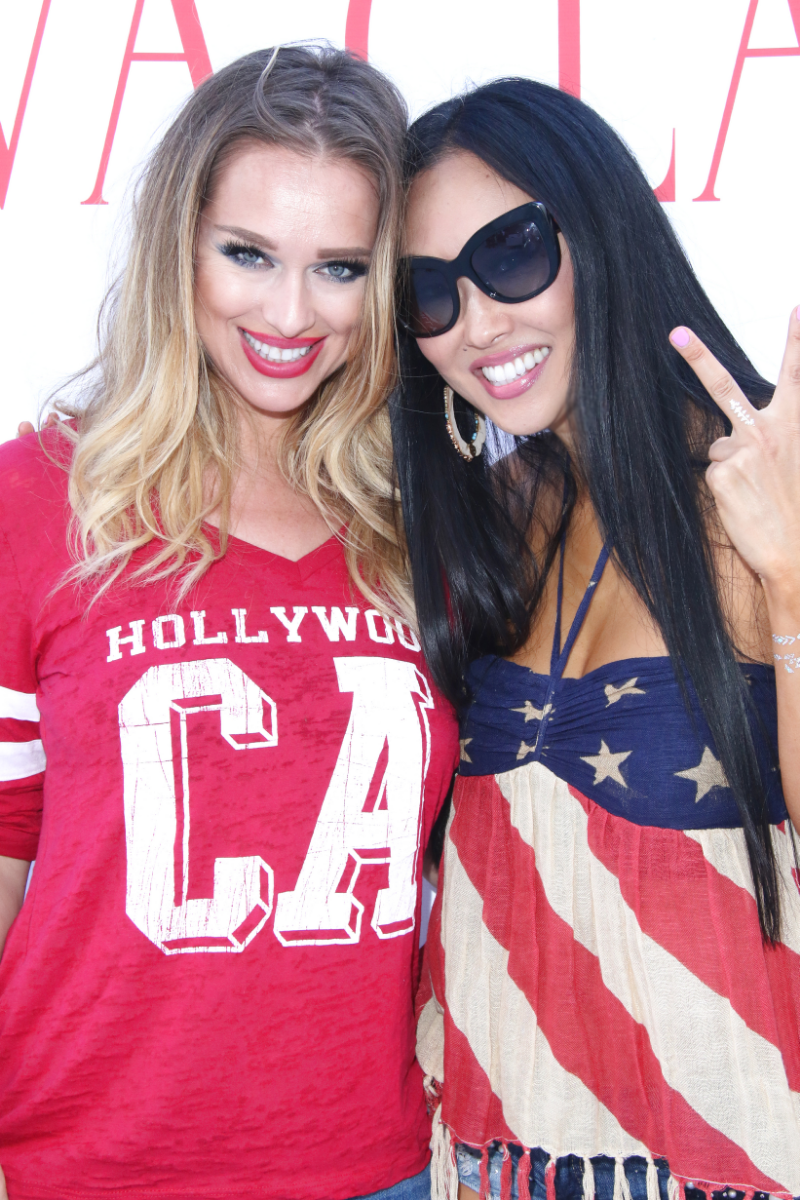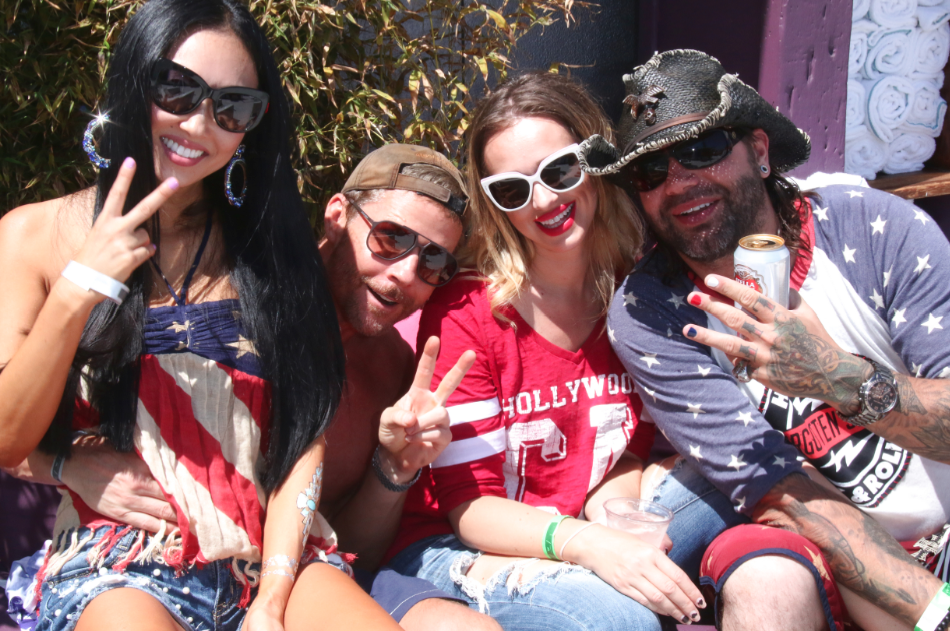 JOANNA KRUPA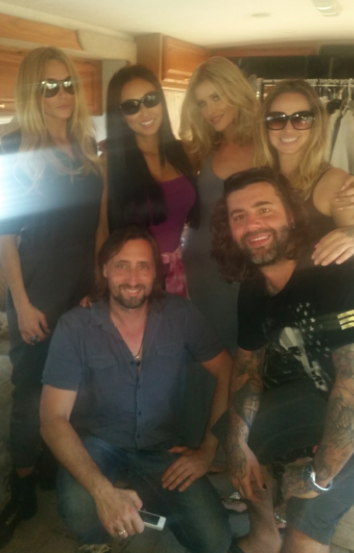 JUNE 20th
We had the opportunity to shoot the lovely Joanna Krupa in Calabasas, CA for the new issue of VIVA GLAM Magazine. What a stellar day it was with amazing wardrobe from stylist Holley Wolfe, hair by Angelica Curiel, photography by Deja Jordan, makeup and directing by Katarina Van Derham, PR by Oscar Rivera and video by Yan. We had a lovely catered vegan lunch and I ate way too many chocolate covered strawberries in addition to a bag of potato chips! Joanna is a beautiful person both inside and out and we look forward to working with her again!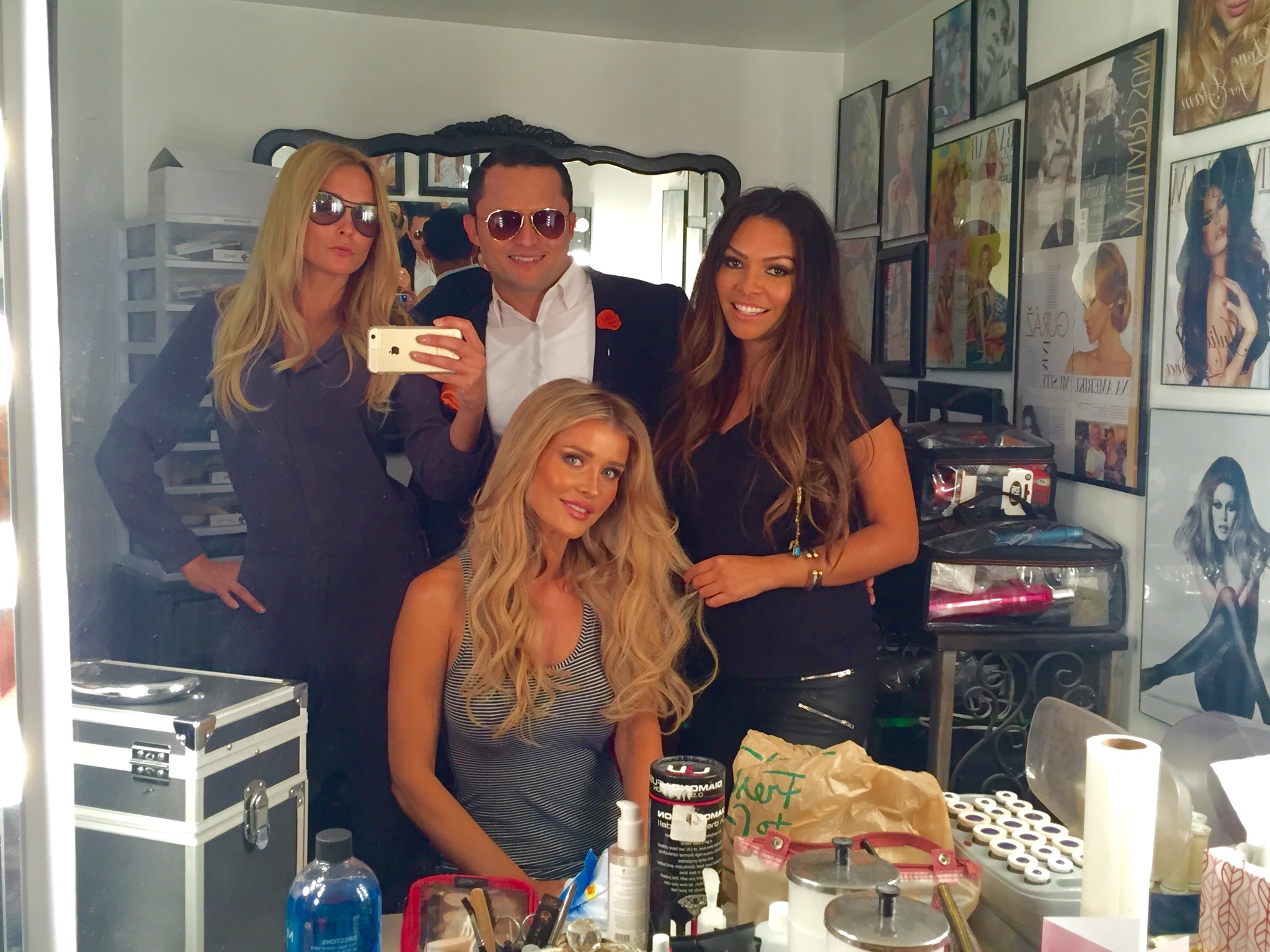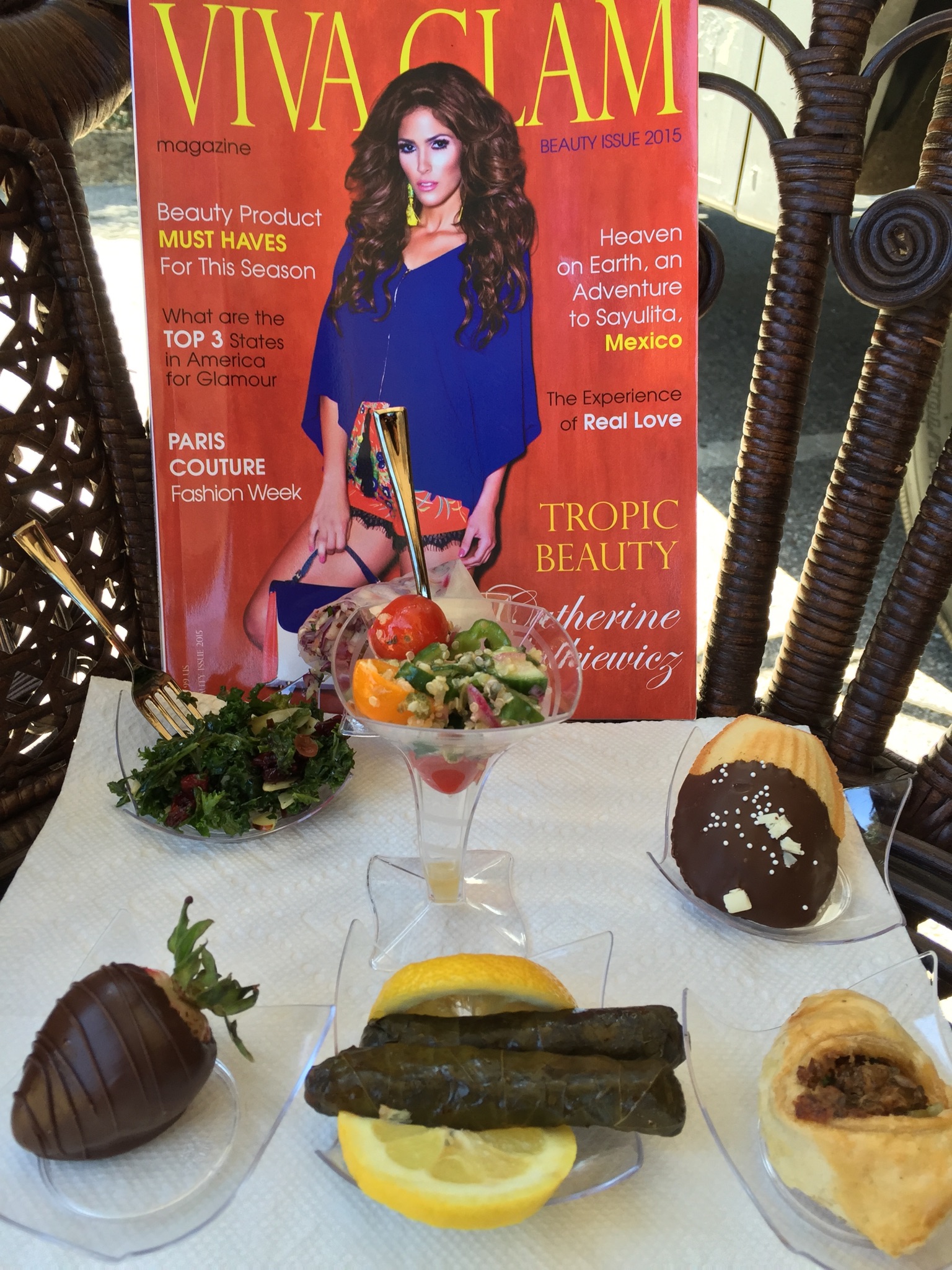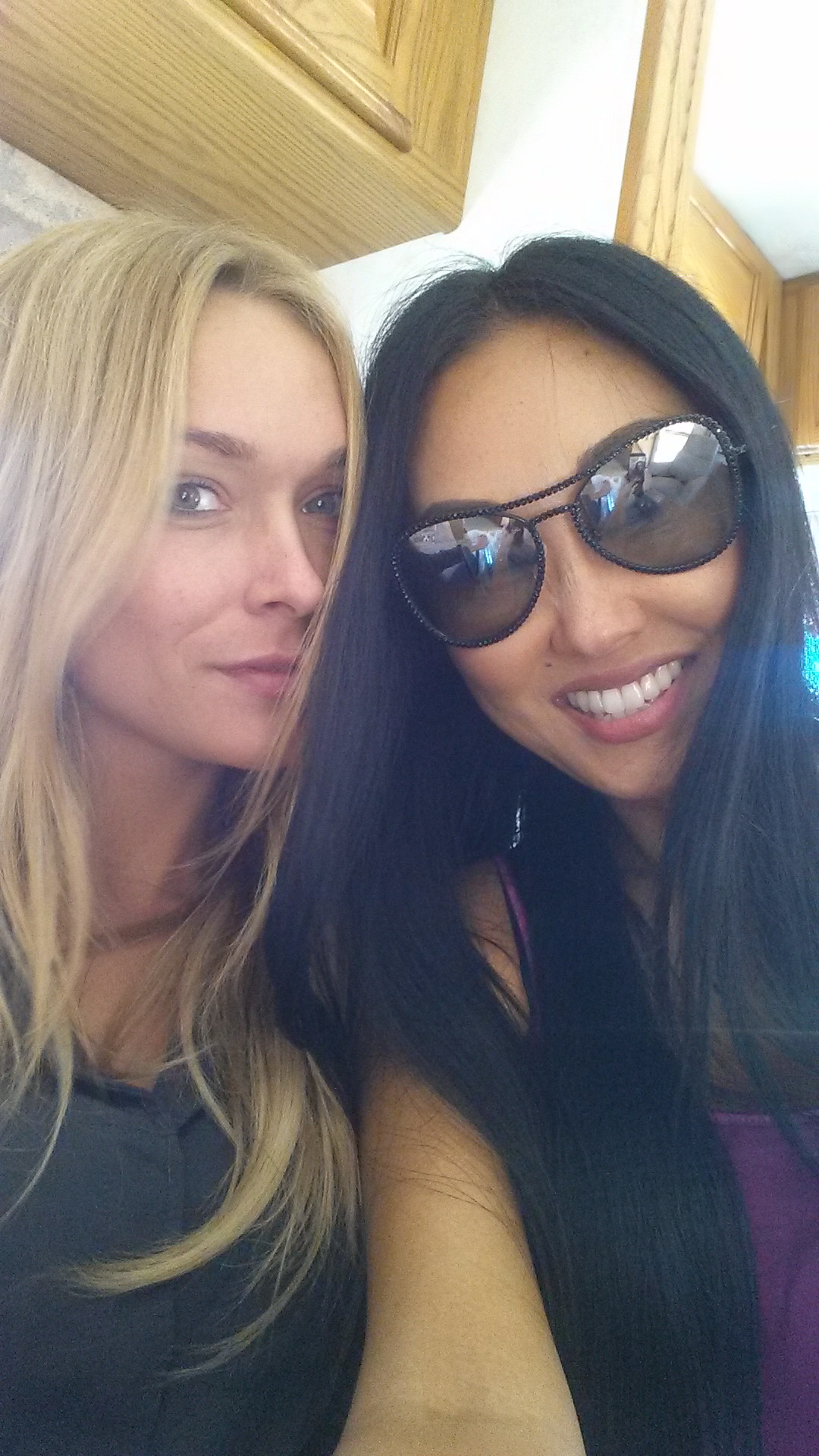 A DISNEY ANNIVERSARY PARTY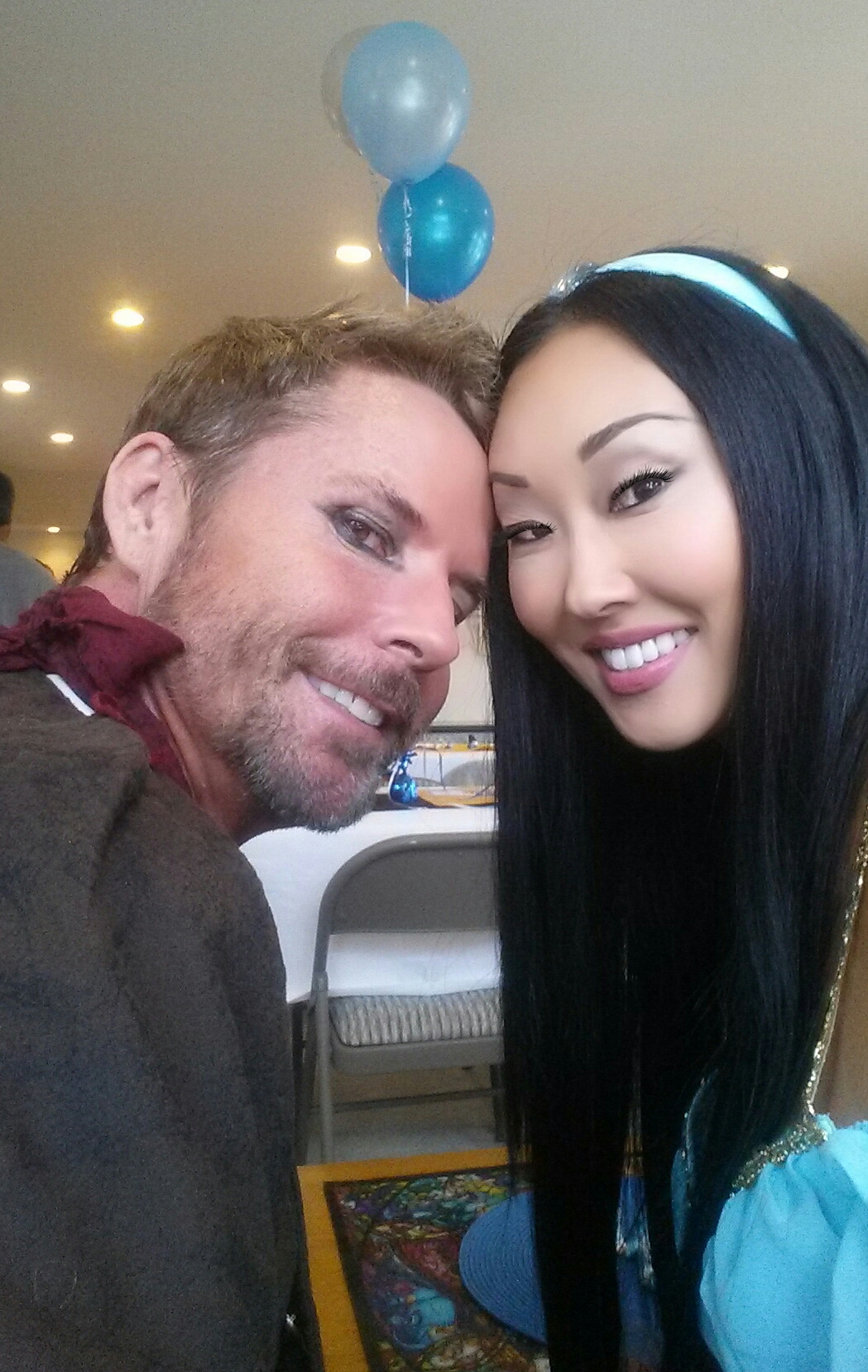 JUNE 10th
Recently, we had the opportunity to go to a Disney themed anniversary party! Somehow, it also included gambling so Captain Jack Sparrow and Princess Jasmine played 21, Blackjack, Poker, 3 card Poker and Craps! We even won the raffle and took home some great Disney memorabilia that included C,D and E tickets from yesteryear!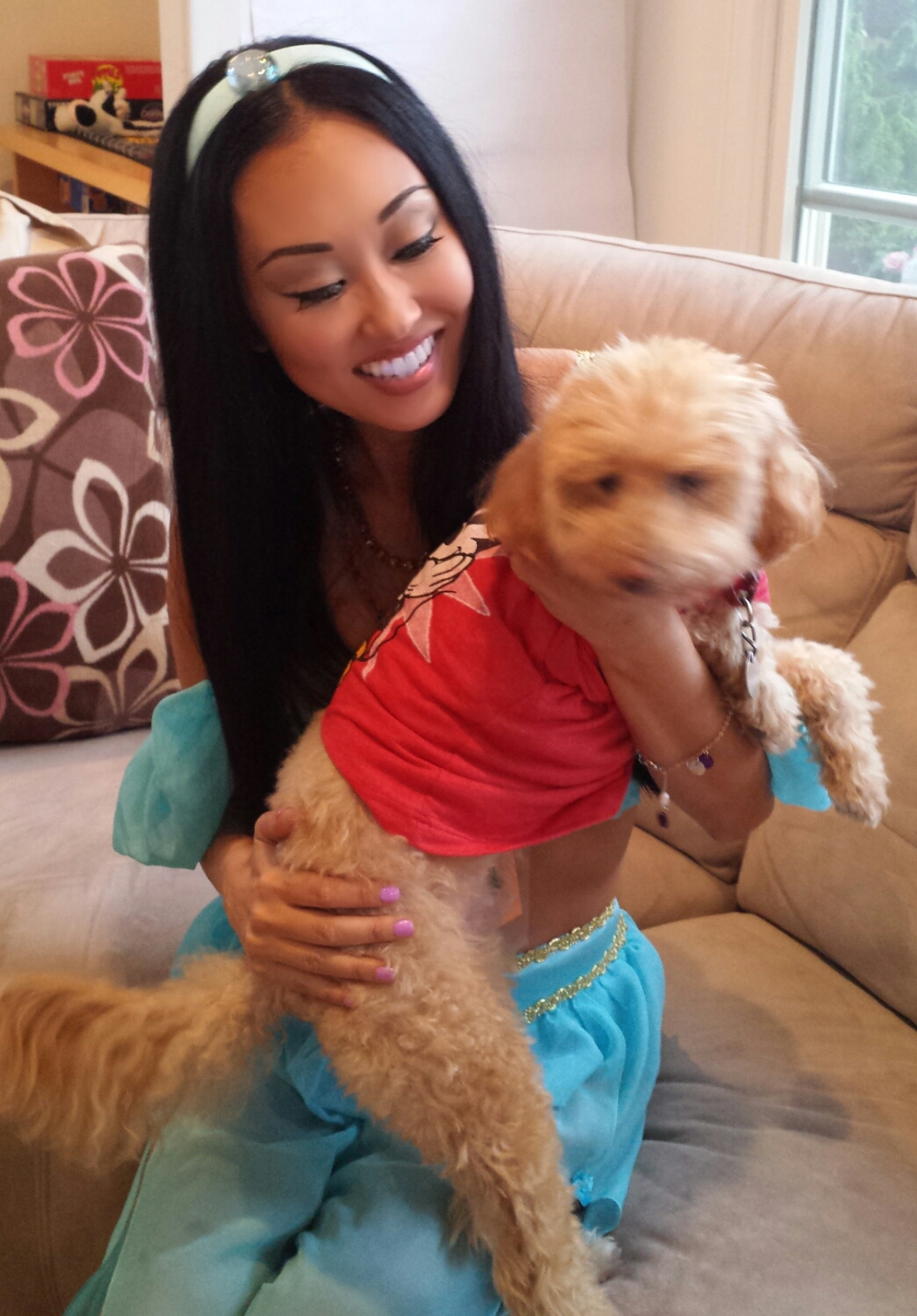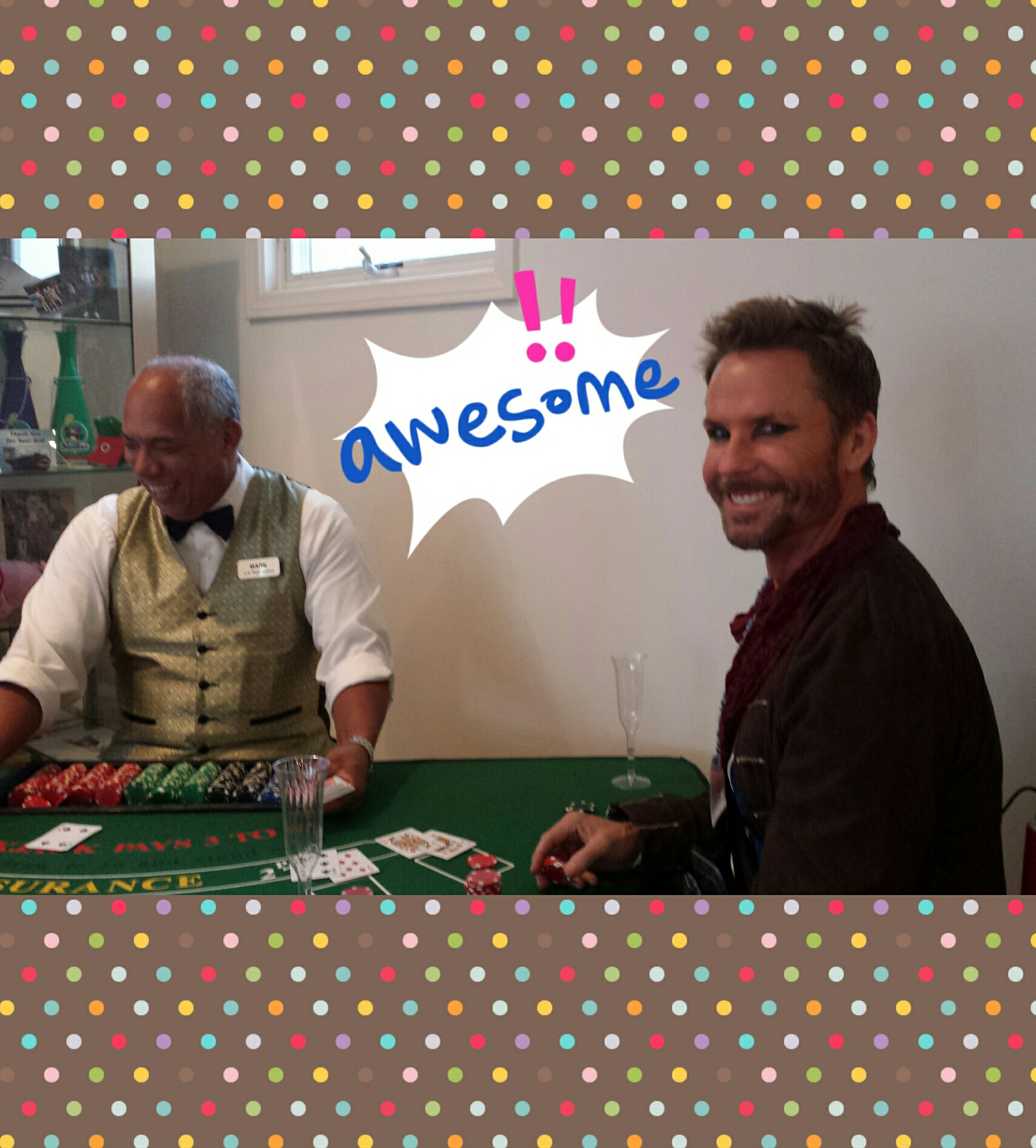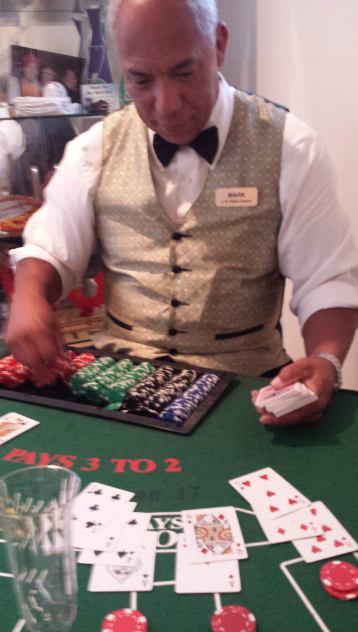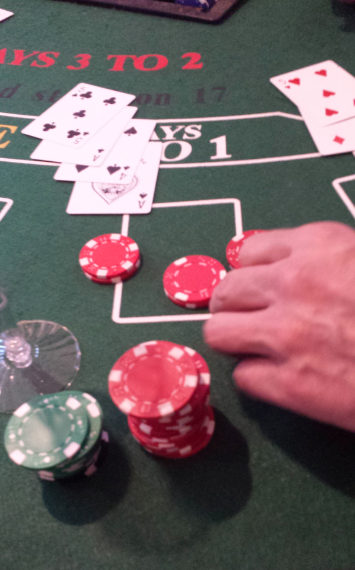 A Day at the Bench Warmer Penthouse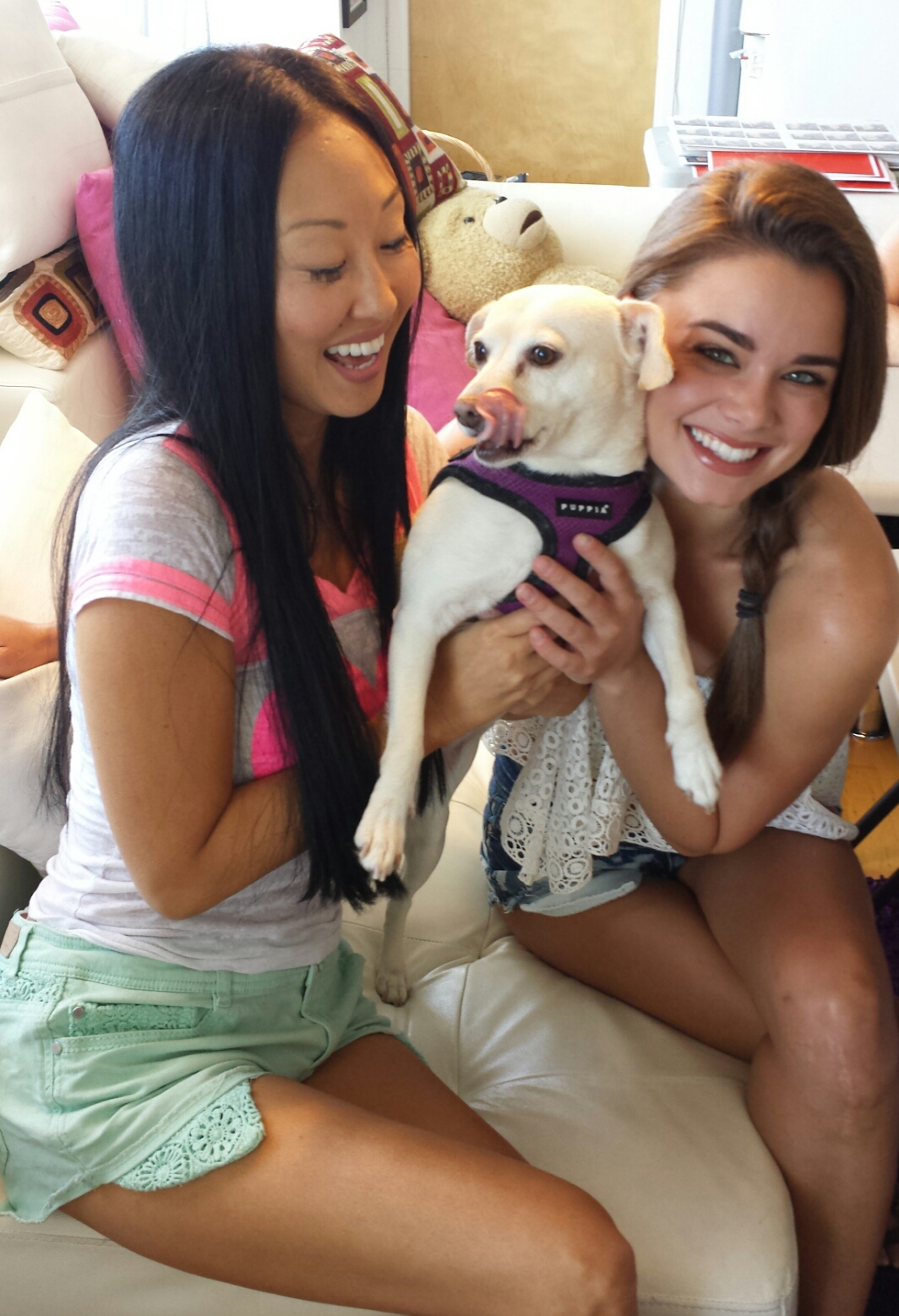 June 1st
I have known my friend, Brian, for many years now and he was one of the first people I met upon coming to Los Angeles. He owns a company, Bench Warmer, and I spent a great day at the Bench Warmer Penthouse recently catching up with friends. We all eat way too much when we are there and I had too many pieces of pizza, pasta and chocolate mousse! The penthouse is located above Sunset Blvd. with the best view of the Hollywood Hills. A great day with great friends!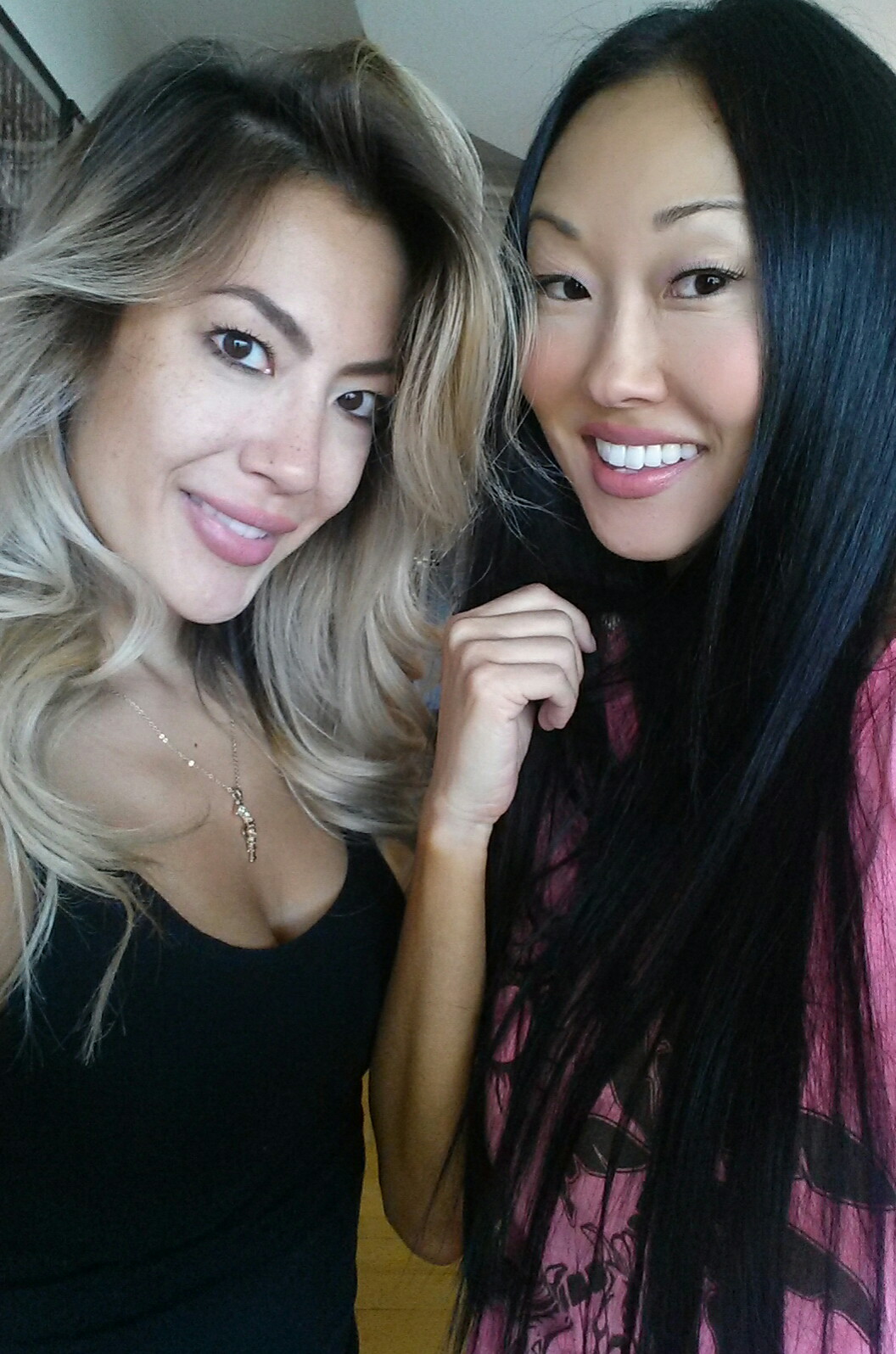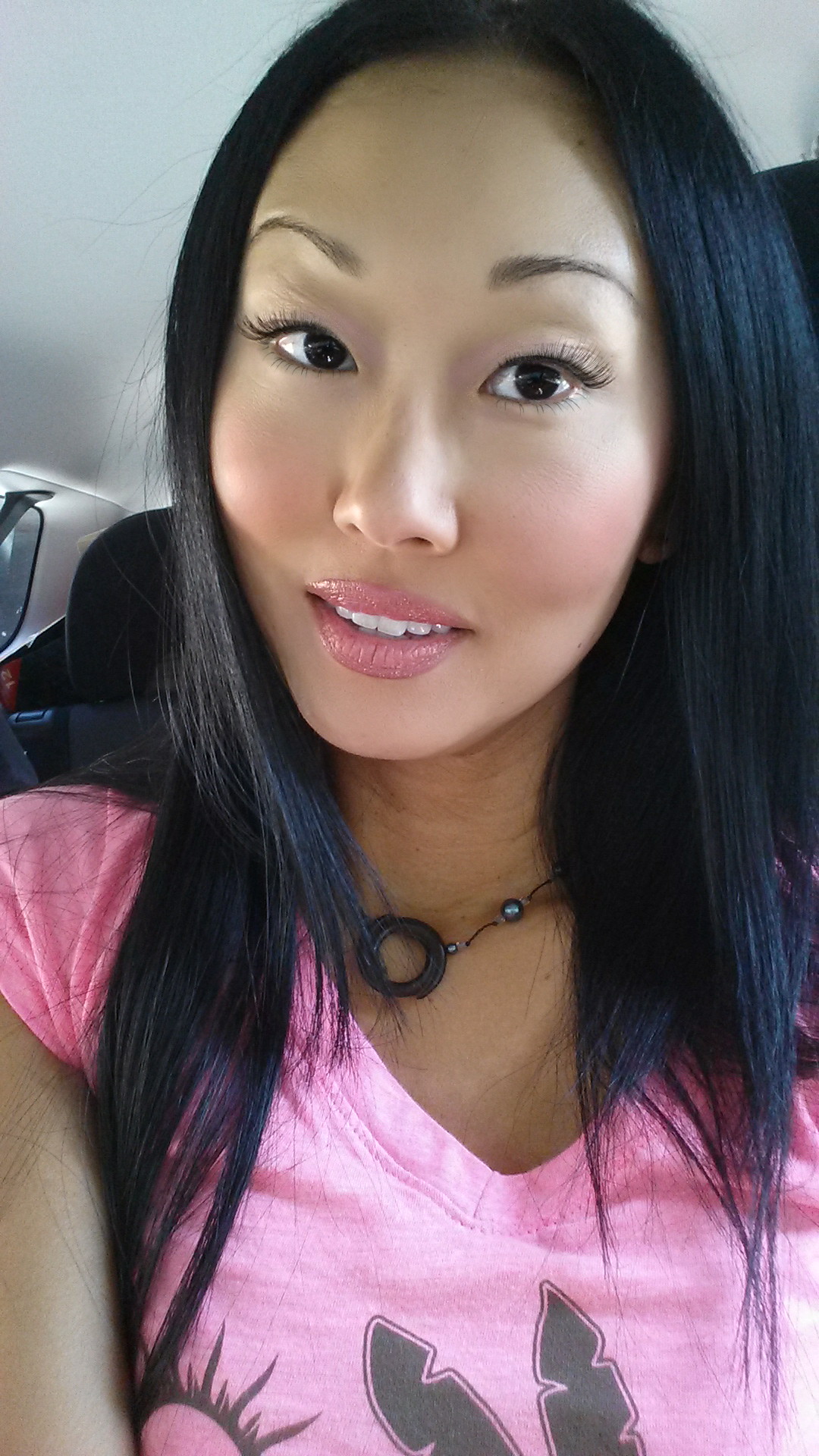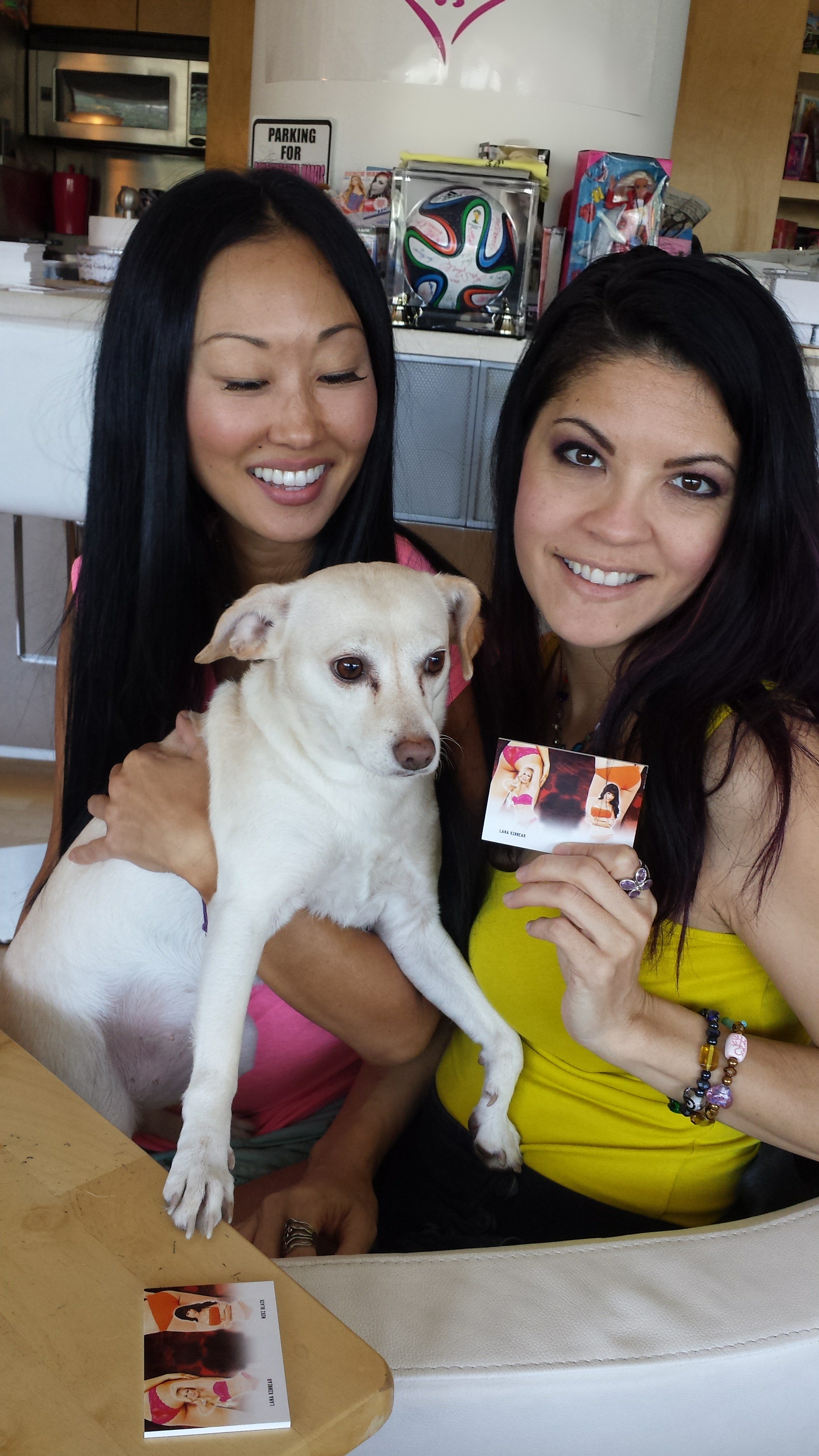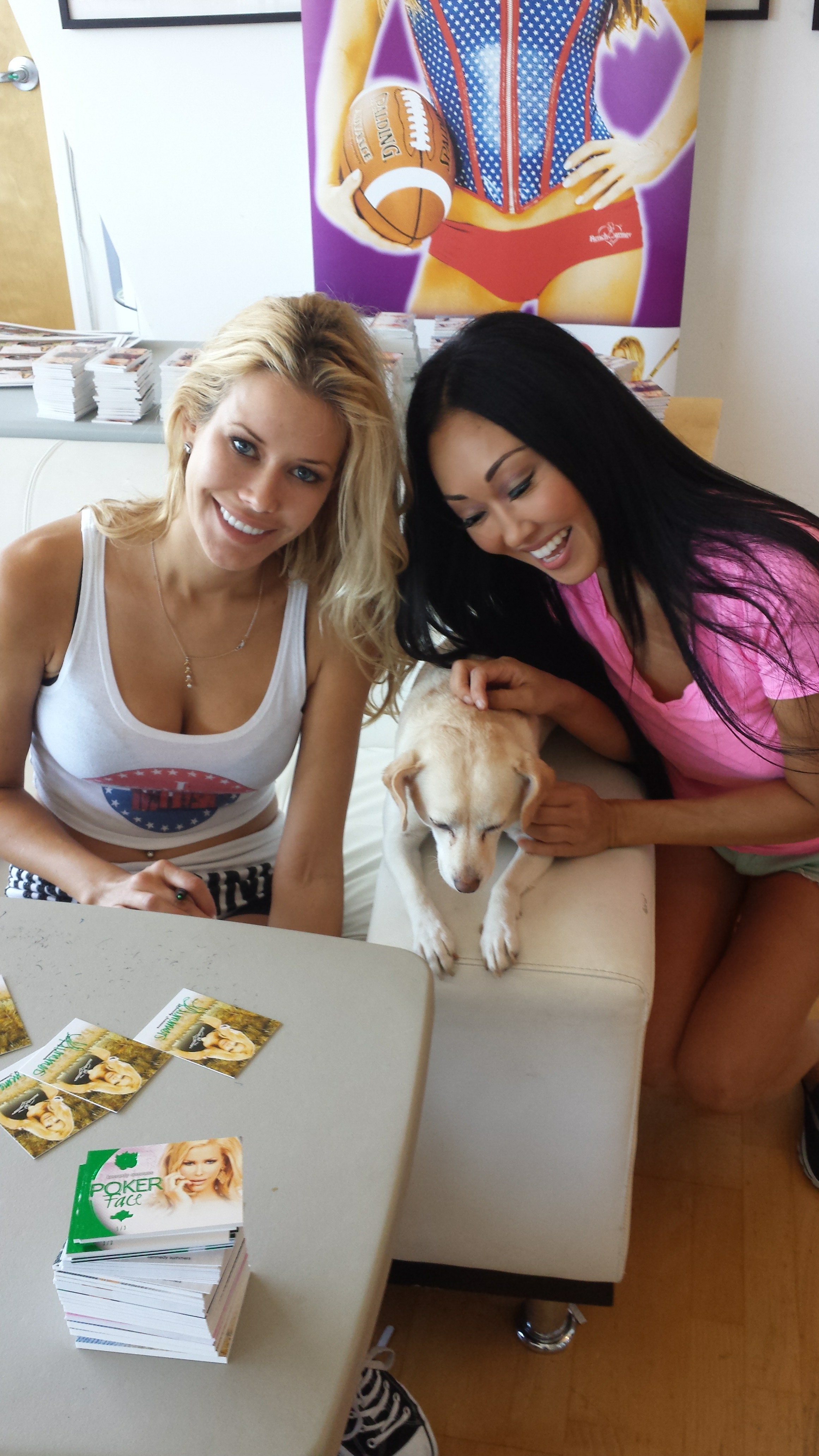 CANCUN, DAY 7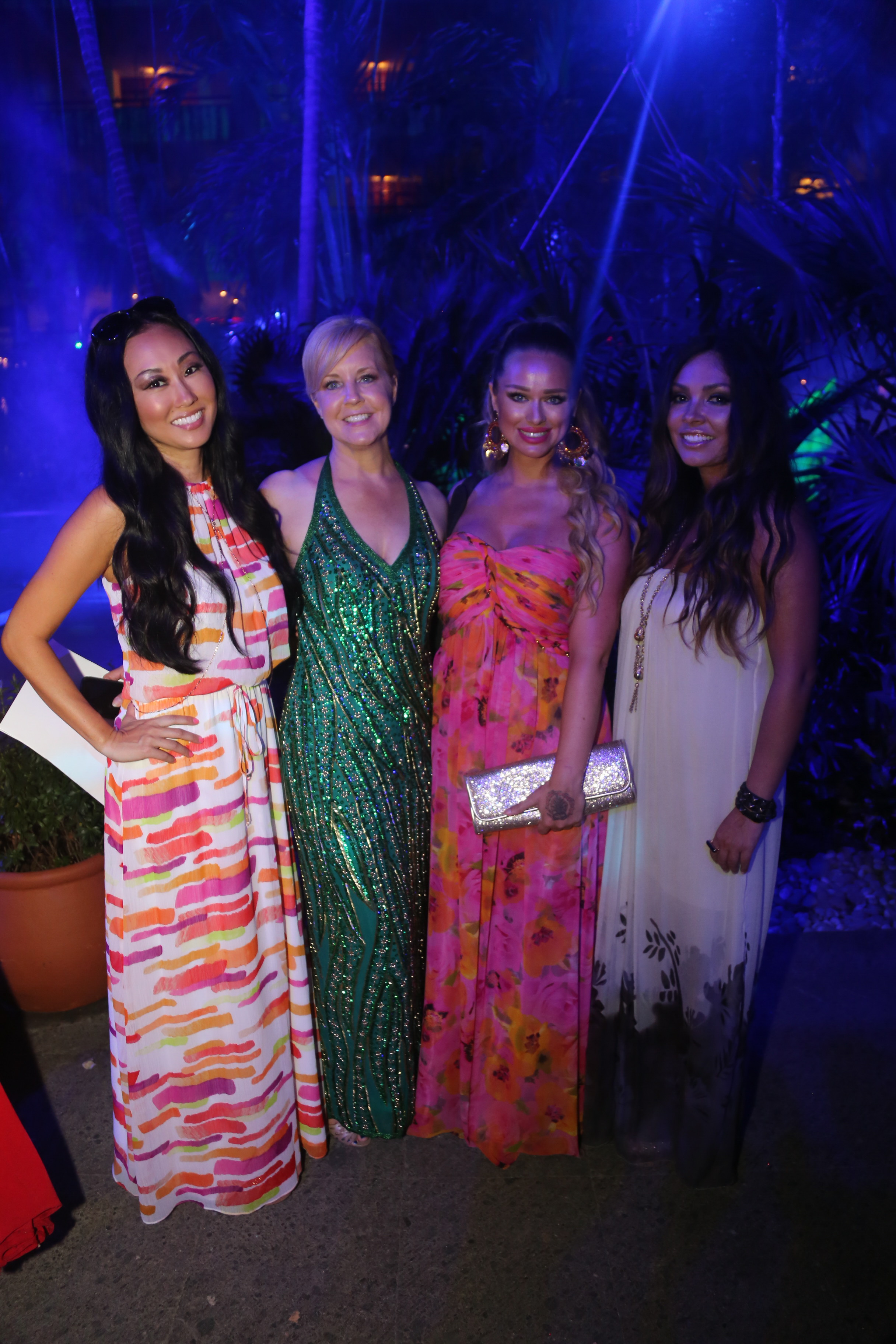 May 25th
Here we are on the final day in Cancun for the new reality series, Swimsuit Centerfold. The final round of judging was today and who was crowned Miss Swimsuit Centerfold? Well, we all signed non-disclosure agreements, so you have to watch the show in the fall to find out. But, in the meantime, here are some pics of the final, glamorous night. I'm with Katarina Van Derham, Editor-in-Chief of VIVA GLAM Magazine, Celebrity Hairstylist, Angelica Curiel, photographer Marcos and Ronnie and Deanna from Swimsuit Centerfold and The Friends Movement!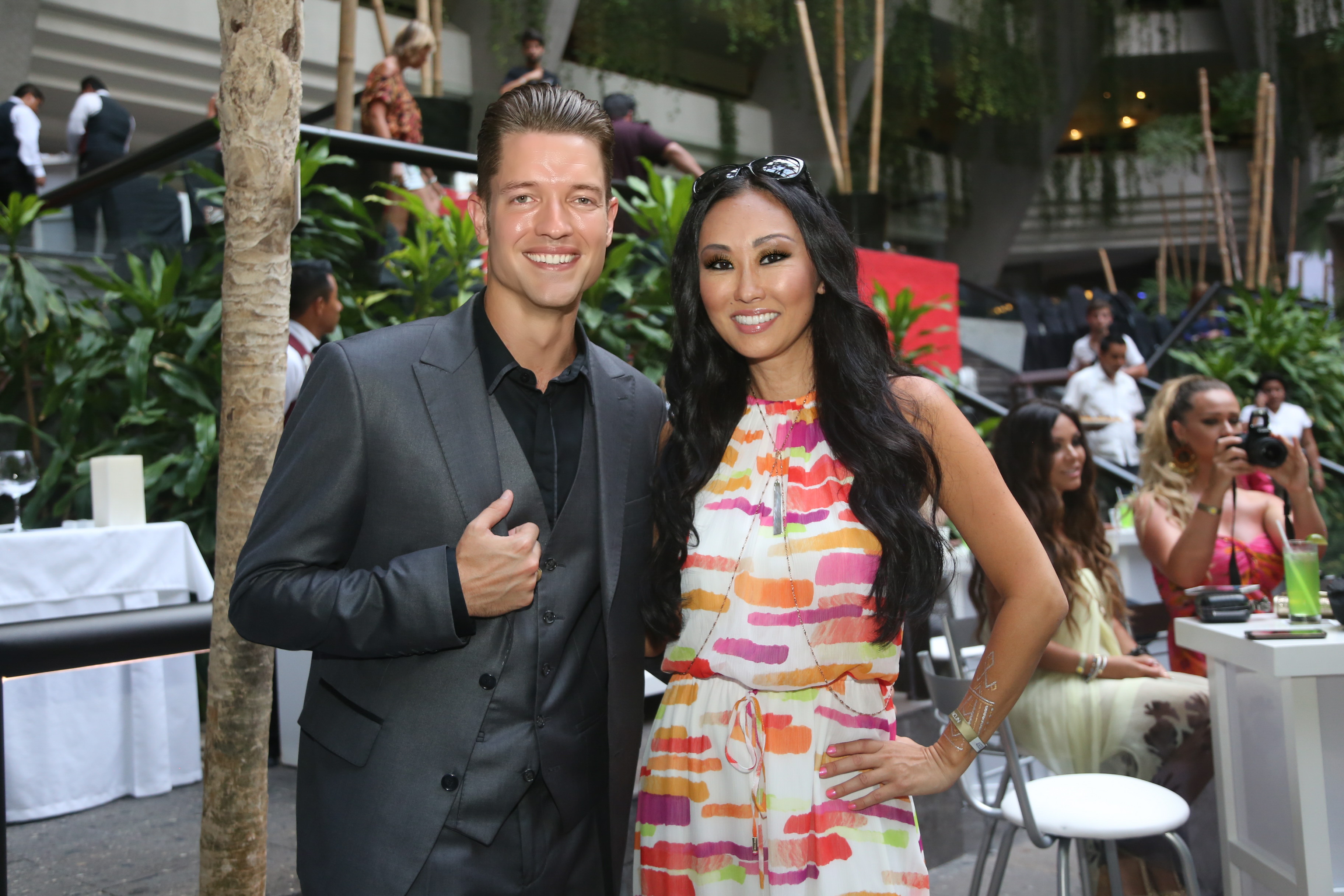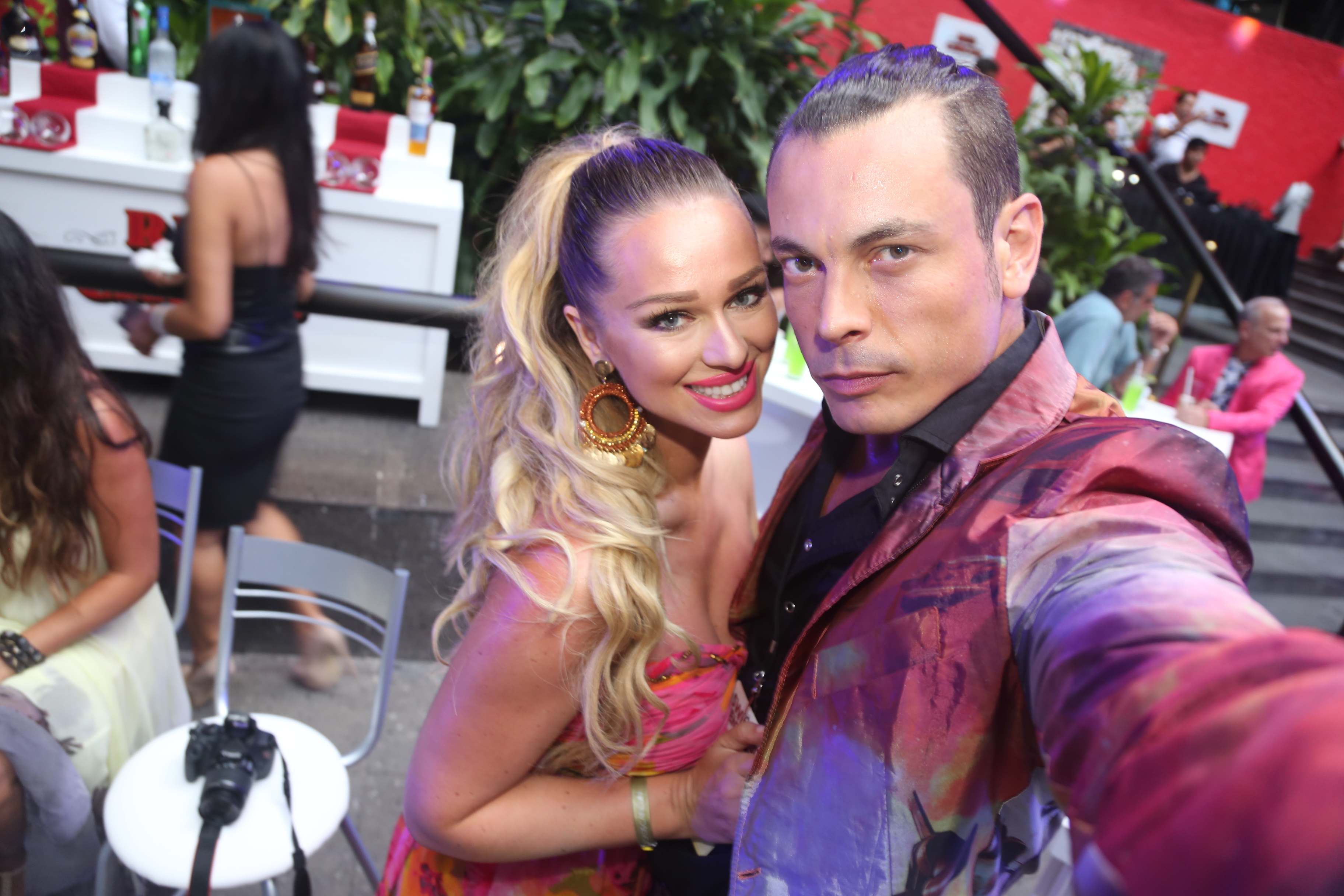 COSTA RICA DAY 3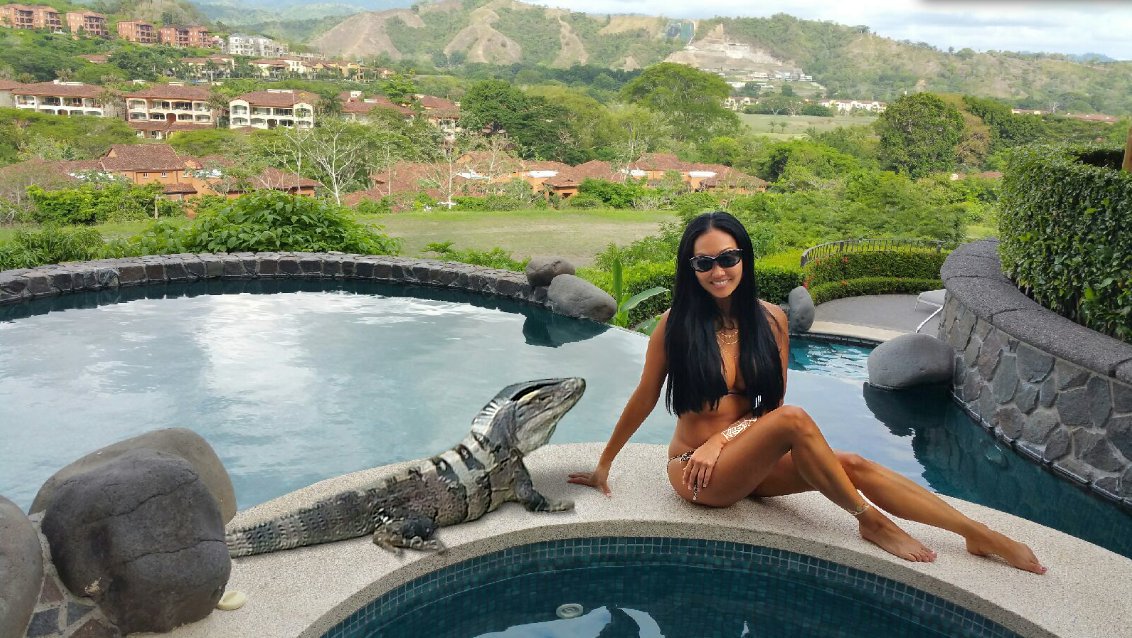 May 15th
Day three in Costa Rica was spent in the charming beach community of Manuel Antonio. It was a bit more humid than in Los Suenos, but the beautiful jungle canopy was a sight to behold. You can see a rather large iguana that we saw on the grounds where we were staying. And we ate vegan the entire time so I had to include a pic of the amazing falafel platter found right in the jungle of Costa Rica!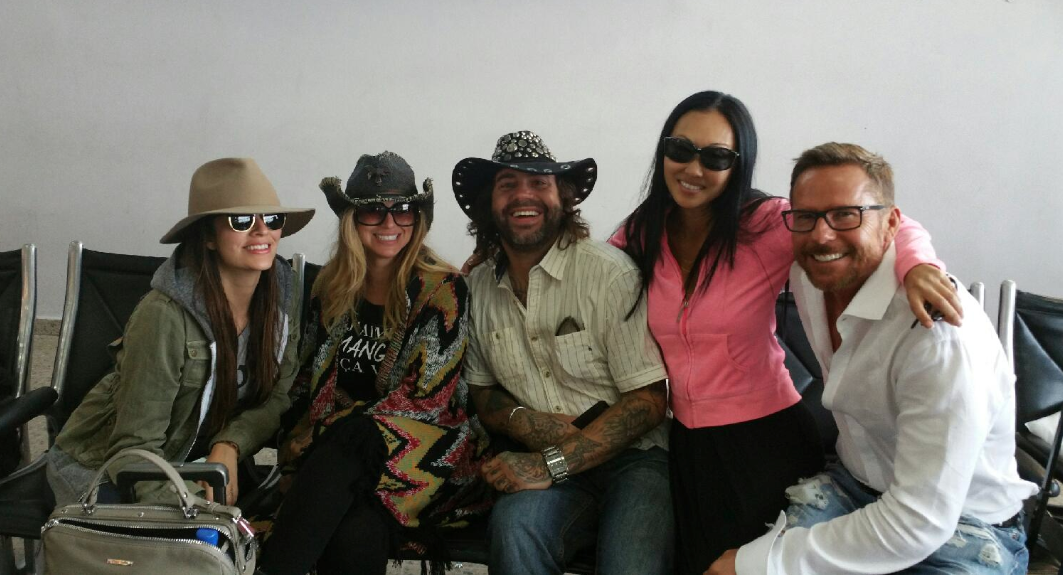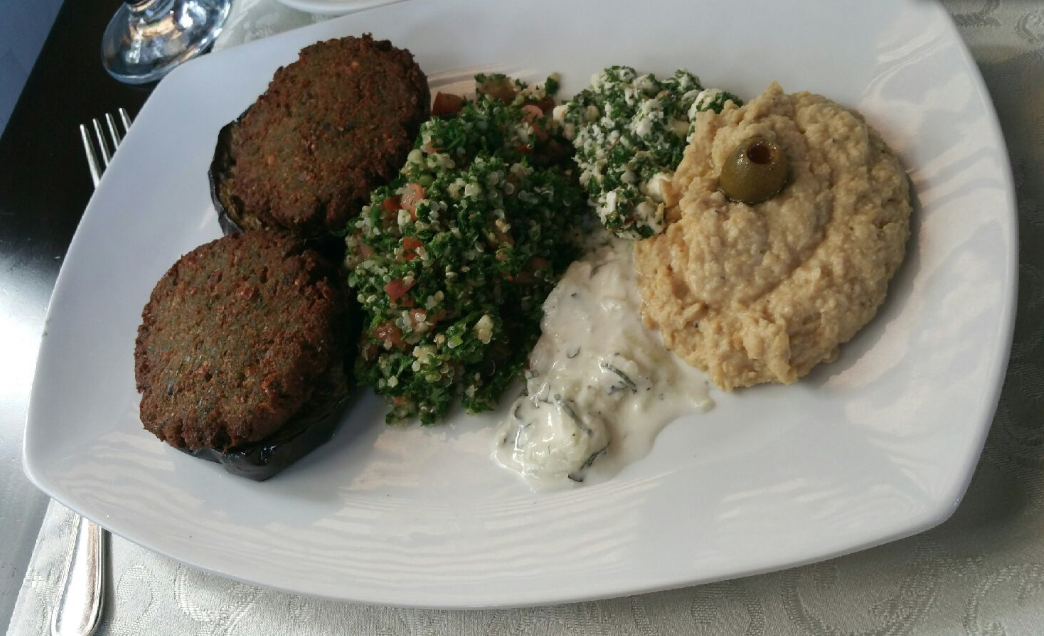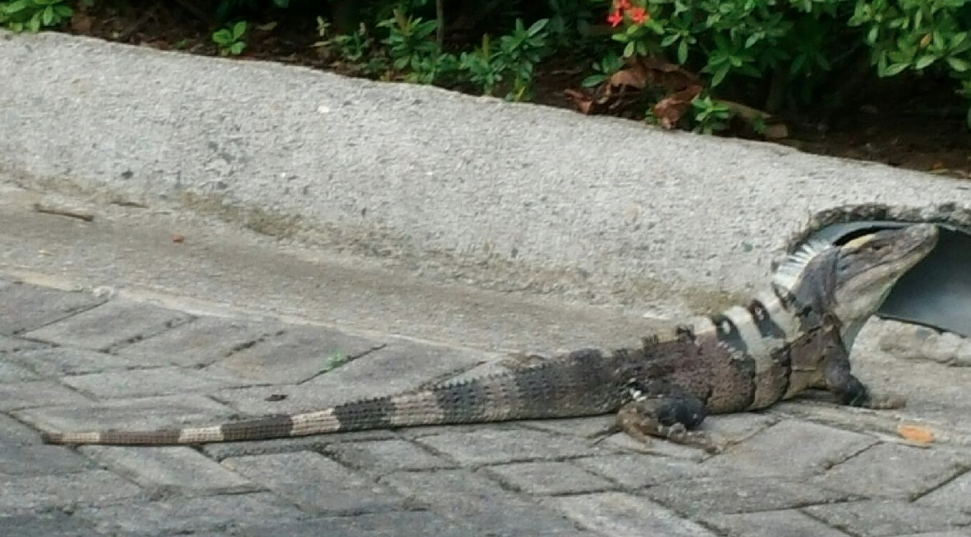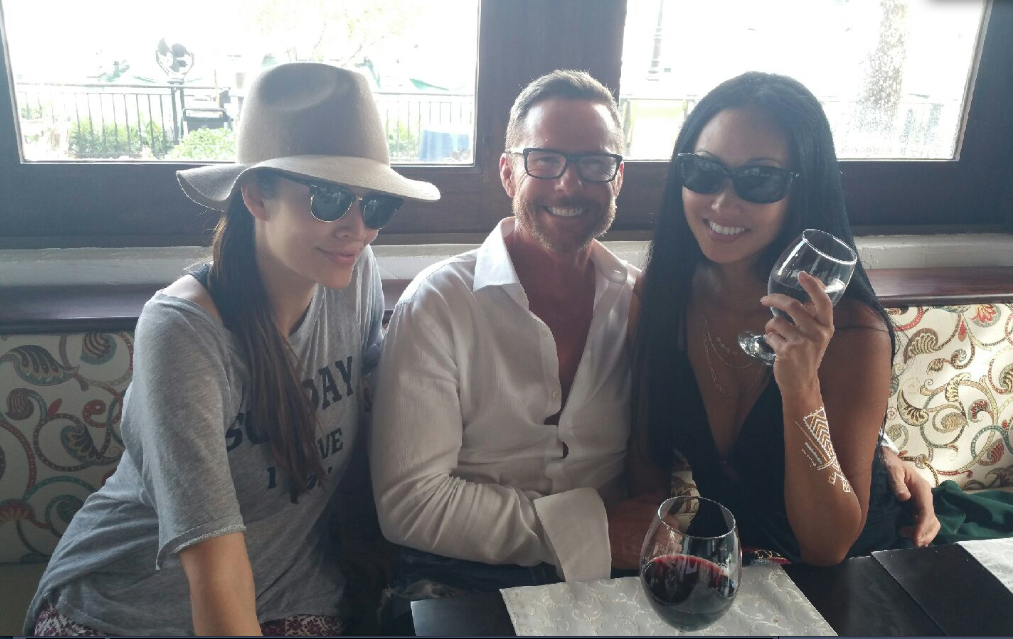 CANCUN, MEXICO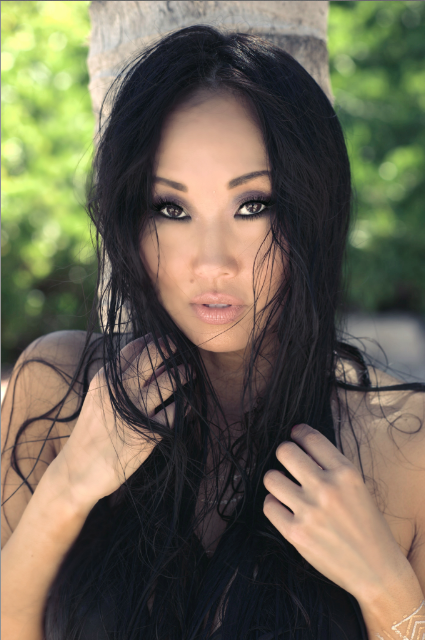 May 10th
Here's another fun shot that I took with photographer, Chaz, in Cancun, Mexico. We had a bit of time at the end of one day, so we hopped to the beach for an hour or so before dinner. Great times, great friends and I'm so very thankful to VIVA GLAM Magazine for this terrific opportunity!

FUN IN THE SUN, CANCUN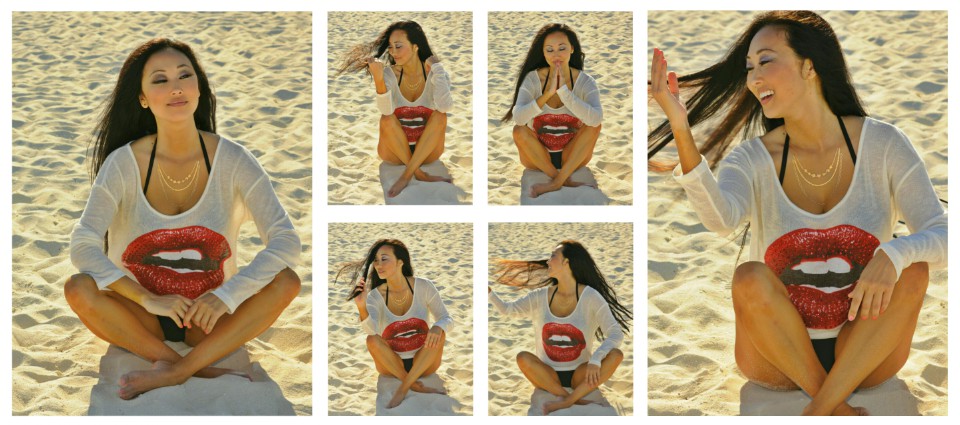 May 8th
On one of the last days in Cancun, Mexico, VIVA GLAM photographer, Chaz, and I went to the private beach at the Grand Oasis Resort and Spa. We were there just before sundown and took a few fun shots. It was just another great day with exceptional people and we took time to simply enjoy the moment!

CANCUN JUNGLE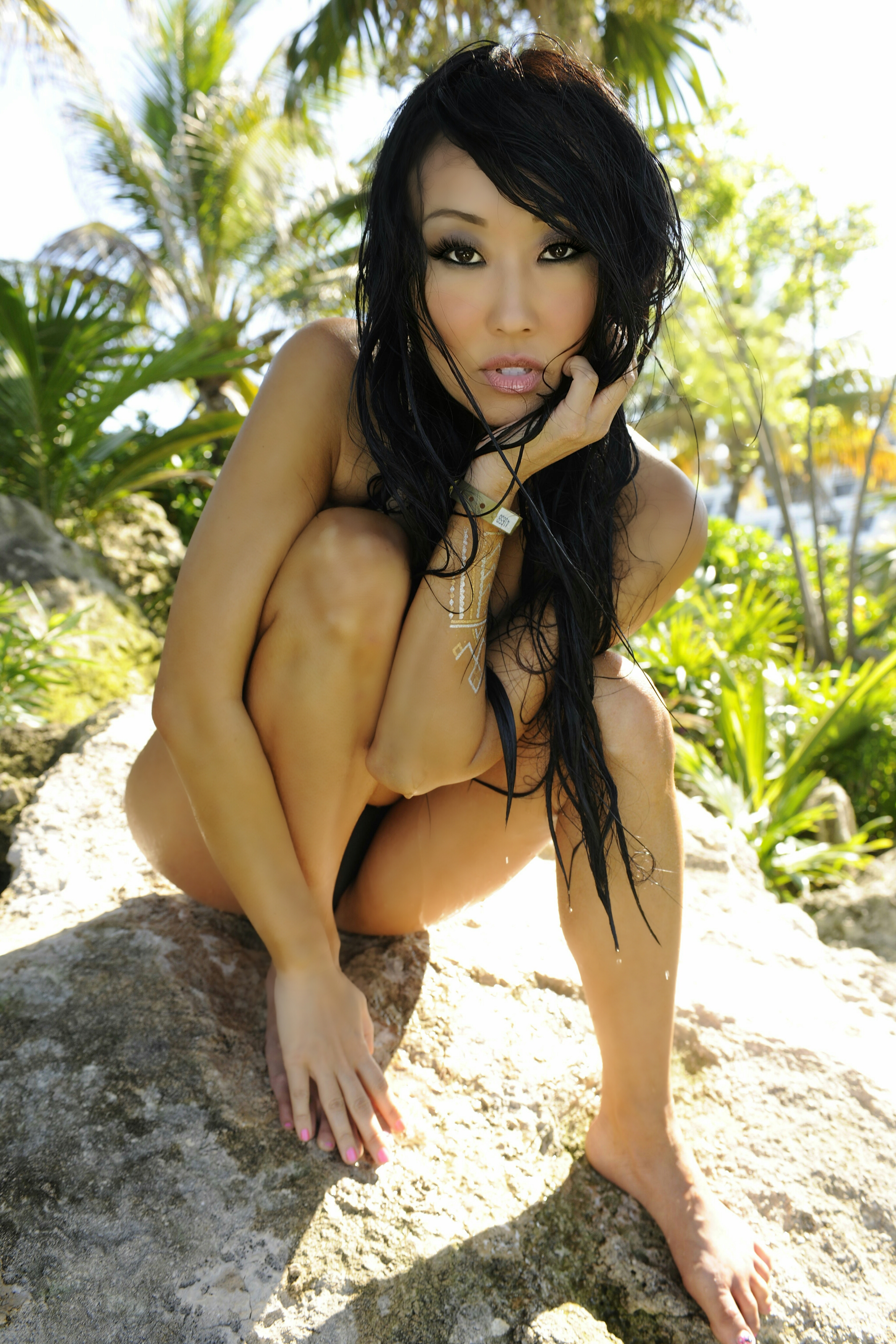 May 5th
This blog is jumping back and forth from Cancun to Costa Rica, I know, so pardon the confusion. Here we are, back in Cancun again, with some images taken by Chaz. We were actually on the grounds of the Grand Oasis Resort and Spa, but making it look like we were out in the jungles of Cancun! What a great photographer and I really enjoy working with him!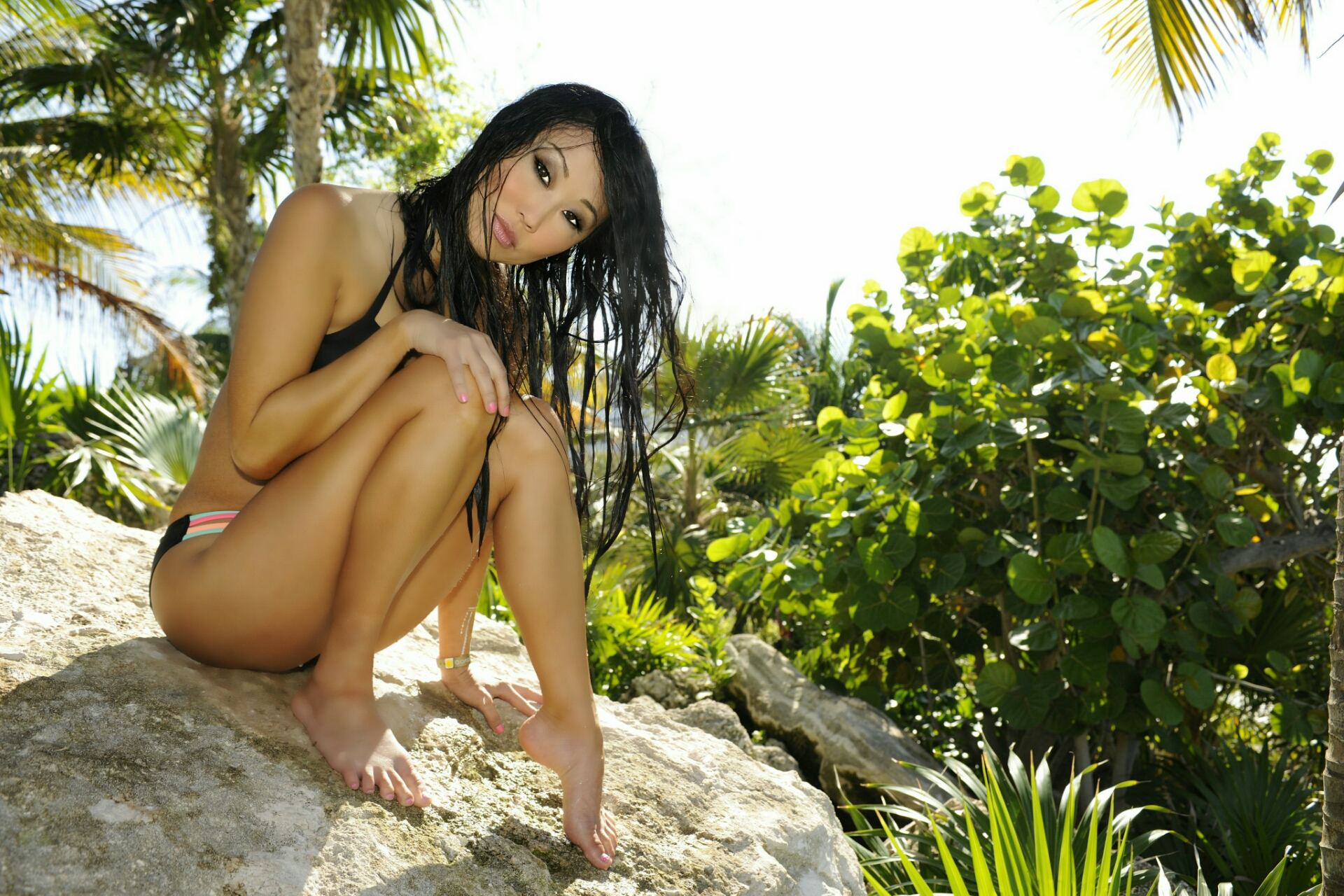 COSTA RICA DAY 2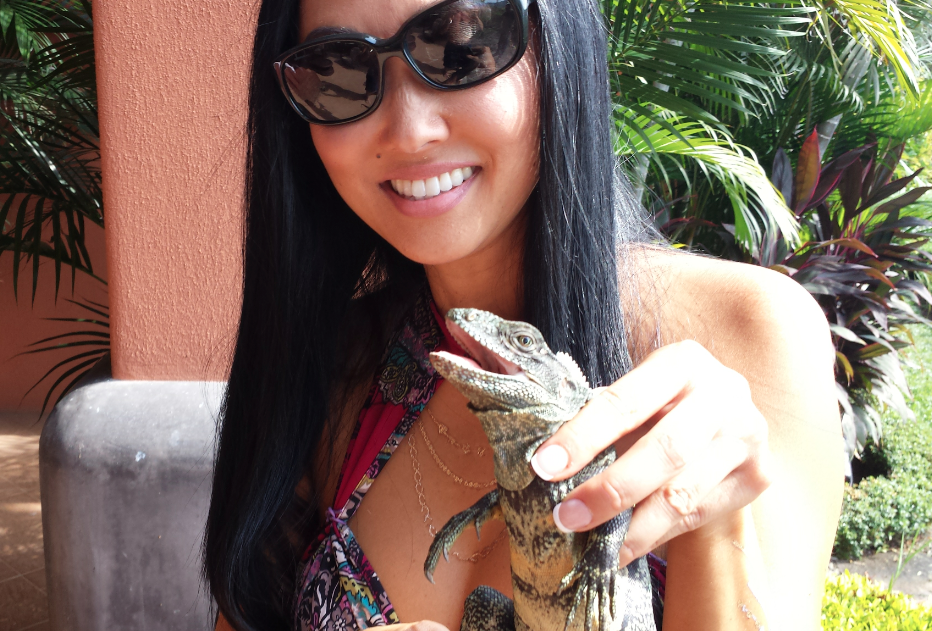 April 28th
What a spectacular second day in Costa Rica! We traveled yesterday from the capitol, San Jose, to Los Suenos. Here, we have been shooting at a Tuscan Villa which over looks the harbor. In one pic, I'm holding a baby iguana that the gardener caught this morning. You can see the watermelon licuados and tangerine juice we have each morning. So refreshing in this tropical heat and humidity! And a pic of Pamela Franchesca and I on location. The bug you see is a rather large roach that walked over Pamela's leg during dinner. He was harmless, but you can see just how large he is! We felt sorry for him as you can see he is missing an antennae. Tomorrow, we head to Manuel Antonio to the ranch where we will be riding horses to the beach!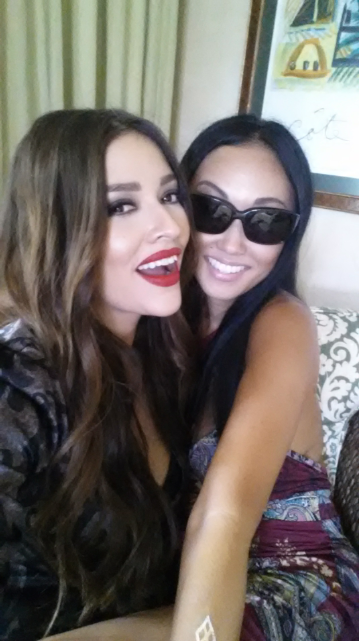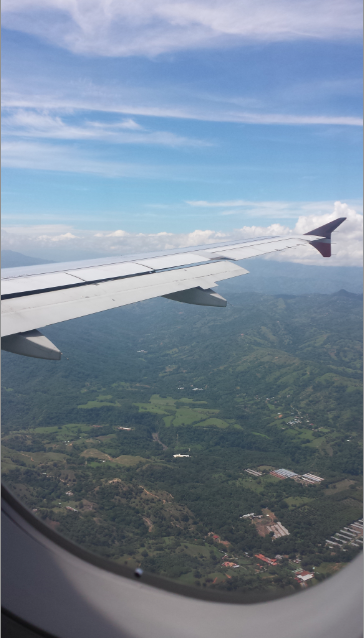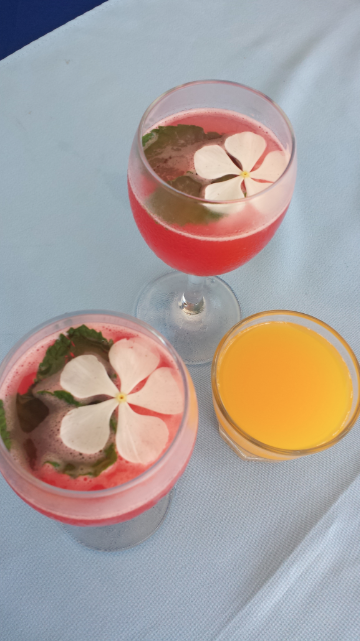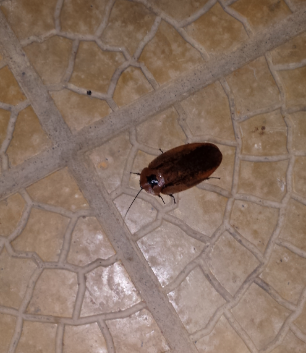 COSTA RICA DAY 1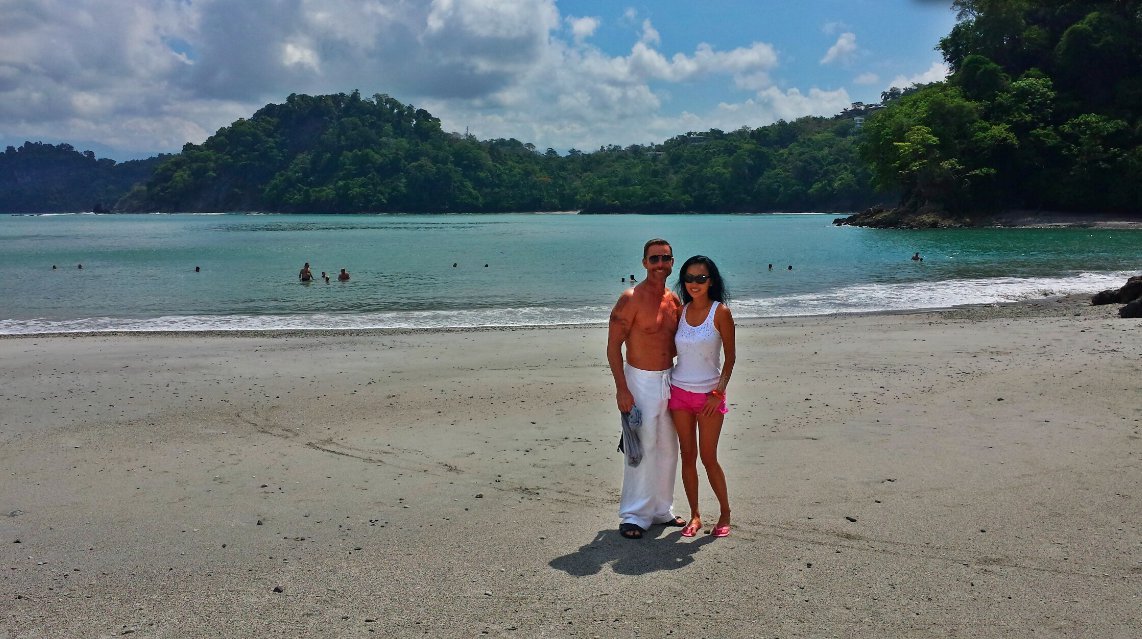 April 27th
Here we are on day 1 of our journey to Costa Rica! We will be traveling to the capitol, San Jose, Los Suenos and Manuel Antonio during this trip. This is my third time to Costa Rica for work and I'm always amazed and see something new! Here we are on Crocodile Bridge. This is a famous tourist spot where gigantic saltwater crocodiles gather under a bridge and wait for tourists to drop food down to them. Some of the giants are over 20' in length. They look like ancient dinosaurs!

Who knew Costa Rica had homemade wood-fired pizza? They do, and we've spent many a night eating them late into the evening, the perfect midnight snack!

In another pic we are on the private beach that is owned by our hotel in Manuel Antonio. It was a short trek through the dense jungle, and voila! Paradise and crystal clear, warm waters!

More tomorrow from Costa Rica where we will be riding horses in Manuel Antonio!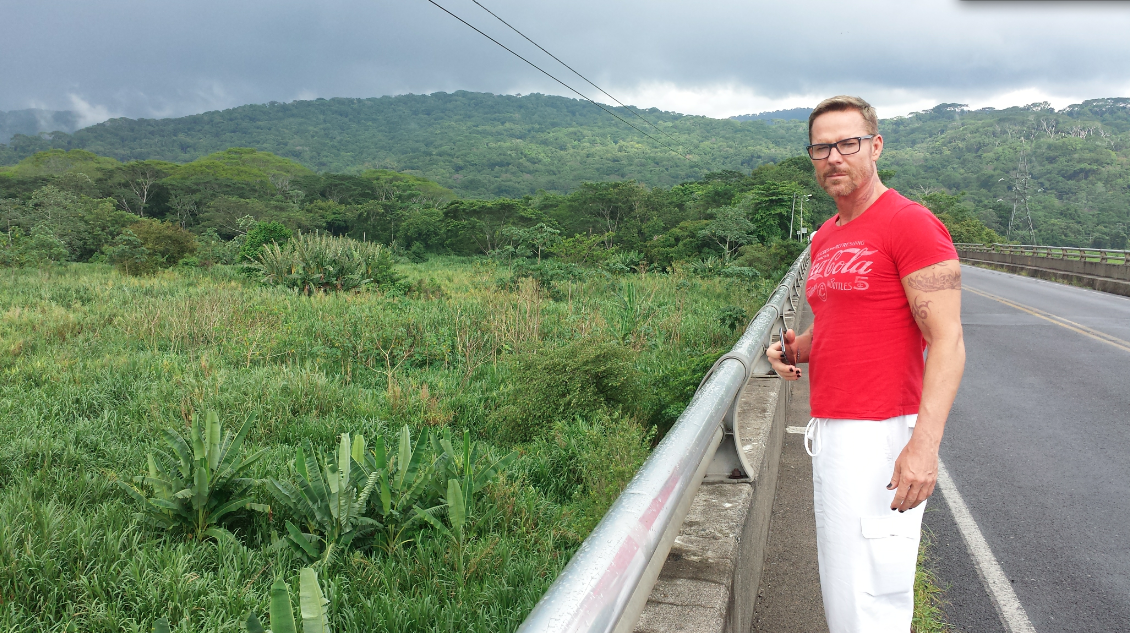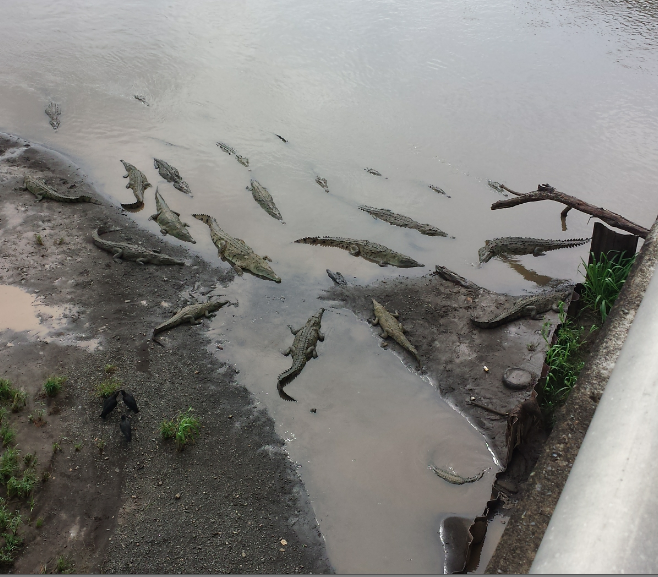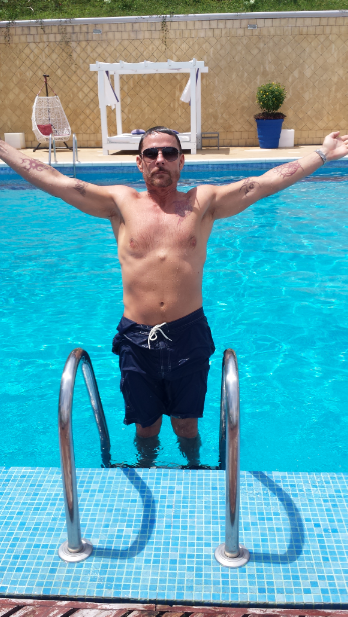 The Celebrity Issue Launch Party Part Quatre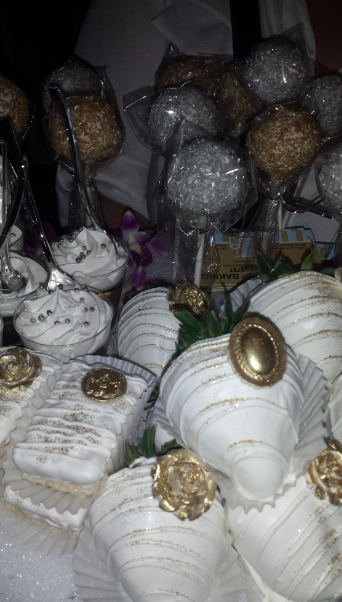 April 26th
Just a few more pics of this fun event! My new favorite dessert is the cake pop that we had here at The Celebrity Issue Launch Party for VIVA GLAM Magazine. A pic of my partner getting into the Lambo of his dreams, haha! And here's a pic of my friend, Bill Bakho of Fenix Cosmetics who makes my favorite SPF foundation! What a great event benefitting World Ventures and Project Dream Court!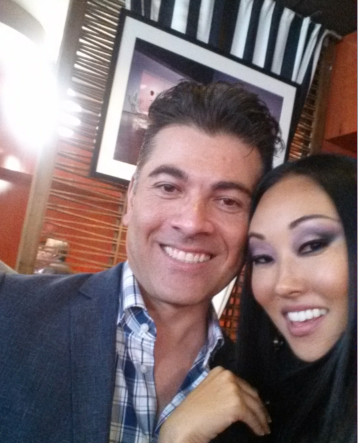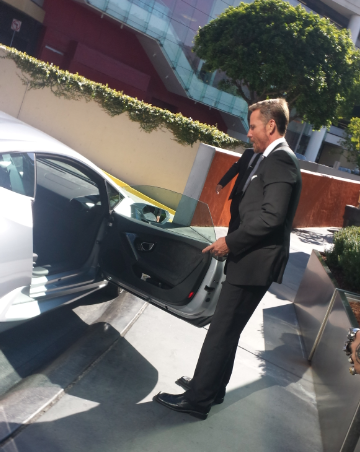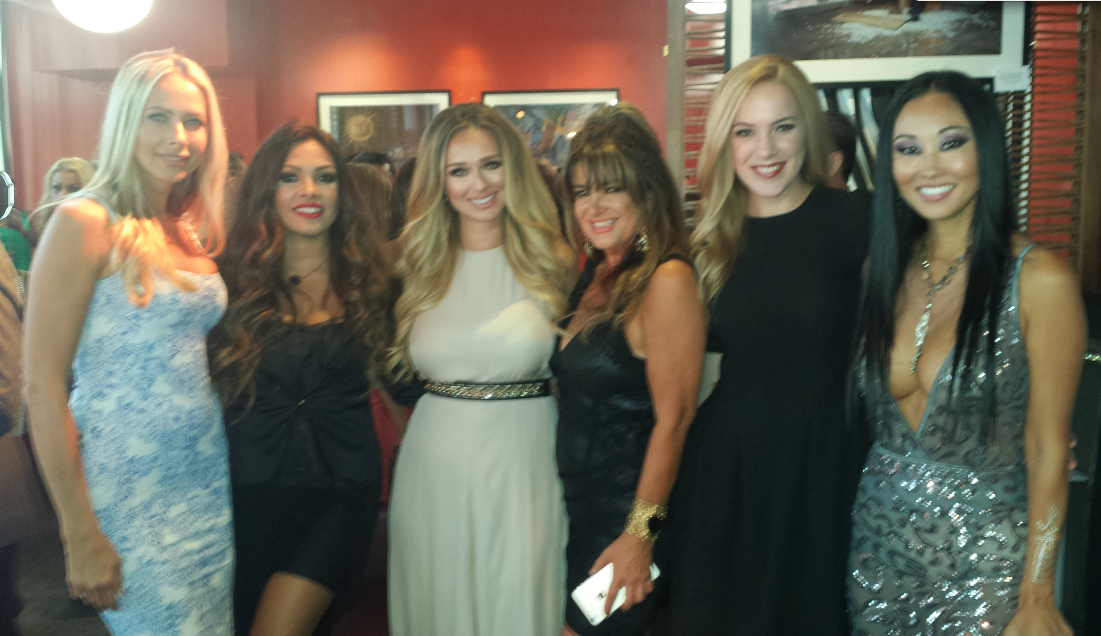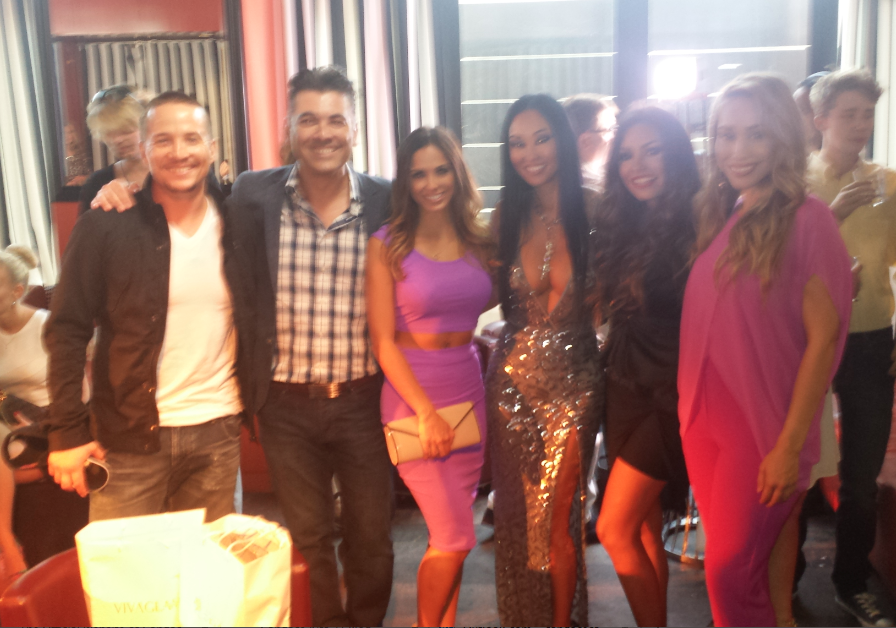 The Celebrity Issue Launch Party Part Trois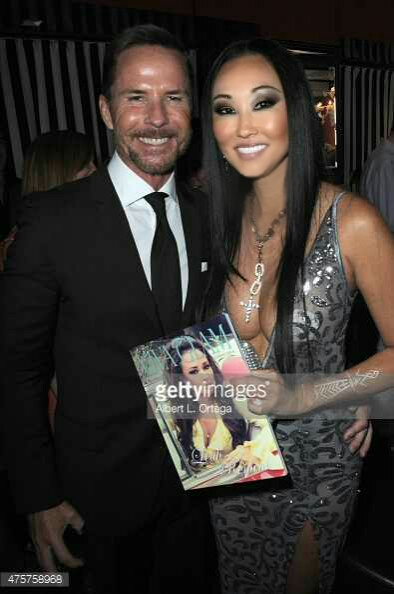 April 25th
Here we are the The Celebrity Issue launch of VIVA GLAM Magazine at the Sofitel Hotel in Hollywood, CA. This event was filmed for one episode of TLC's "Leah Remini: It's All Relative" which will air later this season. A special thank you to Sherry Mattia-Welch who provided the glamorous jewelry and handbag for this event. And whom we just got back from Costa Rica to shoot a campaign for her new Stagecoach Men's line!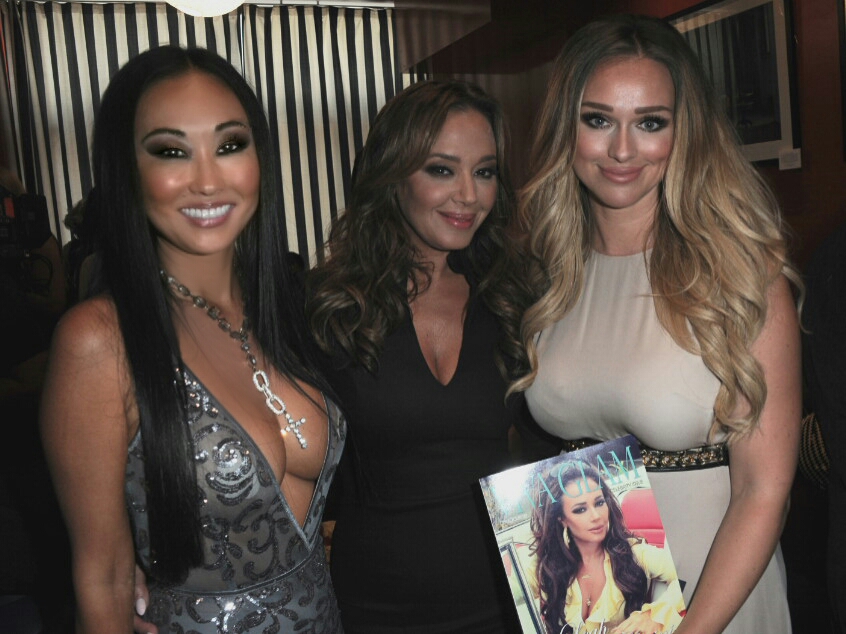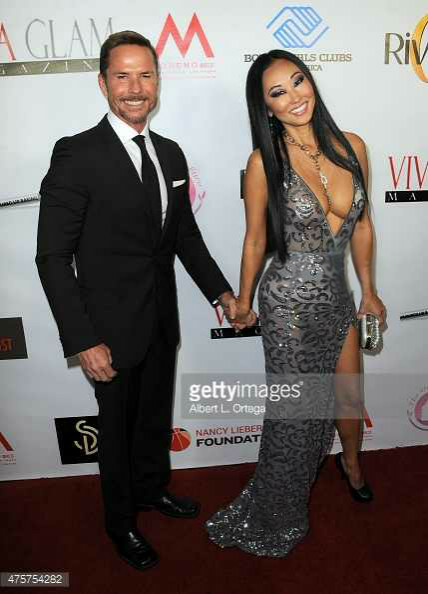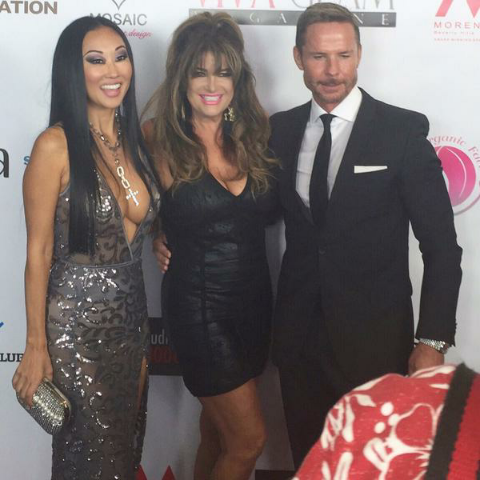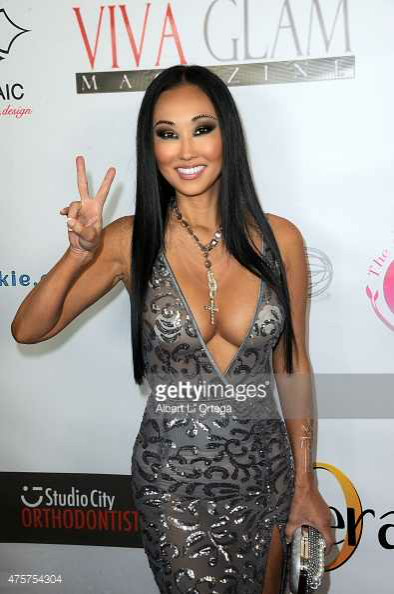 The Celebrity Issue Launch Party Part Deux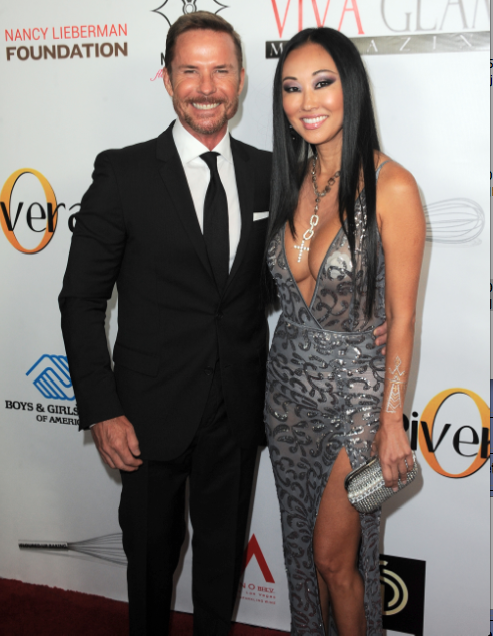 April 24th
Many of you ladies asked what I was wearing at the Celebrity Issue launch party last week. Here is the rundown of who helped me achieve this look:

Hair and makeup: @missriso
Dress: @modaglamboutique
Jewelry and Handbag: @glamarellacouture

Thank you again to everyone who helped me on the red carpet; I really do appreciate it!!!!!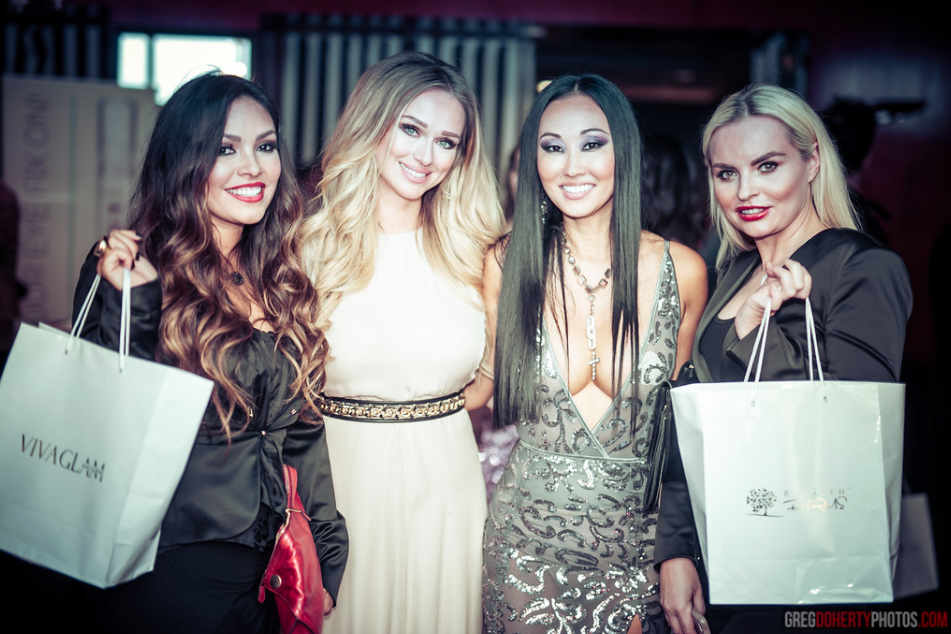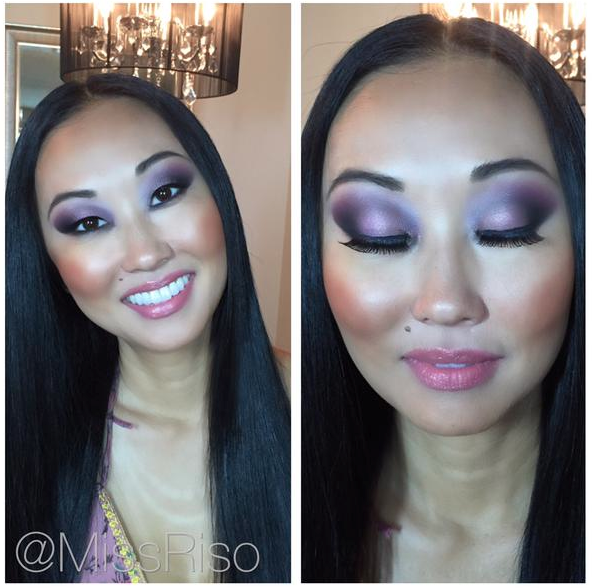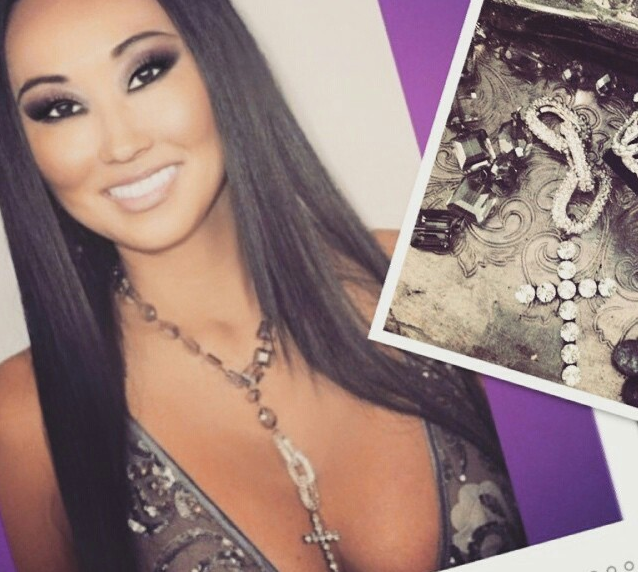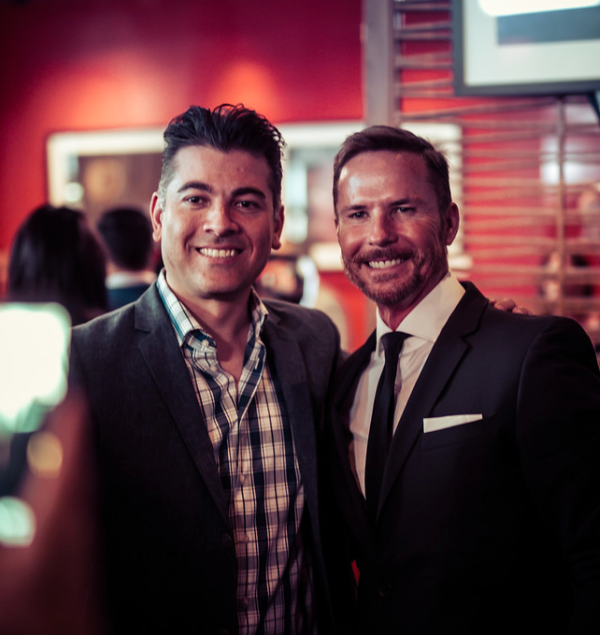 The Celebrity Issue Launch Party Part 1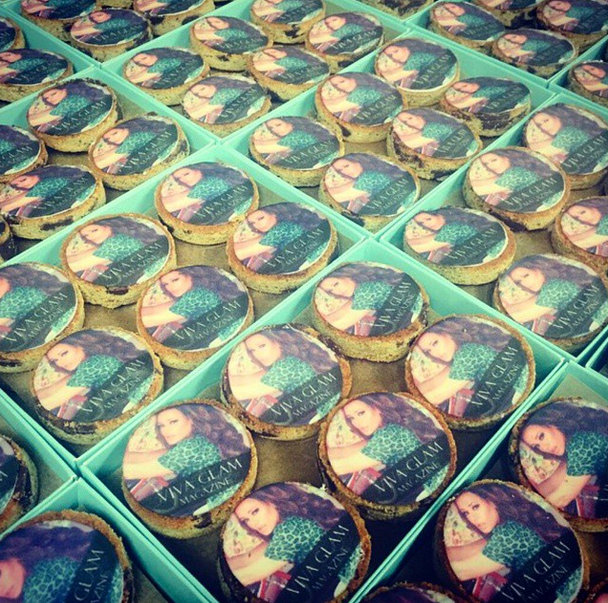 April 23rd
We launched the much anticipated Celebrity Issue of VIVA GLAM Magazine at the Sofitel Hotel in Hollywood, CA less than 12 hours after getting off the plane from Costa Rica. Yep, by the time we got through customs and back in the States, I went to bed for 90 minutes, got up and got ready for the event.

This event was hosted by our glamorous cover model, actress Leah Remini. And it also helped Dream Court, a charity which helps to build basketball courts in underprivileged areas of the country. This time, their aim is to build a basketball court in Long Beach, the first Dream Court in LA!

In one pic, a slew of Selfie Cookies which were chocolate chip. I took a bunch home and have been eating way too many cookies with Leah on them. In another pic, my partner is riding in Supernatural star, Travis Aaron Wade's Lambo, so he is super excited, lol!

More from this event to come!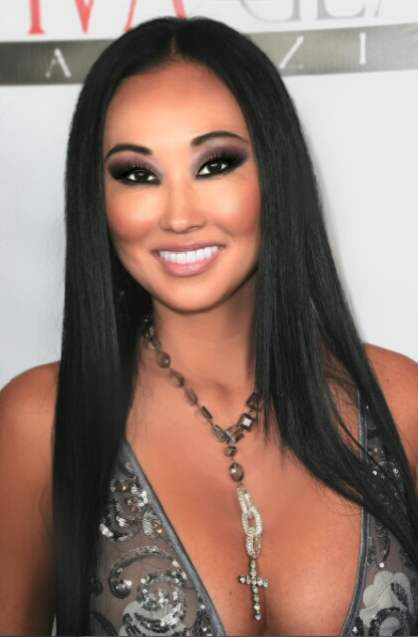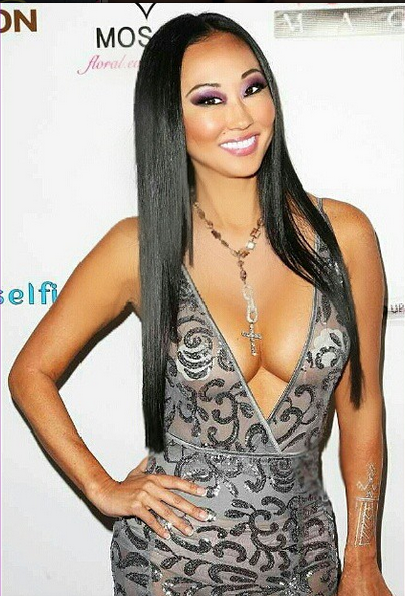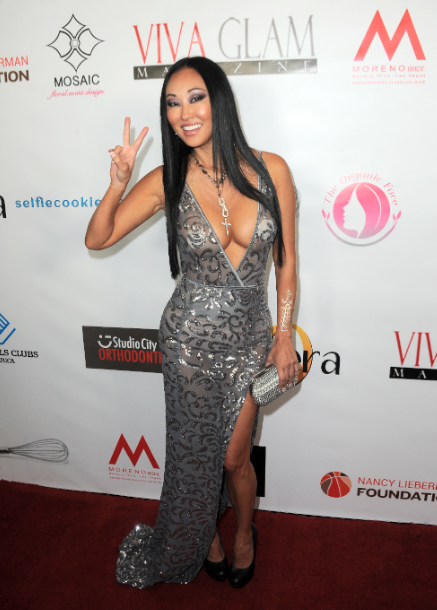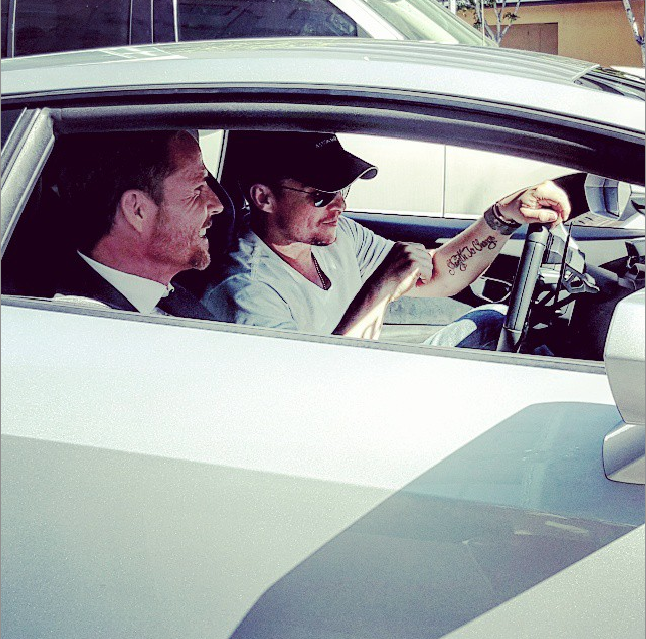 CANCUN, DAY 8
April 22nd
Well, somehow I managed to miss Day 4 of our trip to Cancun, Mexico for the reality series, "Swimsuit Centerfold". So, allow me to get out of sequence and tell you about this fabulous day. We shot segments for this reality show most of the day. We also shot behind-the-scenes segments for VIVA GLAM Magazine as we took you on a tour of The Grand Oasis Resort and Spa, the location where we were filming this new, compelling reality series. More judging, and we ended the evening with a fun red carpet event!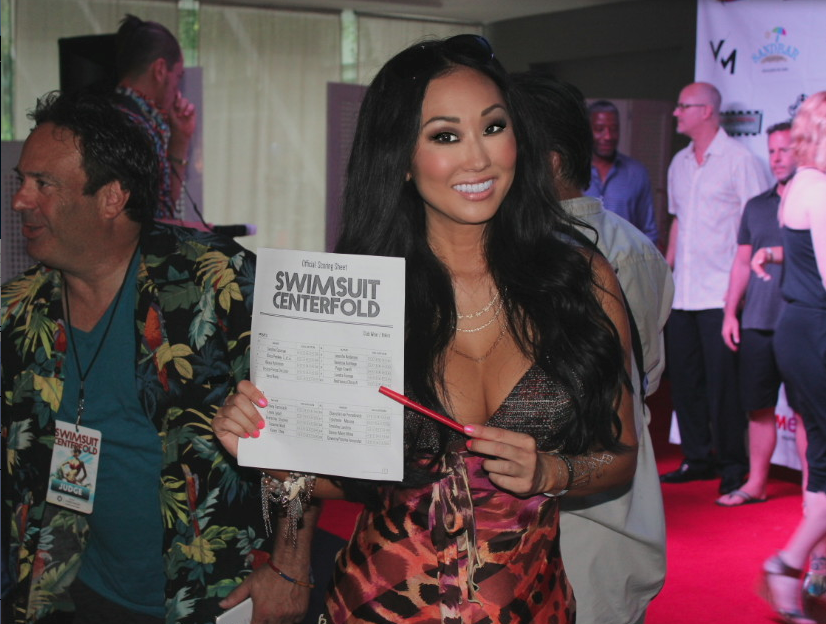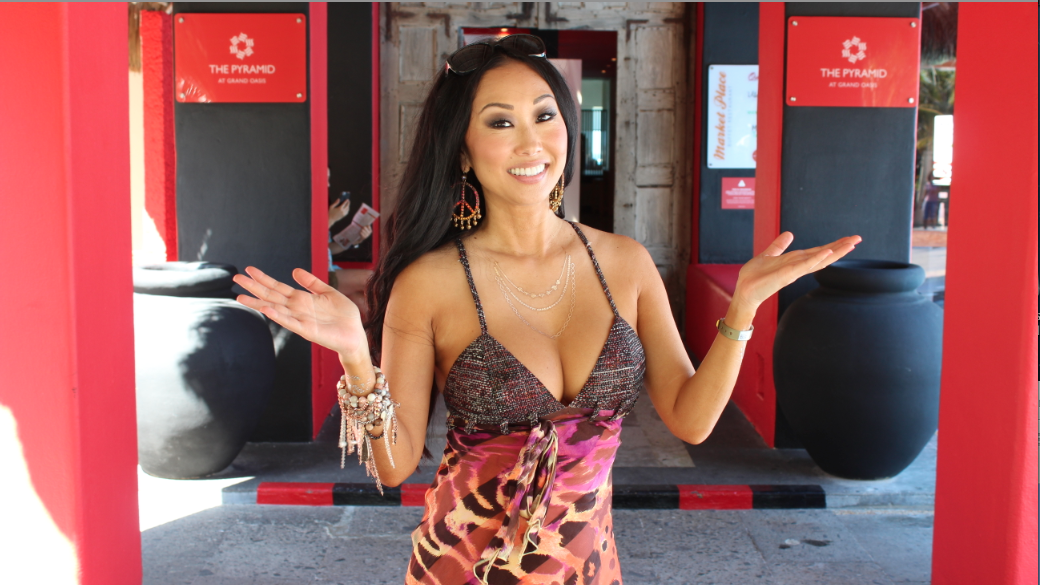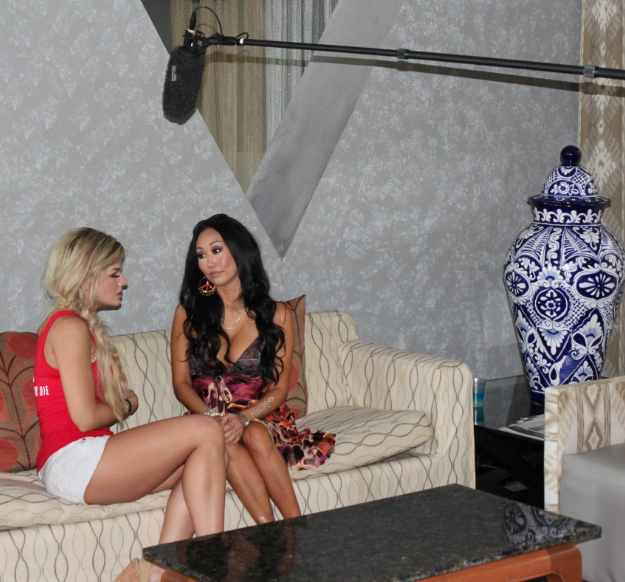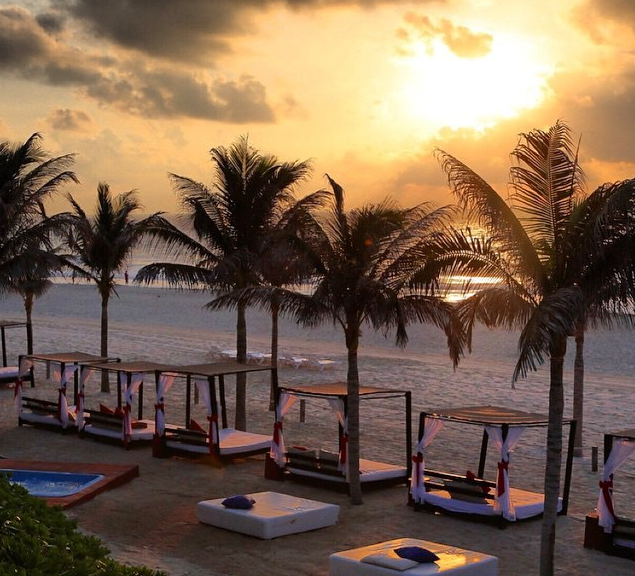 CANCUN, DAY 7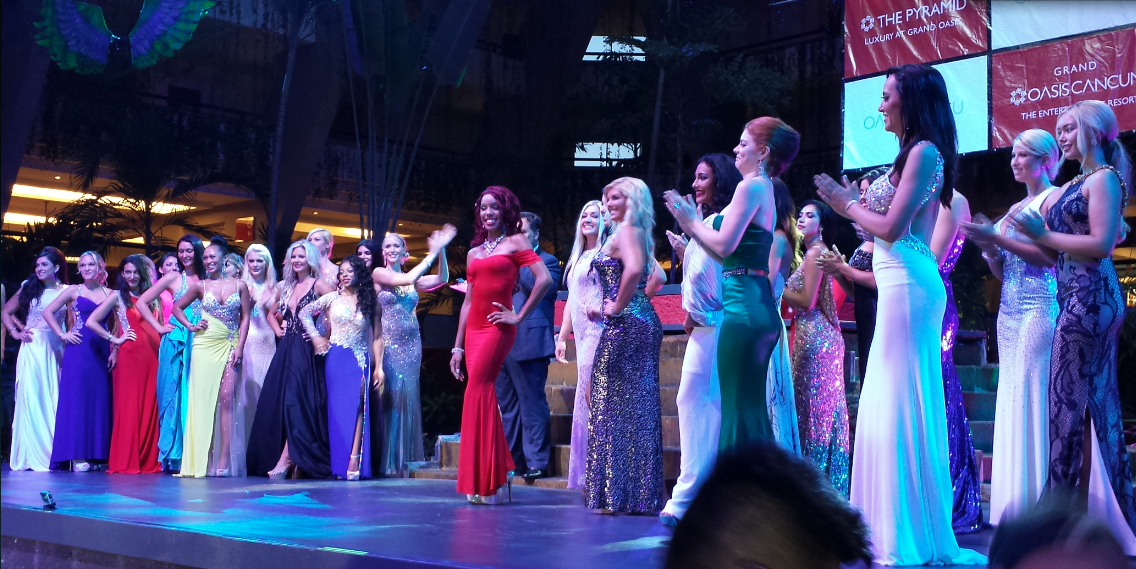 April 21st
On Day 6 on our trip to Cancun we judged the beautiful evening gown competition which took place on the main stage at the Grand Oasis Resort and Spa. Each contestant look lovely in evening attire. I've included a snap of one of the majestic peacocks that freely roam the grounds. We hear them early in the morning and late at night! And also a pic of me doing the daily video diary segments for the reality show, Swimsuit Supermodel. Plus two images that VIVA GLAM photographer, Chaz, and I had time to take in the afternoon for fun!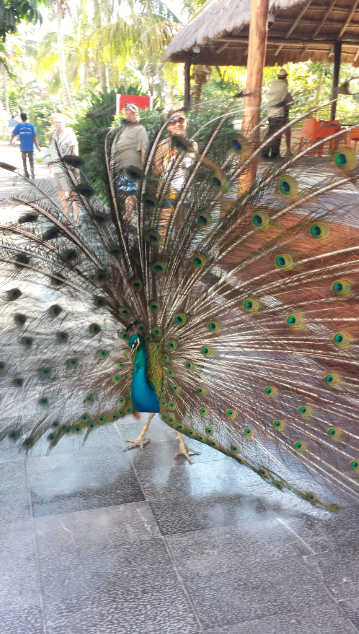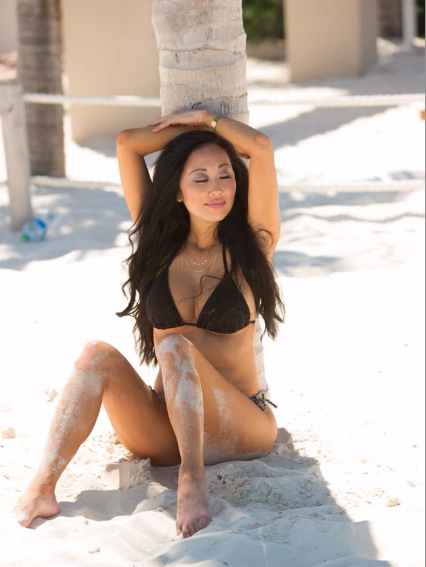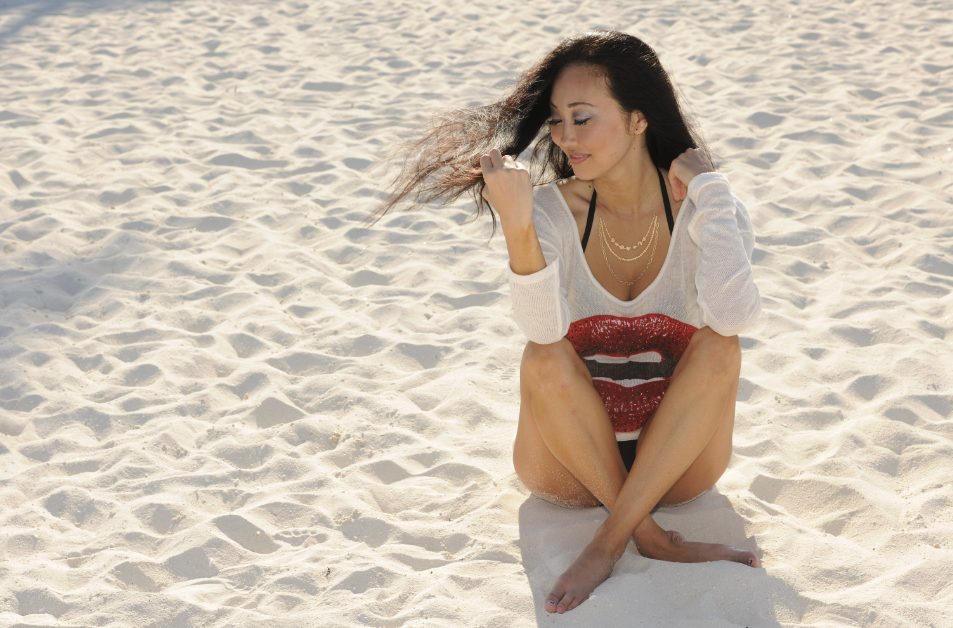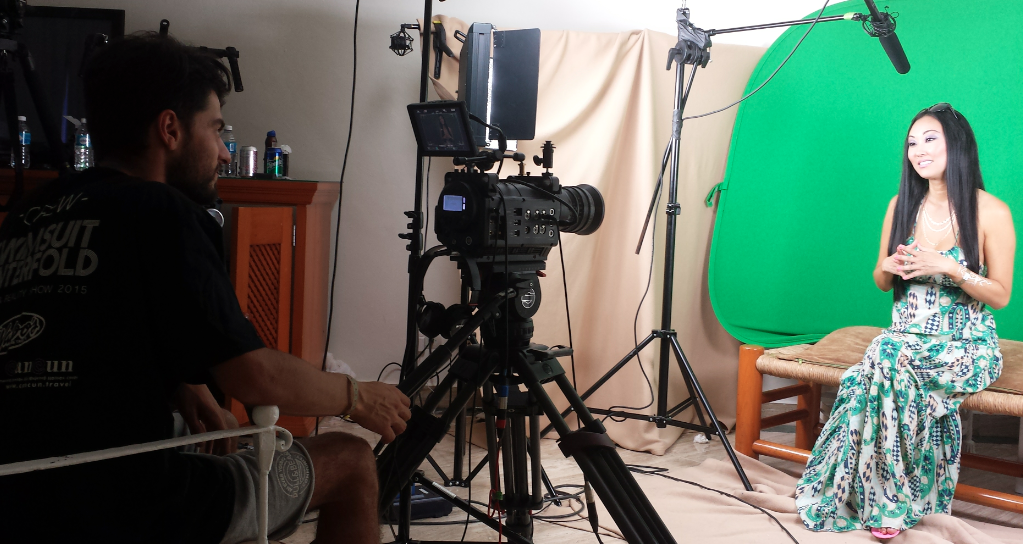 CANCUN, DAY 5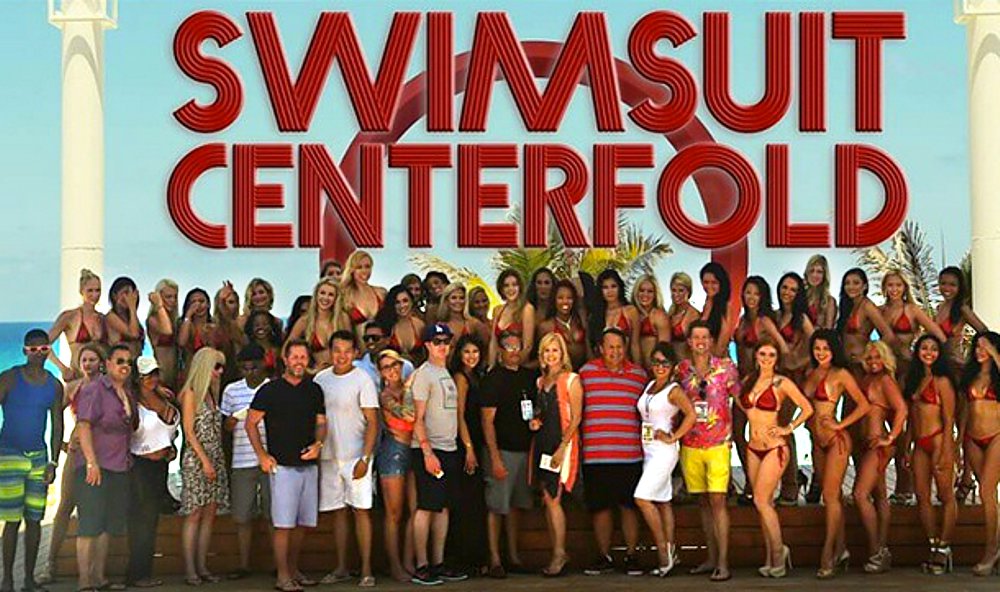 April 20th
Day 4 in Cancun, Mexico included more shooting and judging the lovely ladies of Swimsuit Supermodel. We also had an opportunity to shoot with VIVA GLAM photographer, Chaz! The Grand Oasis Resort and Spa is a stellar hotel and we marveled at how large the property is. I still haven't seen the entire grounds! Included is a pic of one of two iguanas that sat outside our hotel. He is the smaller one believe it or not! There is also a group shot of the cast and crew. You can see the stage where the final competition took place. And a gorgeous view from outside my hotel window. I would highly recommend this property and I look forward to coming back soon!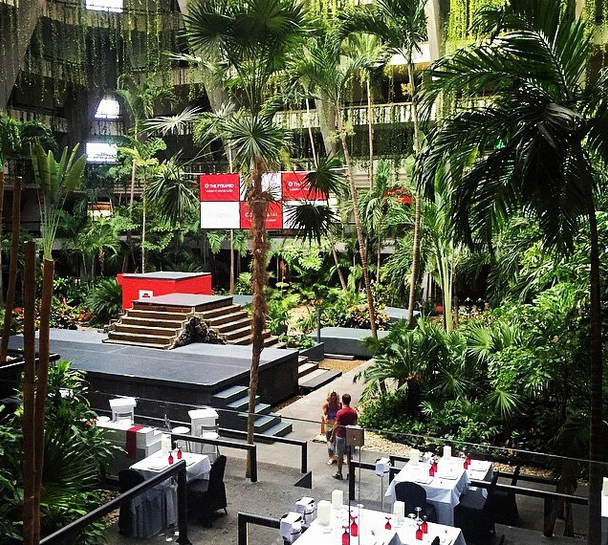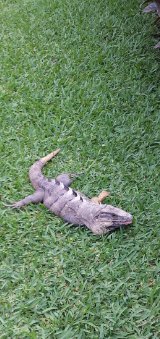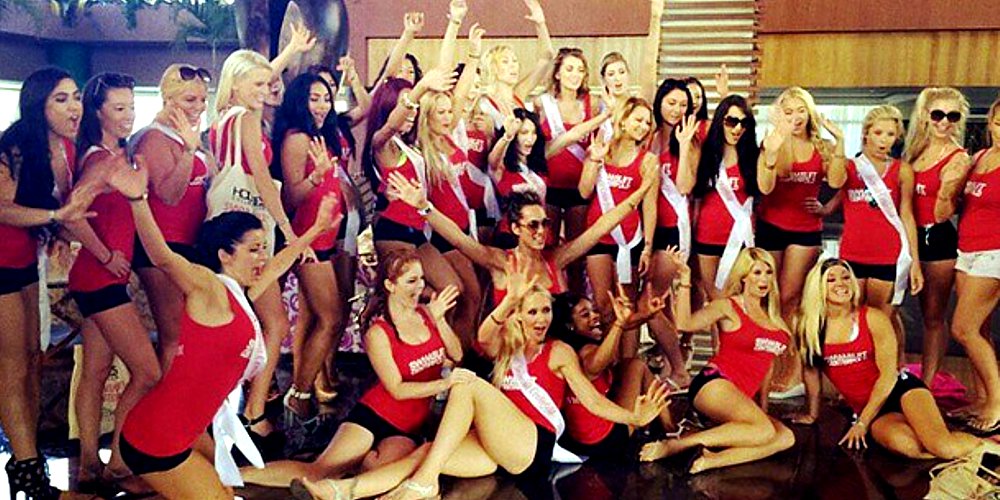 CANCUN, DAY 4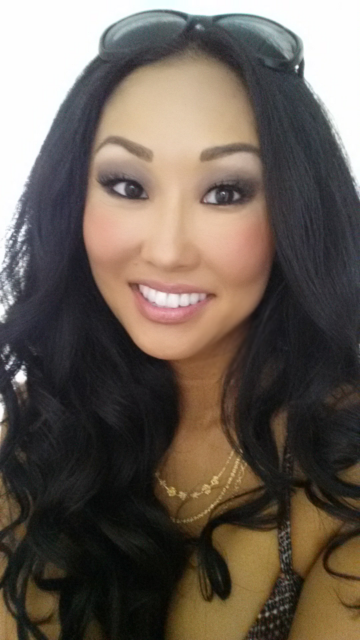 April 19th
Day 3 at the Grand Oasis Resort and Spa in Cancun, Mexico was truly amazing. We spent most of the day judging contestants. We are also being filmed for a new, exciting reality show, "Swimsuit Centerfold" that gives viewers a behind-the-scenes look at beauty pageants. We still had a bit of time at the end of the day to go swimming in Cancun's clear aqua ocean that is as warm as bathwater! And no day is complete without tempura fried ice cream which we've eaten almost every night now!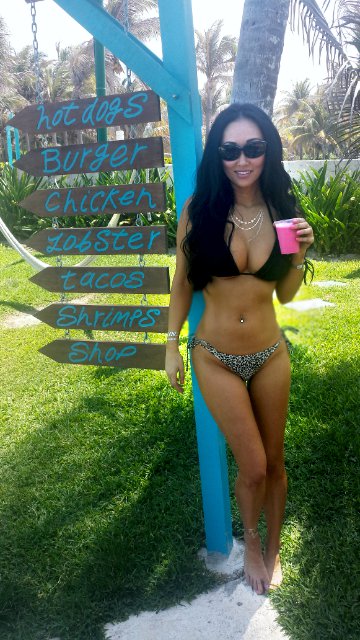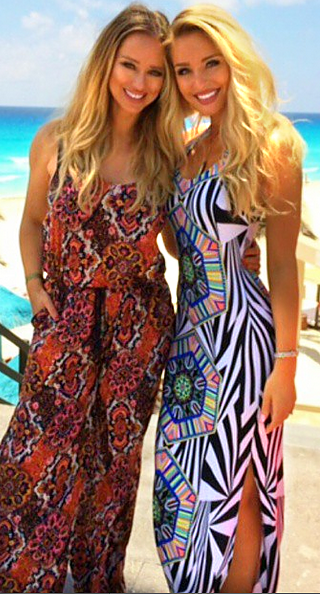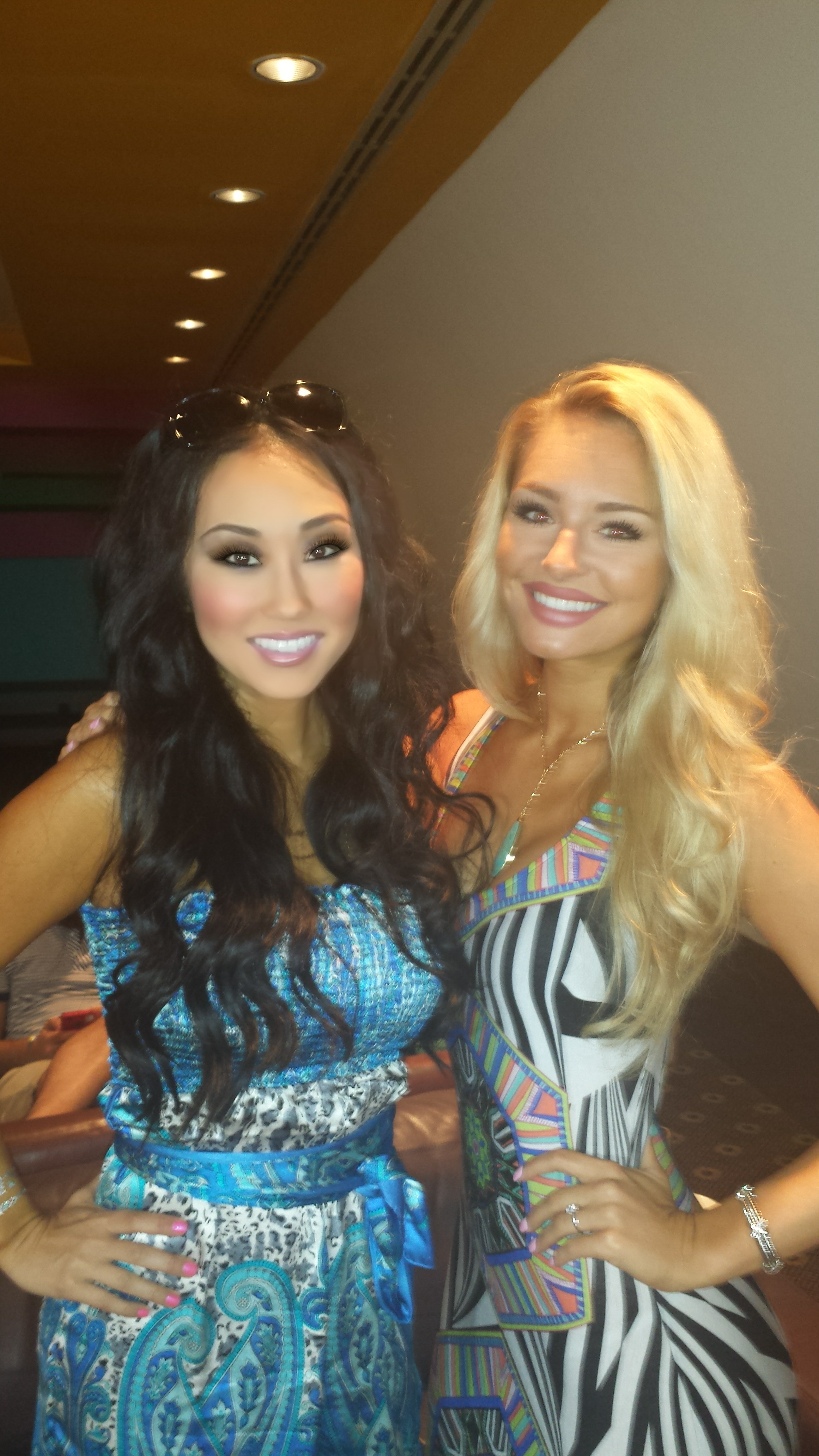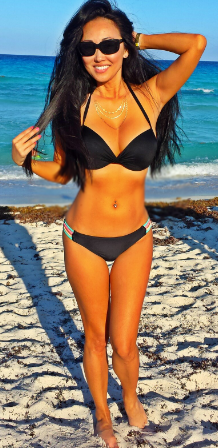 Glamarella Couture in Costa Rica

April 18th
I just came back from Cancun, Mexico two days ago and am leaving in two days for Costa Rica. So, I think I'll just do laundry and re-pack everything up again. We are going into the jungles of Manuel Antonio to shoot a men's jewelry campaign for Glamarella Couture. I've actually been there twice before for work, but am very excited as this time we will be riding horseback in the mountains and also on the beach. And I'm also excited for my partner who is the model in this campaign.

The new line is Stagecoach Men's and wardrobe will be provided by Cody Varona of Forgotten Saints who is known for supplying one-of-a-kind pieces to bands such as LA Guns, Guns and Roses, Poison, Motley Crue and just about every heavy metal band known to mankind. lol Cody is such a great person and we are proud to be working with both her and Sherry Mattia-Welch of Glamarella Couture on this campaign!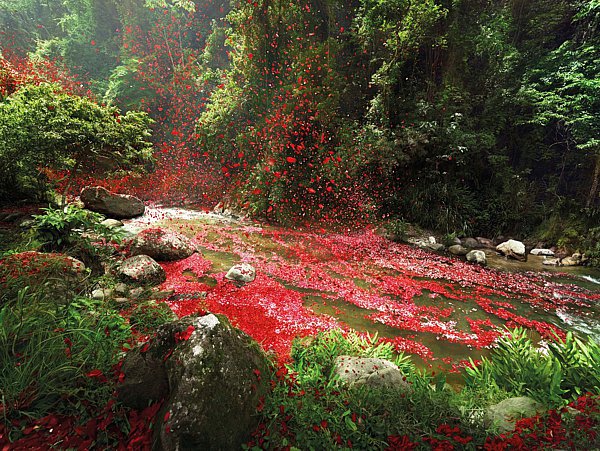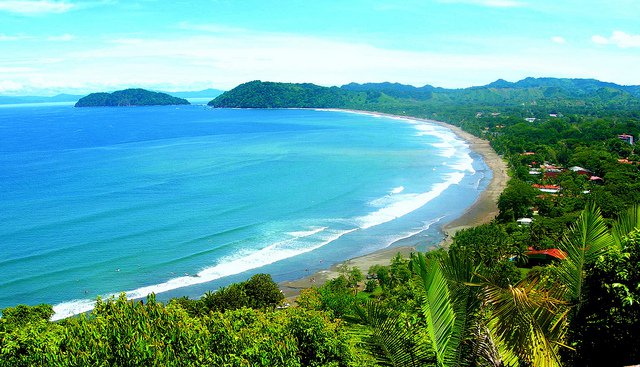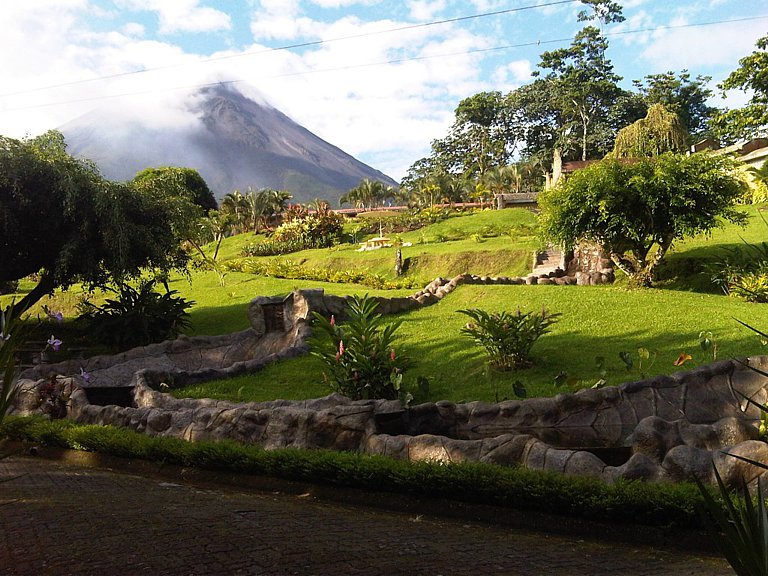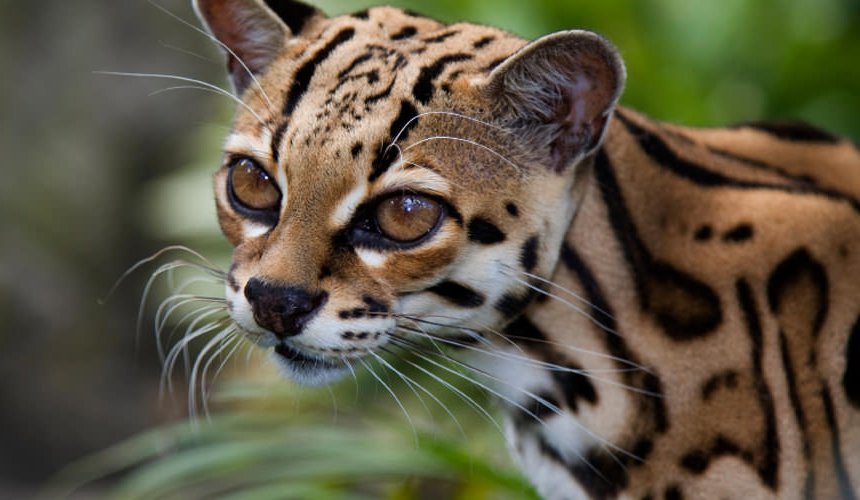 Cancun, Mexico Day 3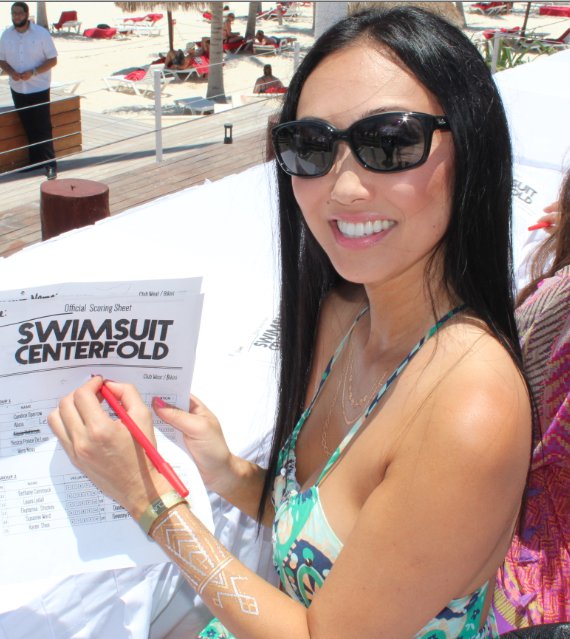 April 17th
What a picture perfect day in Cancun! Today was day # 2 and we began judging the contestants of Swimsuit Centerfold. Judging took place at the Grand Oasis Resort and Spa on their powder white beach. The contestants all wore red bikinis and answered a question from the host. Afterwards, The VIVA GLAM Dream Team had time to body surf and get a little R & R in the warm Mexican sun. Tomorrow we are continuing to film this brand new, exciting reality series!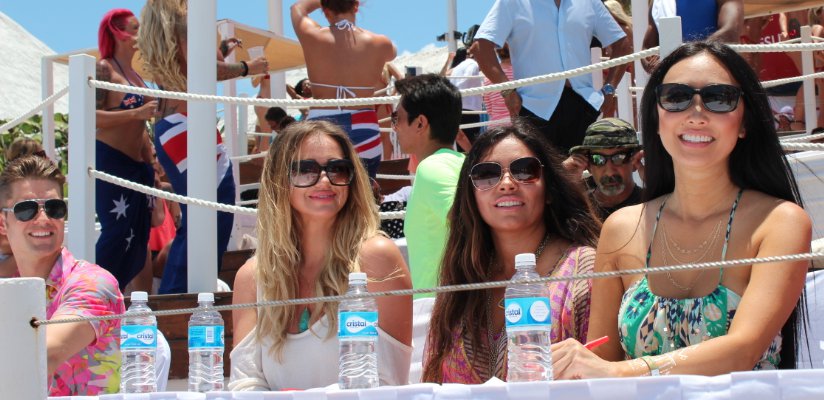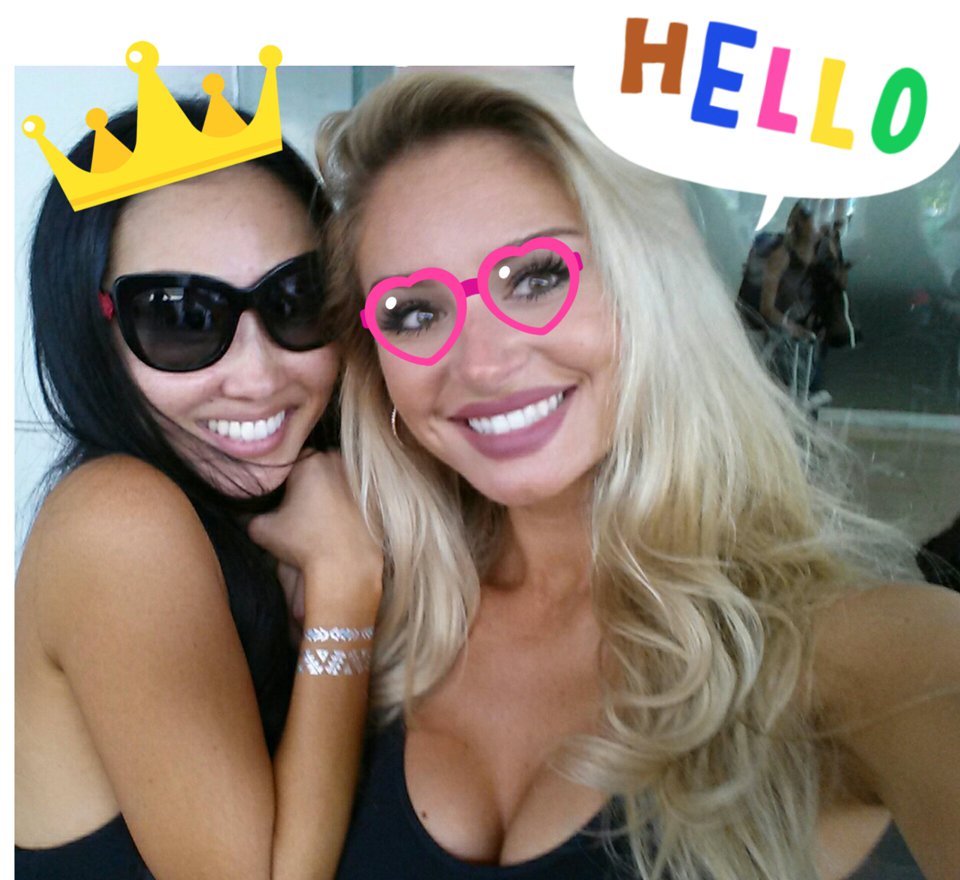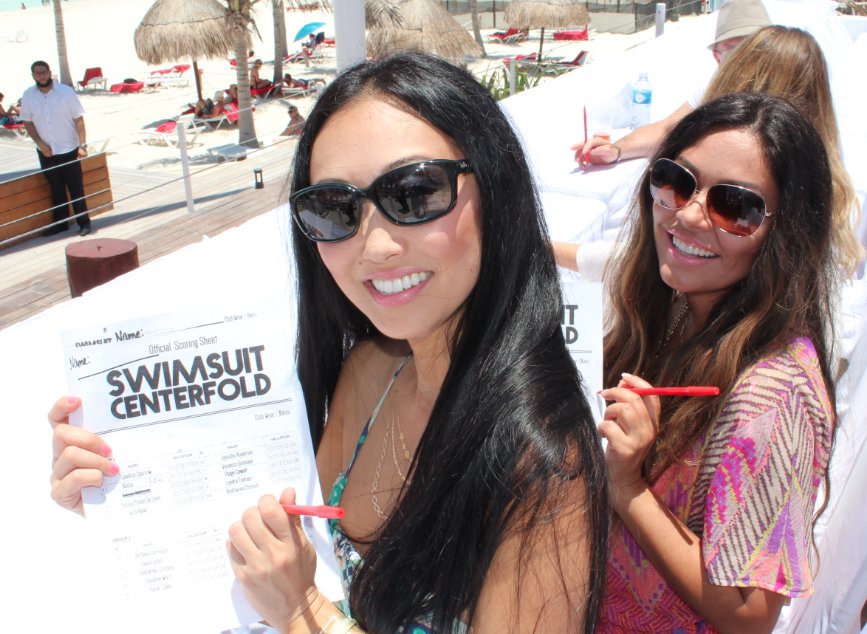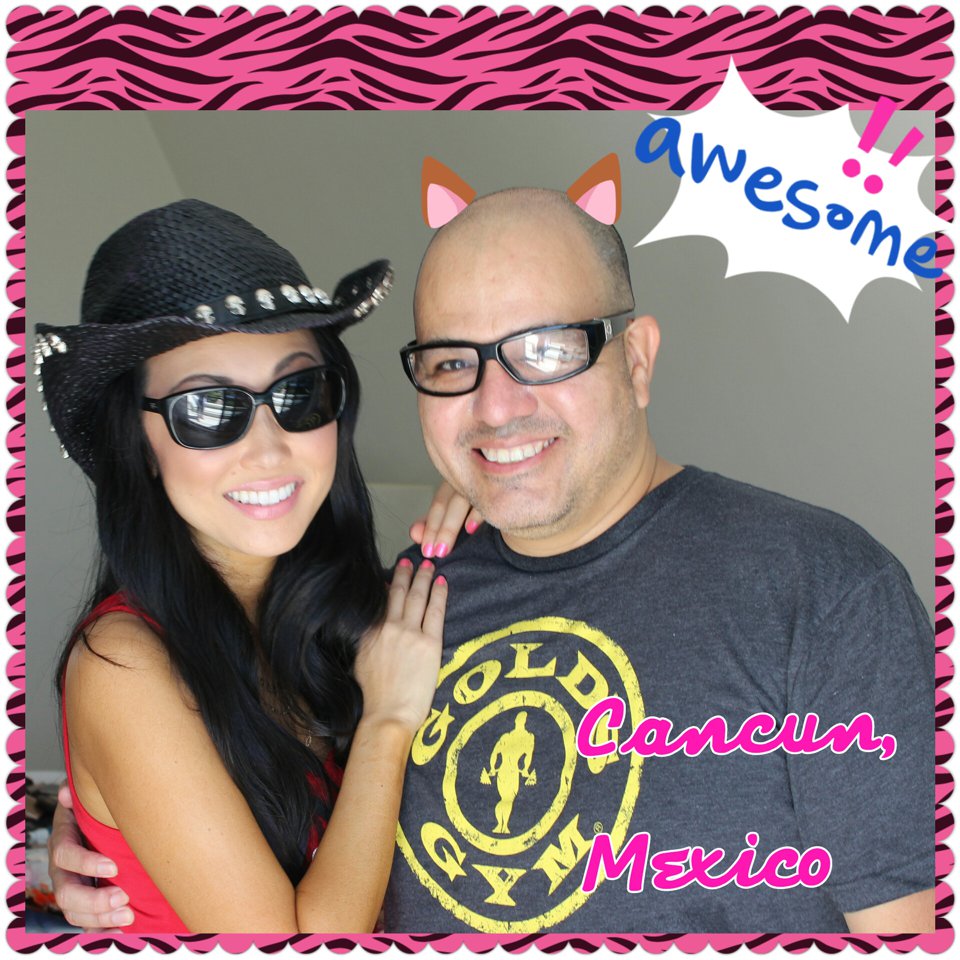 Cancun, Mexico Day 2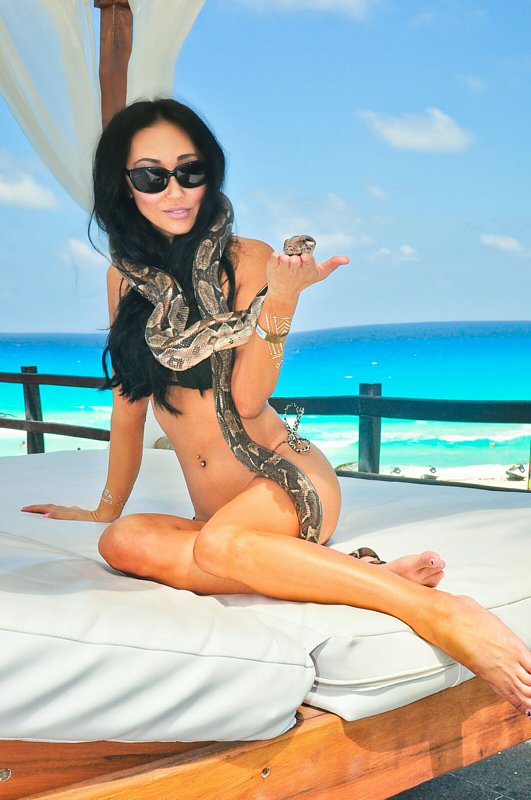 April 16th
Today judging begins here in Cancun, Mexico at the Grand Oasis Resort and Spa for the new reality show, Swimsuit Centerfold. In the plane image, we are flying first class, a special thank you to VIVA GLAM Magazine. Katarina, Anna and I are up bright and early for orientation in another. The pool view is from my hotel window. Katarina, Angelica and I are on the beautiful beach judging the swimsuit portion of the competition. And lastly, I'm holding a boa constrictor, wish I could take him home!

Tomorrow, there is more judging and we are shooting a layout for VIVA GLAM Magazine. Did I mention what incredible, home made desserts they have here? I've been eating three a night. My favorites so far are the jellos, tres leche cake and Anna and I have been eating the fried tempura ice cream every night!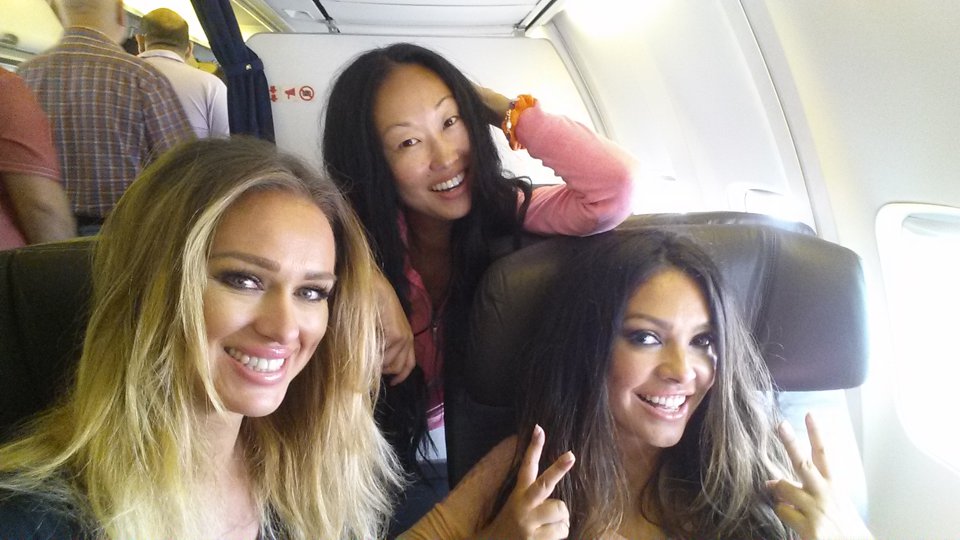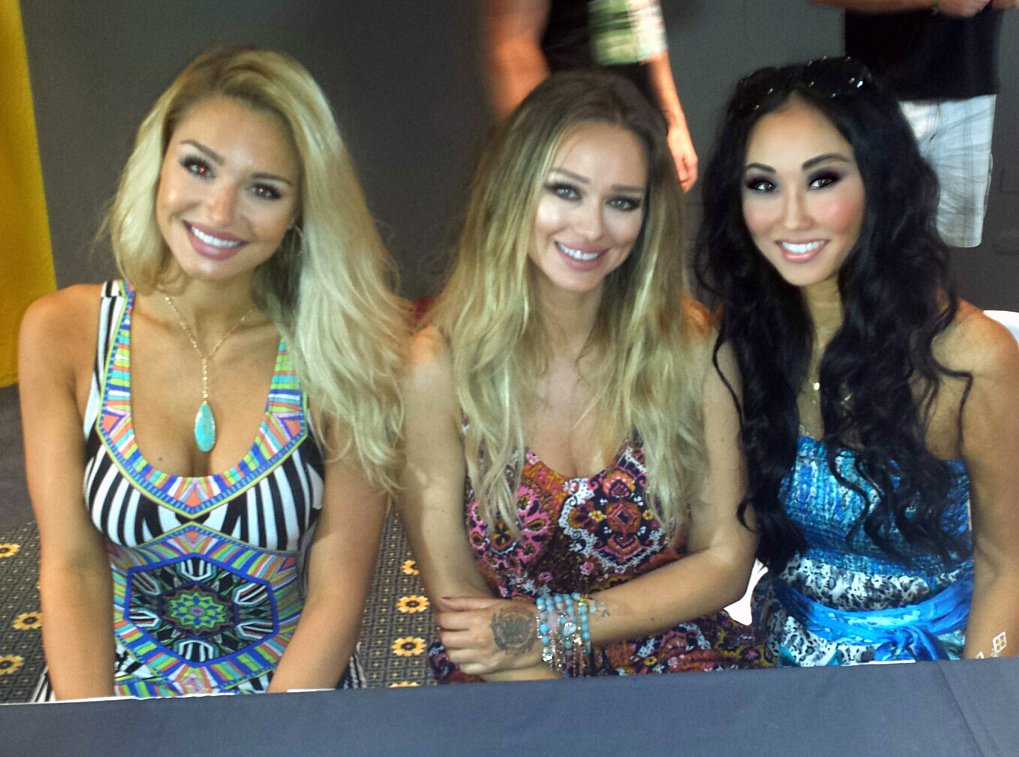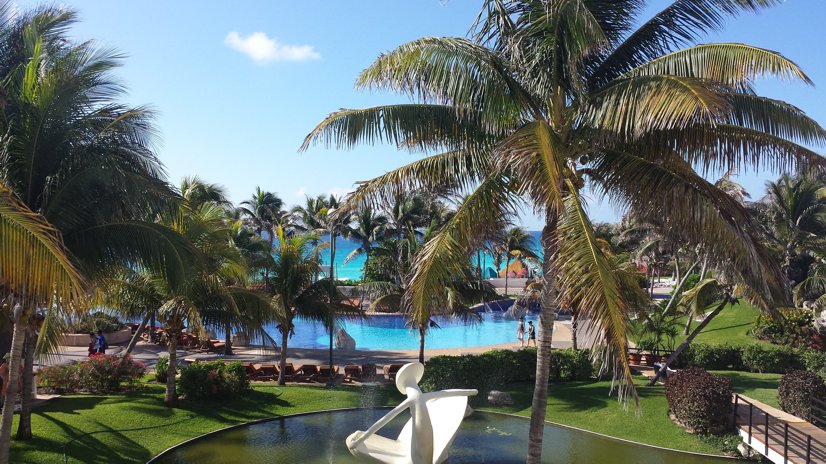 Cancun, Mexico Day 1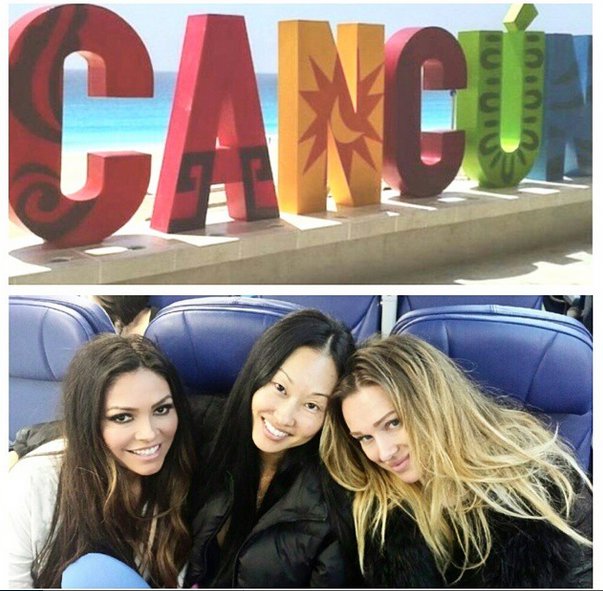 April 15th
Well, here we are in Cancun, Mexico where I'm a judge in a new reality show, Swimsuit Centerfold. This reality show goes behind-the-scenes in the world of beauty pageants and I'm shooting here in Cancun for 8 days. The water is unbelievably aquamarine and the sand is powder soft. I must say it is quite humid, but a balmy 88 degrees. We are staying at the Grand Oasis Resort and Spa and the grounds are lush and tropical. We've already been down to the beach and pools and we mowed our way through the buffet. lol

Tomorrow, judging begins and over 50 contestants from all over the world will be vying for the title of Miss Swimsuit Centerfold!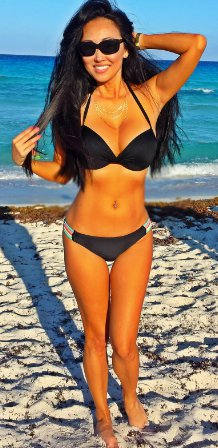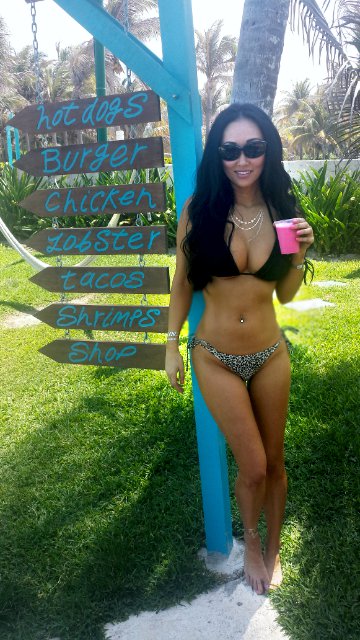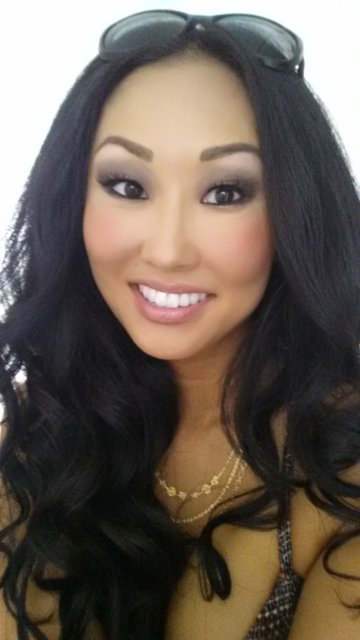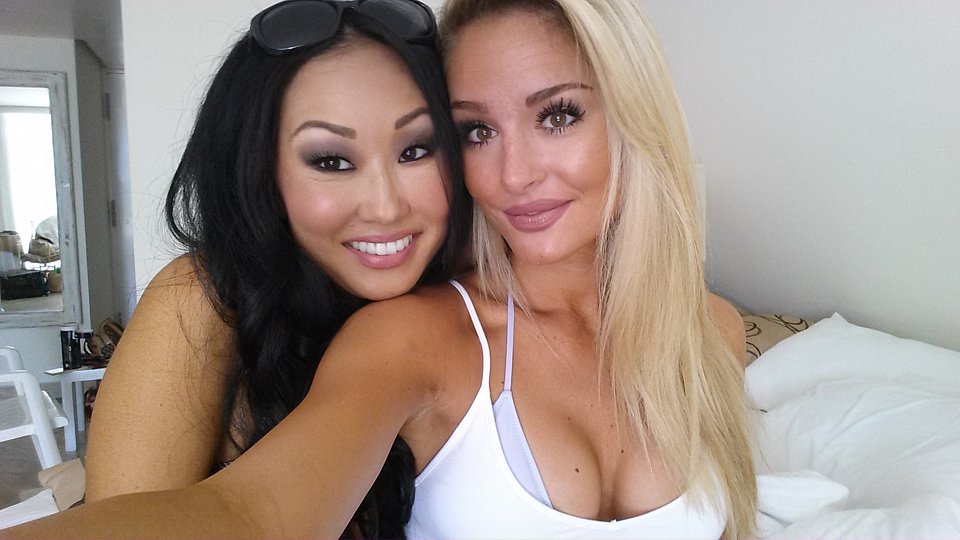 Filming Where the Bears Are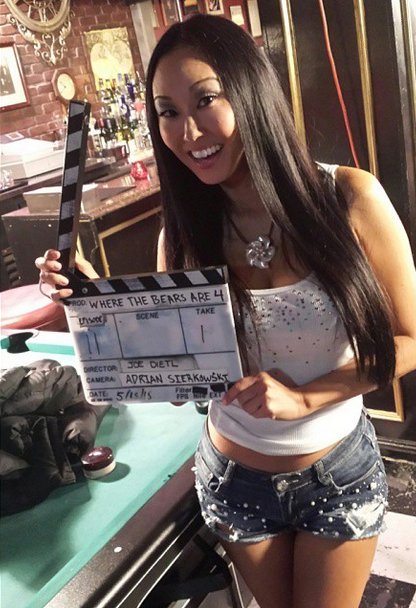 April 14th
This week I had the opportunity to work with a terrific cast and crew of Where The Bears are. We laughed the entire day long and I remember even at the audition it was this way! I look forward to the wrap party next month, what a great group to work with!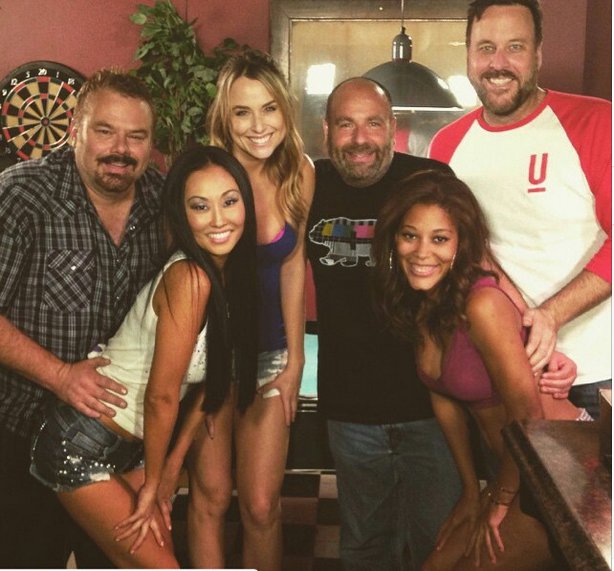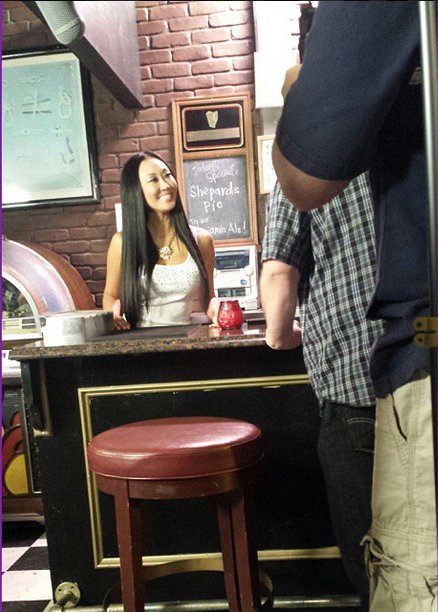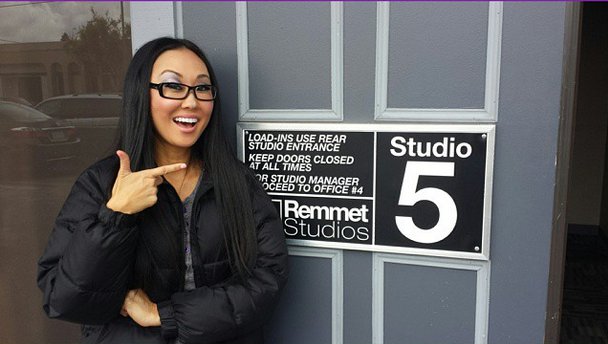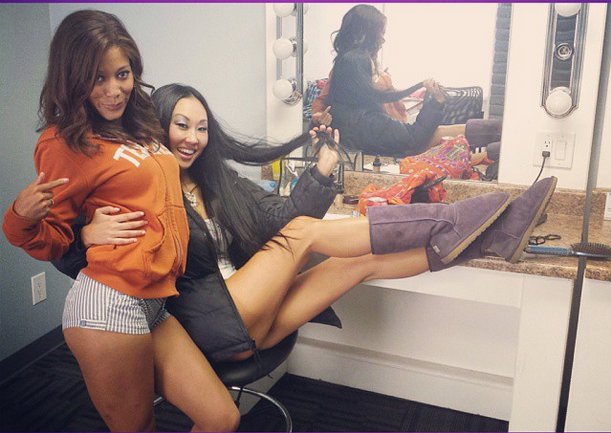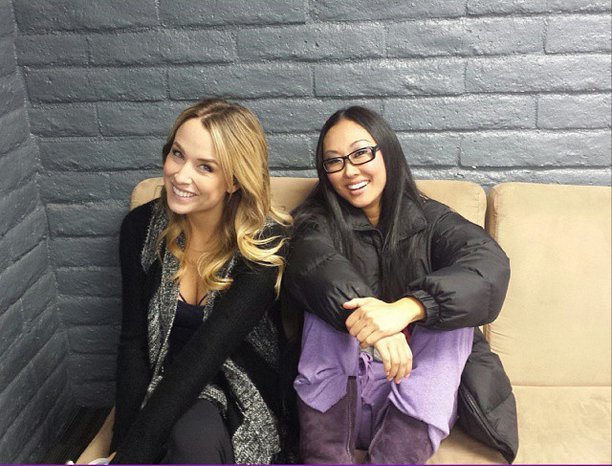 SWIMSUIT CENTERFOLD Cancun, Mexico Reality Show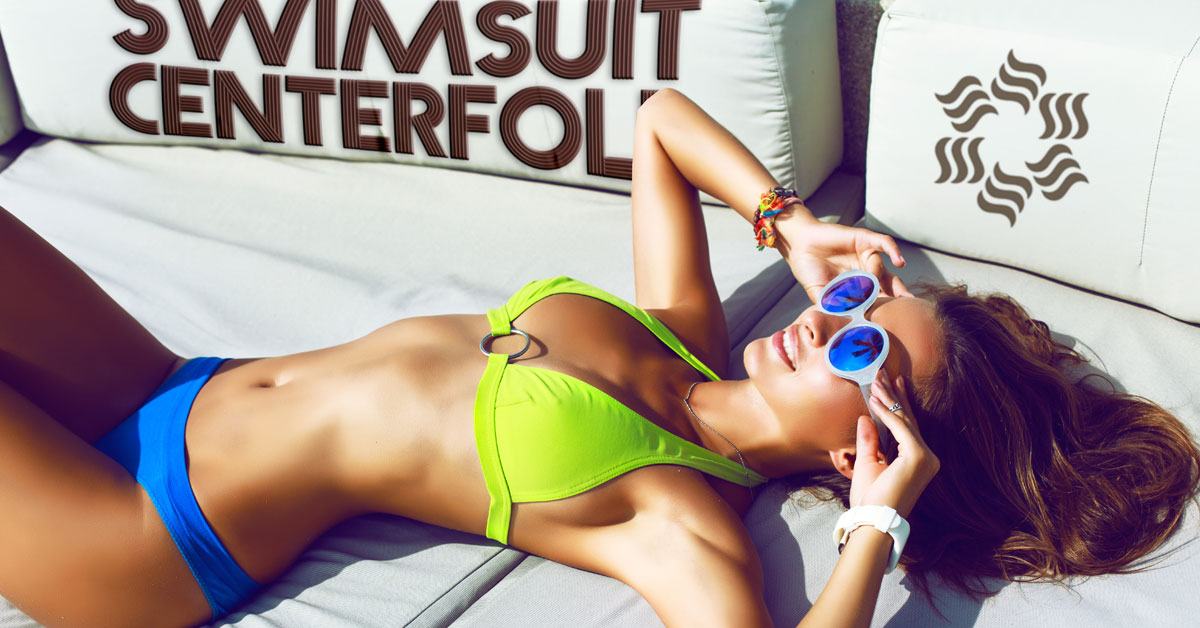 April 13th
I am very proud to be a judge on the upcoming reality series, SWIMSUIT CENTERFOLD. I'll be traveling with VIVA GLAM Magazine and Katarina Van Derham to Cancun, Mexico next week to shoot this exciting reality show. We'll be judging 50 models from all over the world to see who will win the title of Miss SWIMSUIT CENTERFOLD! Stay tuned for more to come!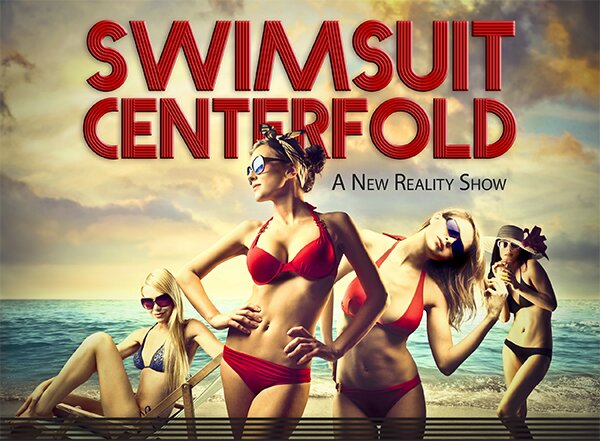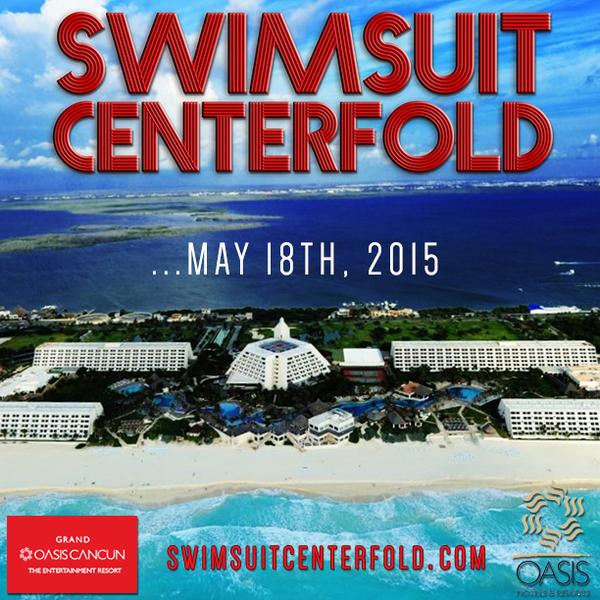 PALM SPRINGS COMMERCIAL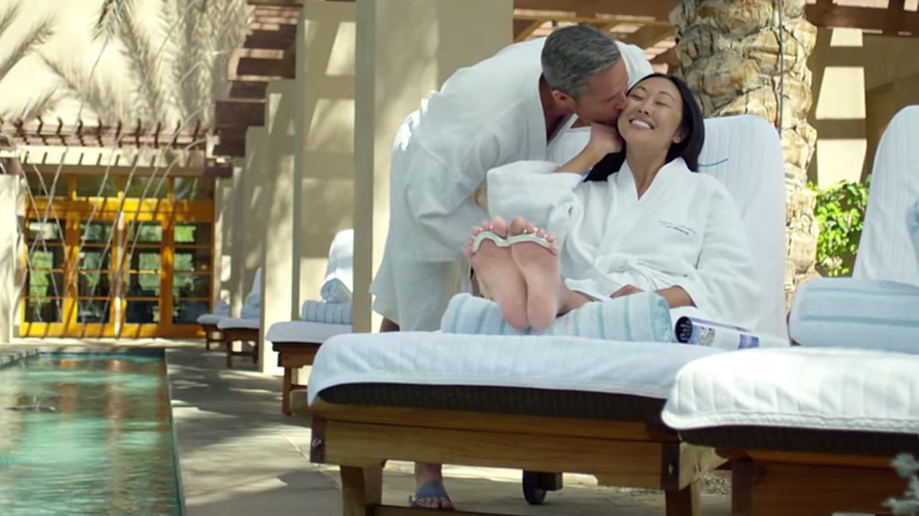 April 12th
Here is our Palm Springs commercial that was shot last month in Indian Wells:

https://www.youtube.com/watch?v=qysp6ZrPp4w

So excited to see it and we are very happy with the way it came out! This was shot at the Hyatt Indian Wells and we highly recommend this hotel to anyone who is visiting the Greater Palm Springs area. We had such a wonderful time shooting there and the staff offered impeccable service. We would definitely go back again!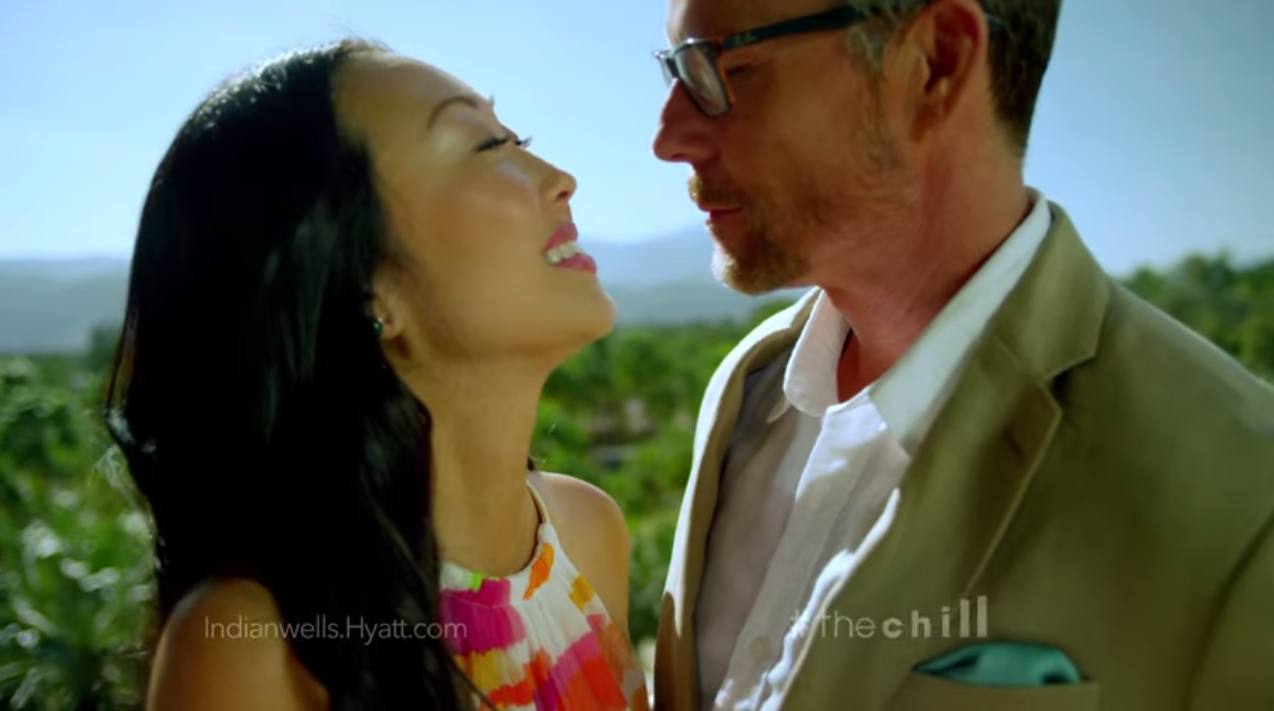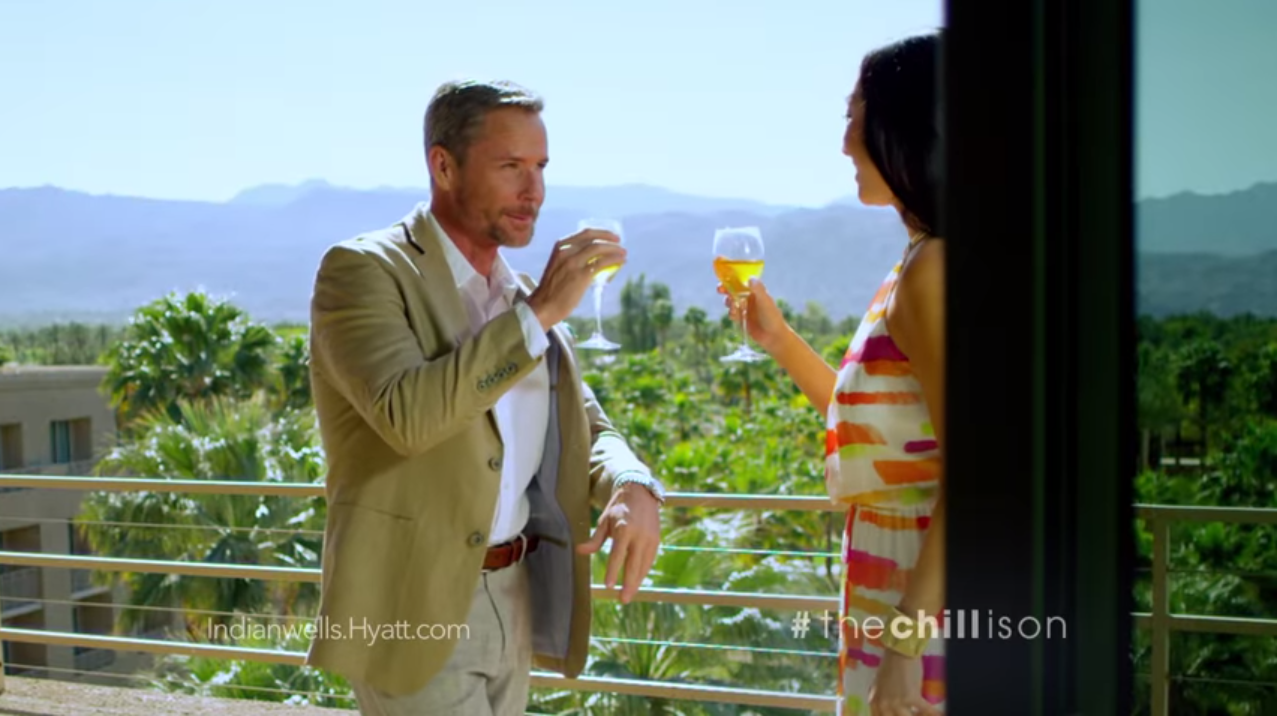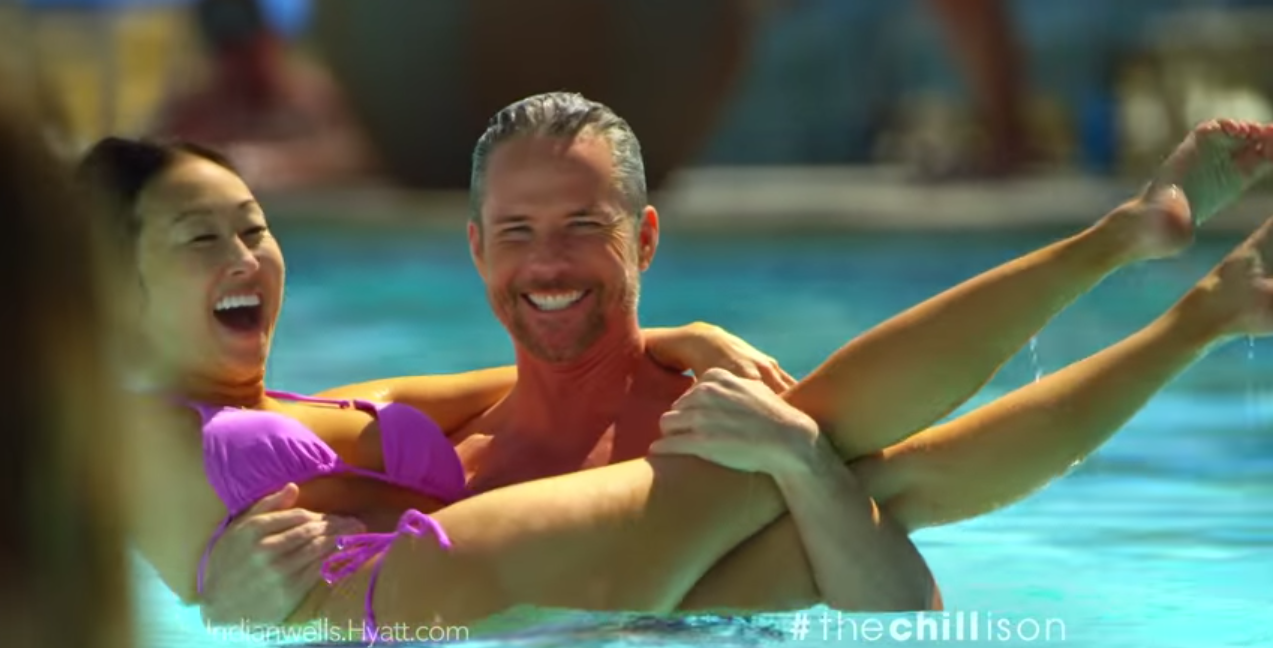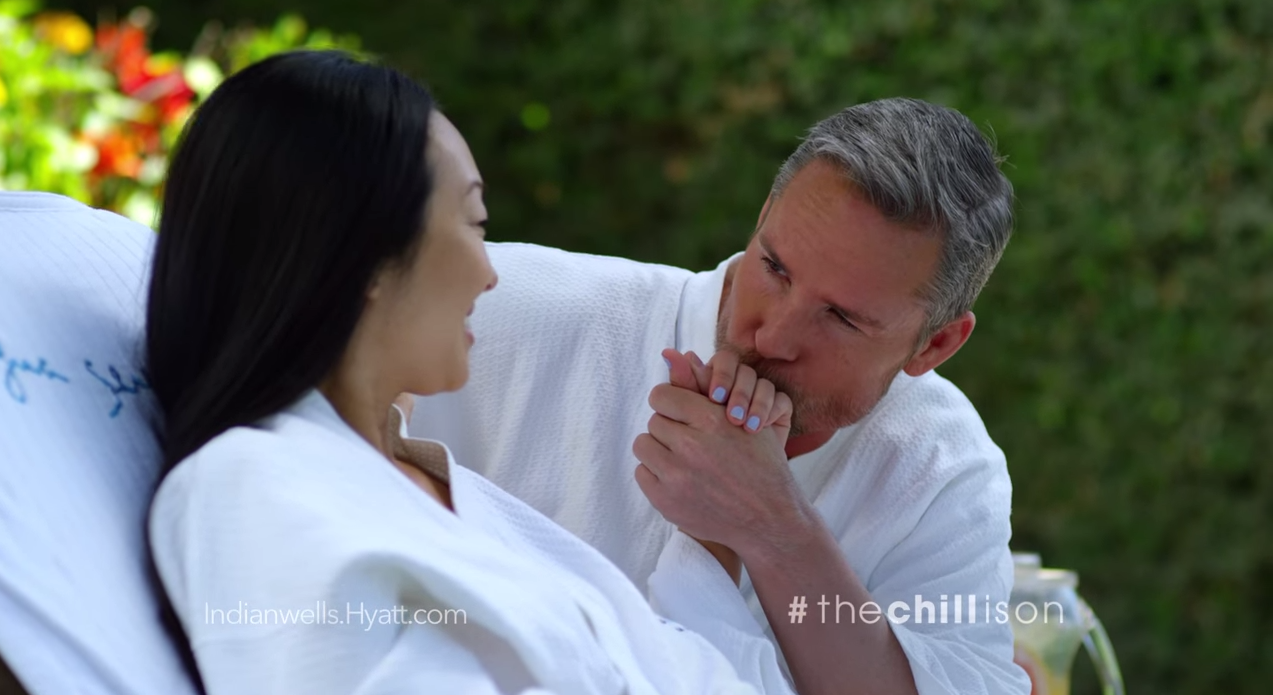 CINDY COHEN MODA GLAM BABY!
April 10th
I'd like to thank my good friend, Cindy Cohen, winner of the supermodel reality show, "She's Got the Look" for the dresses I will be wearing as a judge on the reality show, "Swimsuit Centerfold". Her store, www.modaglam.com, specializes in glamorous, sexy and beautiful designer clothing for women. If you like what I'm wearing on this show, it is all supplied by her so check out the official website!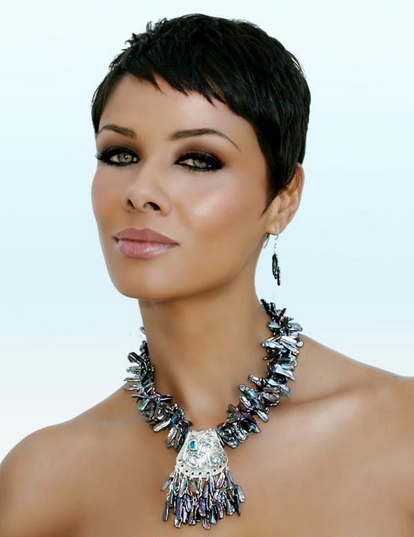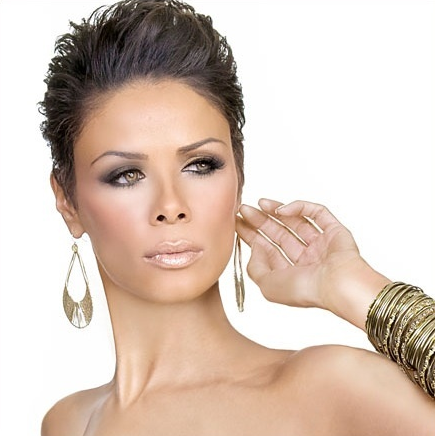 SWIMSUIT CENTERFOLD Cancun, Mexico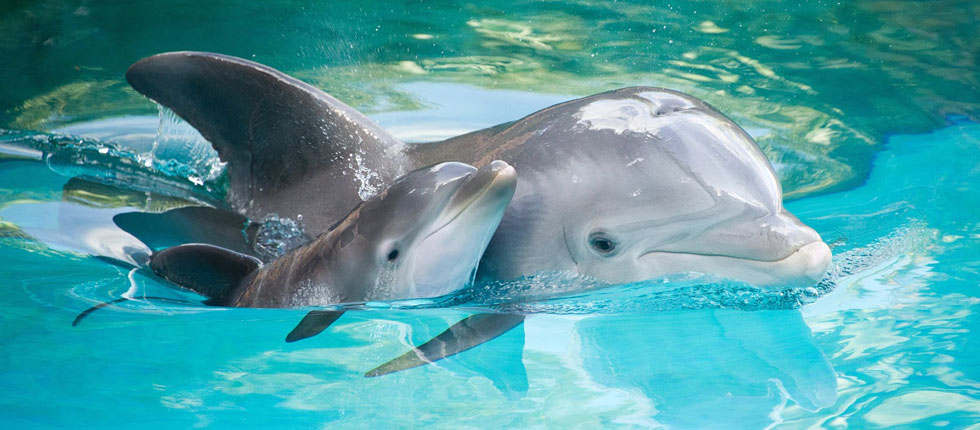 April 9th
In one week, I'll be traveling to Cancun, Mexico with the incomparable Katarina Van Derham to be a judge in the new reality competition, Swimsuit Centerfold. 50 beautiful women from all over the world will be competing for the title of Miss Swimsuit Centerfold. This compelling new reality show will also showcase much of what Cancun has to offer including snorkeling, diving, Mayan ruins, swimming with the dolphins, zip lining and much, much more!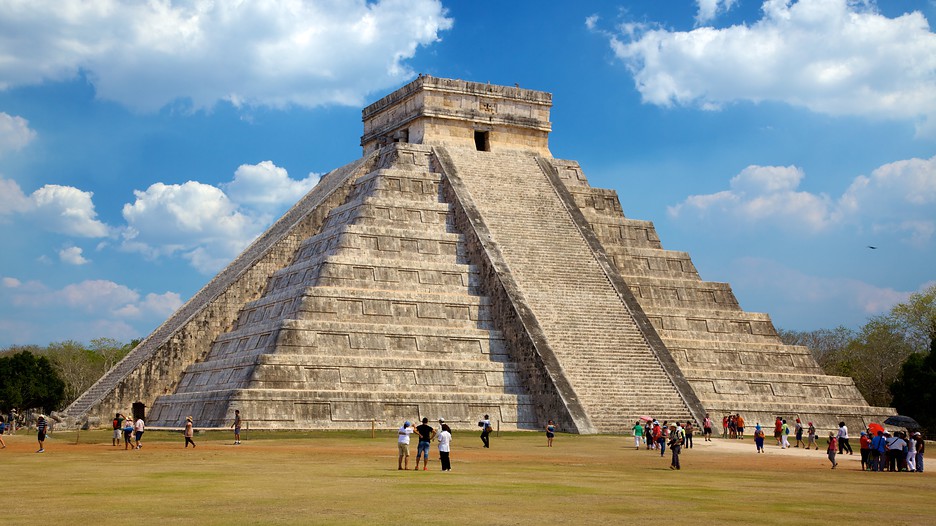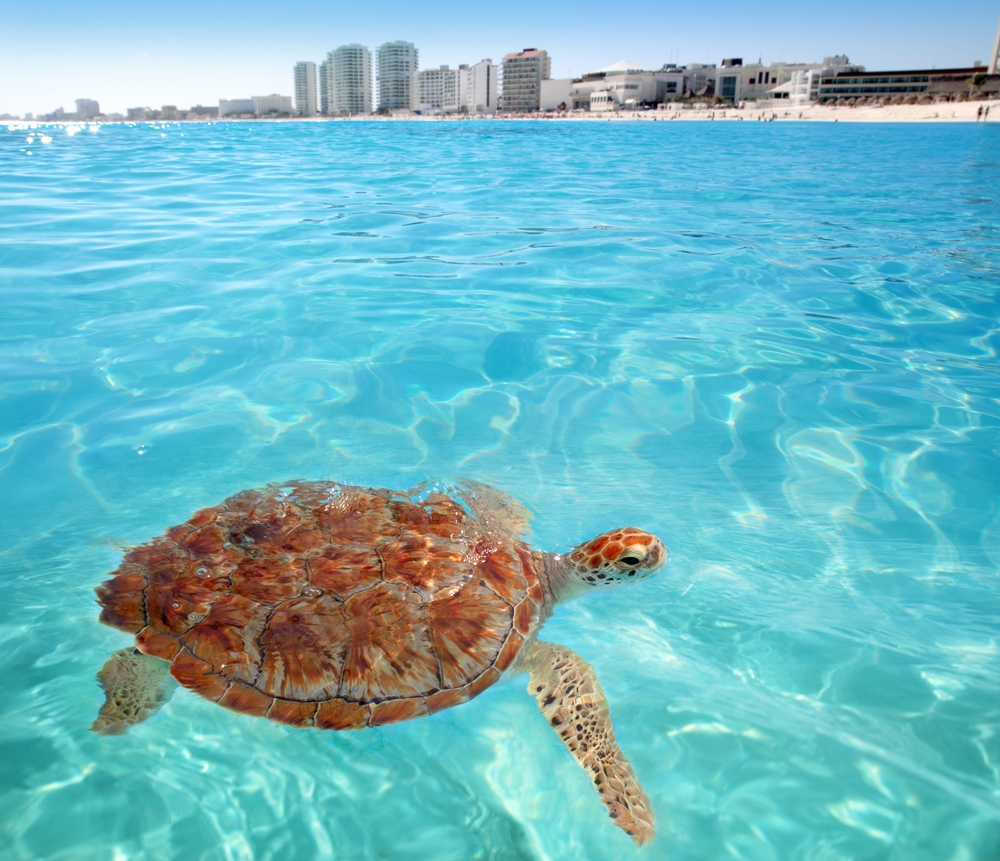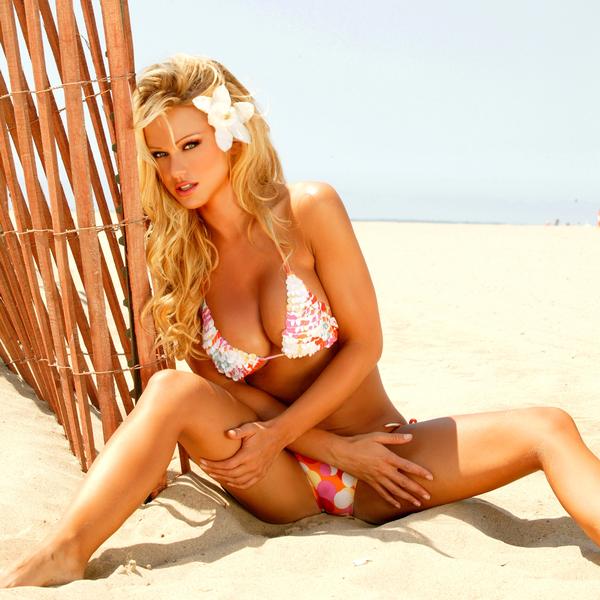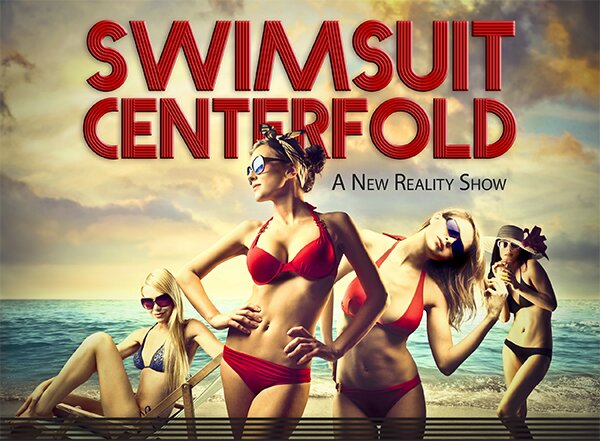 VENDETTA VETTE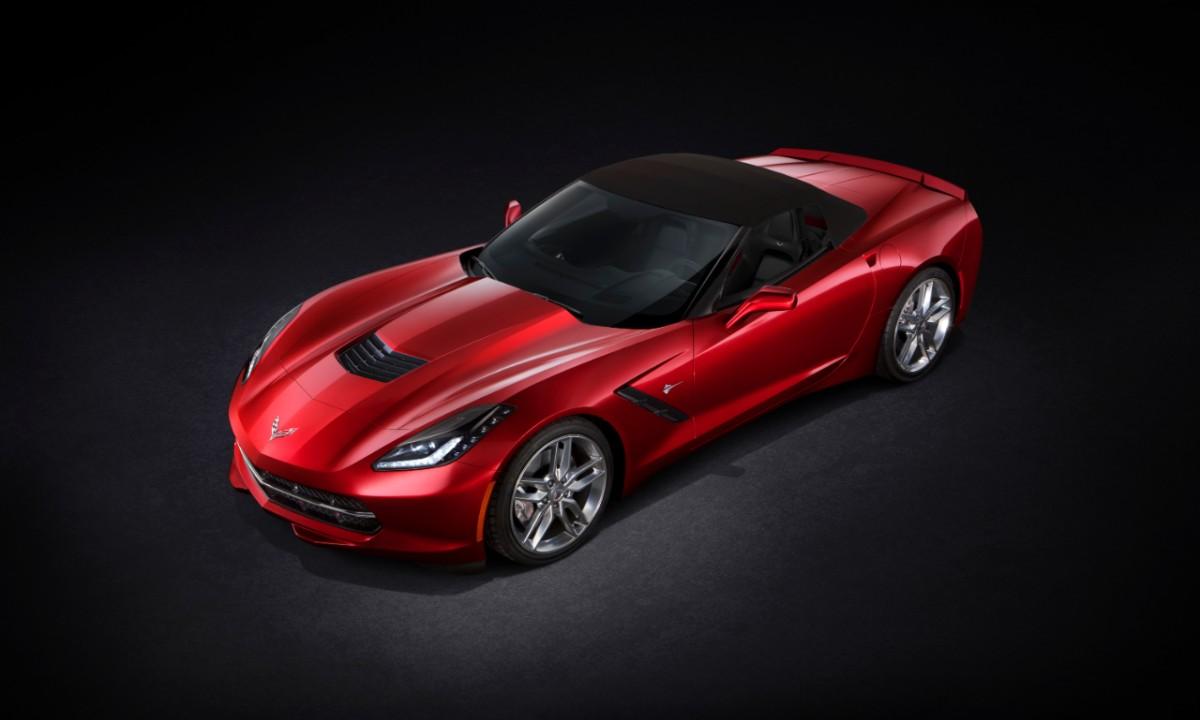 April 8th
I've just signed onto a new project that will be filming in Texas, Vendetta Vette. This action film will star Chase Masterson from Star Trek fame and Katarina Van Derham. I'm happy to be included in this great cast and look forward to playing a dubious villain!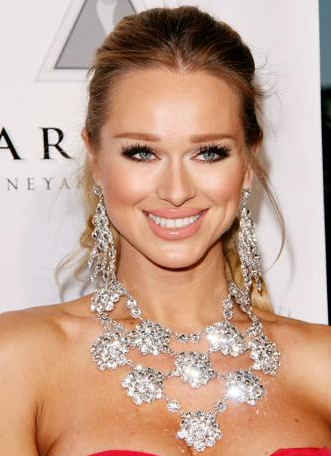 CHILDREN OF THE NIGHT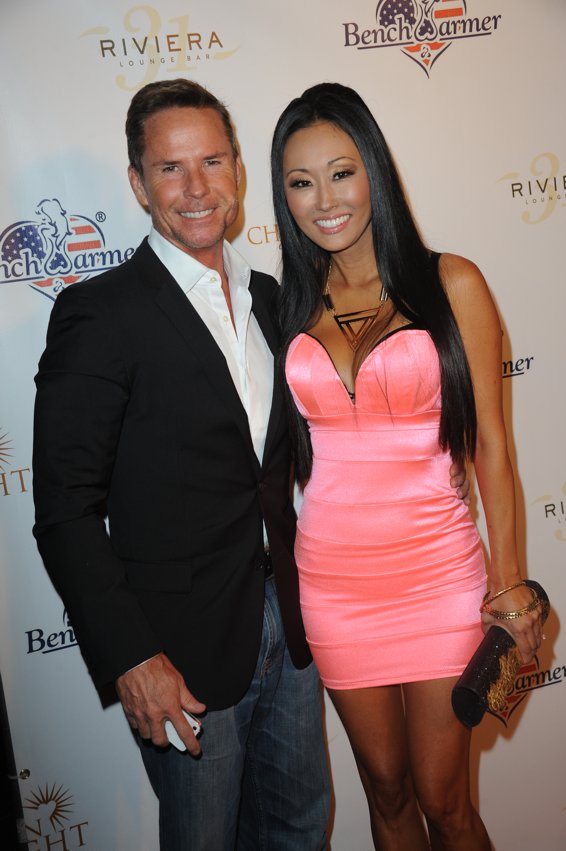 APRIL 7th
Recently, we had the opportunity to attend a charity event for Children of the Night. This organization helps homeless youth in Hollywood by giving them shelter, food and an education to help them get off the streets. To donate to Children of the Night, visit their official website: www.childrenofthenight.org.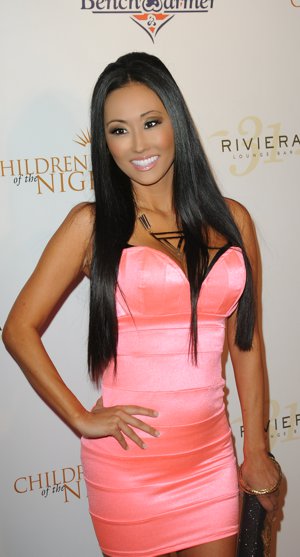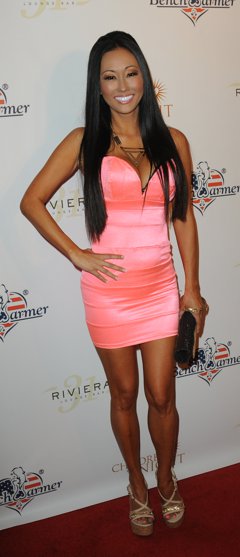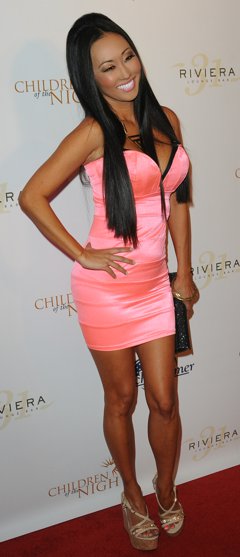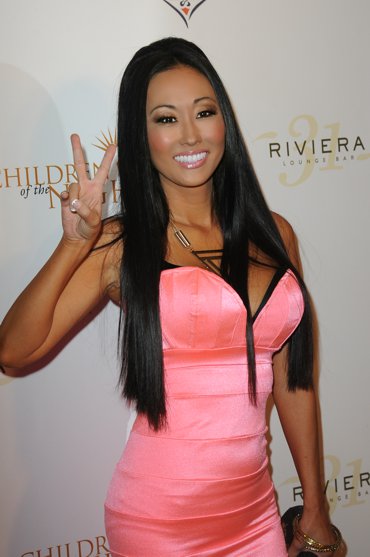 A BIRTHDAY BASH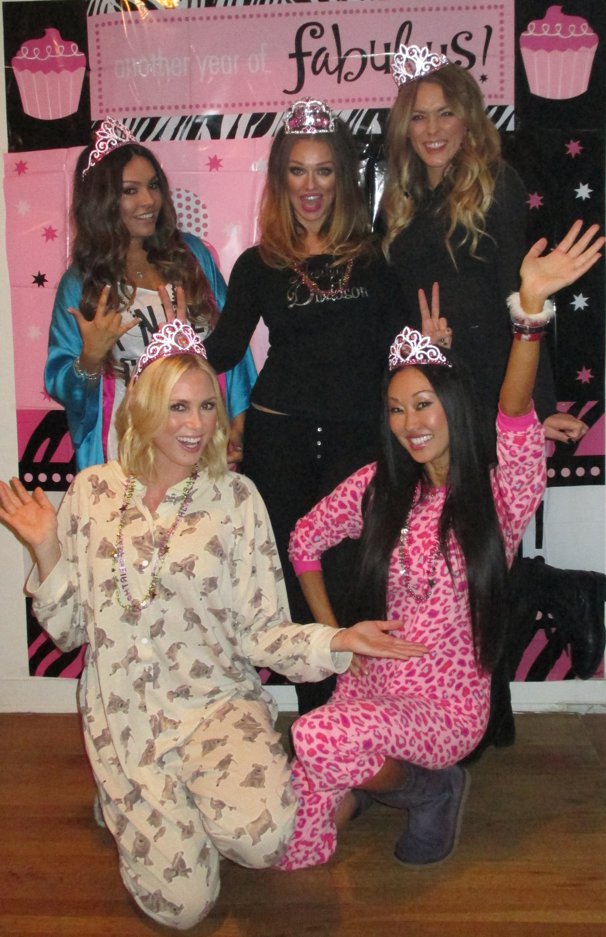 APRIL 6th
Recently, we celebrated Katarina's birthday with a fun girl's slumber party! We dressed in comfy PJ's and did crafts, cooked awesome vegan food and watched movies! The perfect way to celebrate: good friends, good food and great conversation! Always a blessing!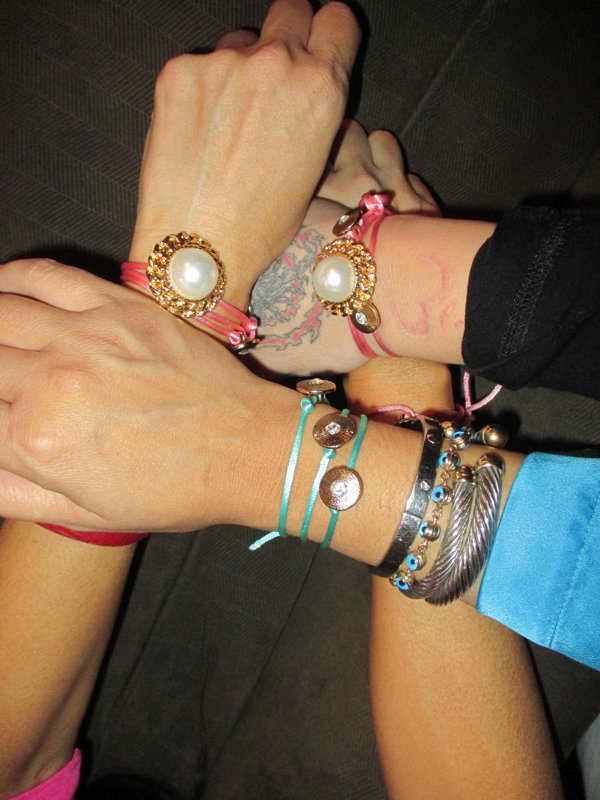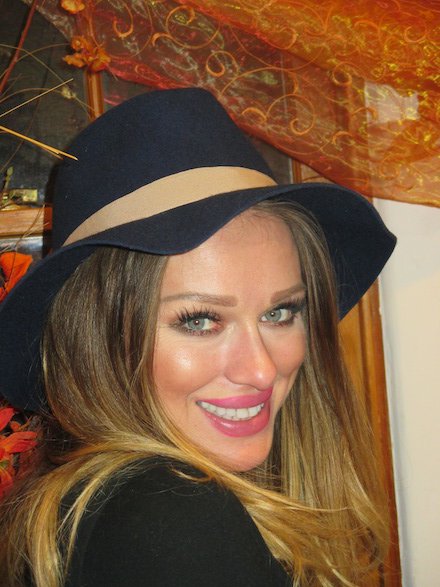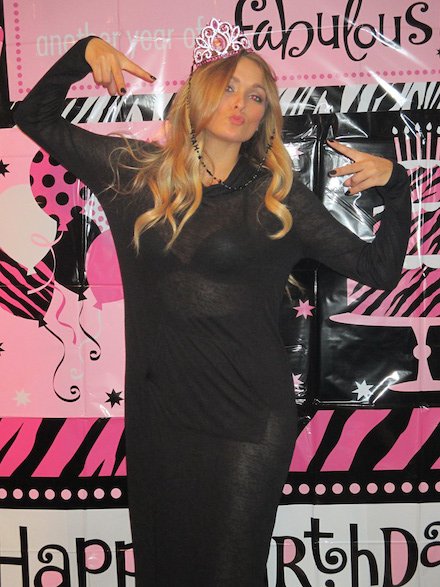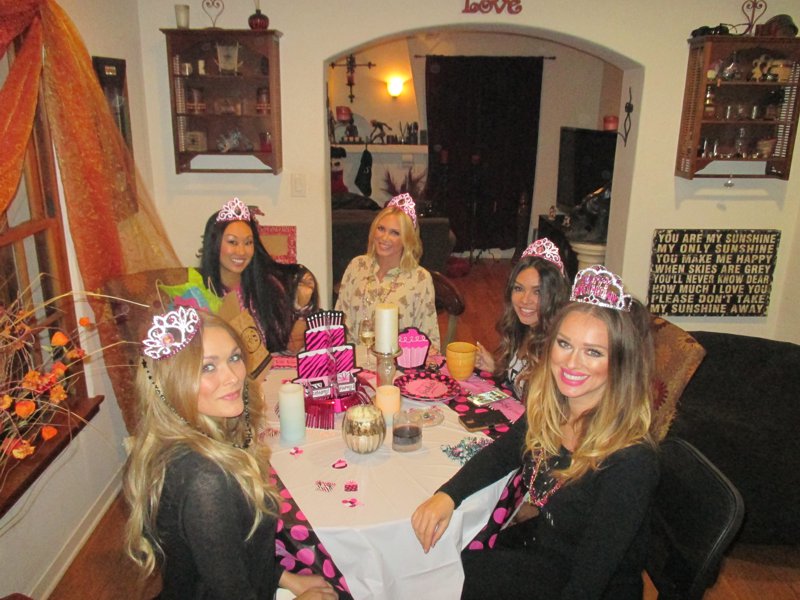 IT'S ALWAYS SUNNY IN PHILADELPHIA Week 2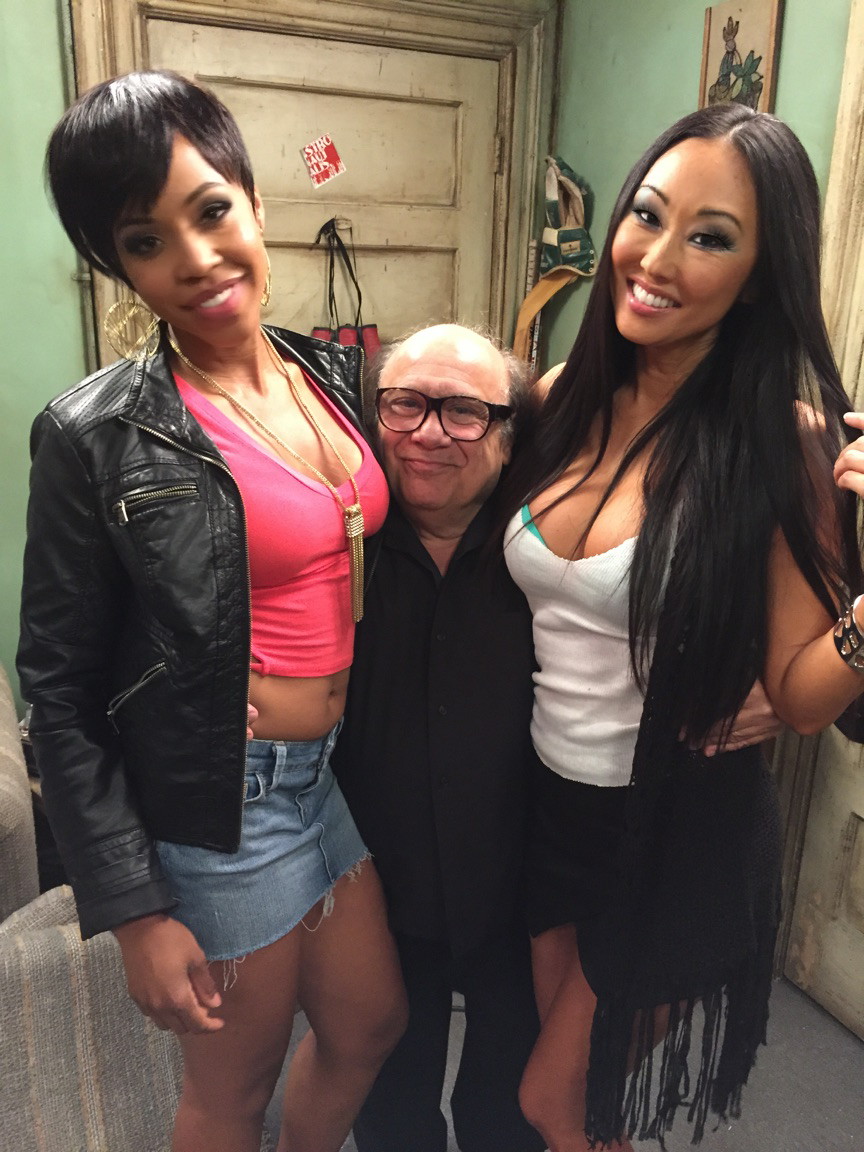 April 5th
Much happiness and mirth was had by all on the set of "It's Always Sunny in Philadelphia" this week. We shot on the studio lot at FOX this time. Here's a pic of us making a Danny Sandwich, me eternally lost on the lot, and in front of my dressing room. I included 2 pics just because I liked the makeup. Great cast and crew and I had a wonderful time shooting this episode which will air later this season!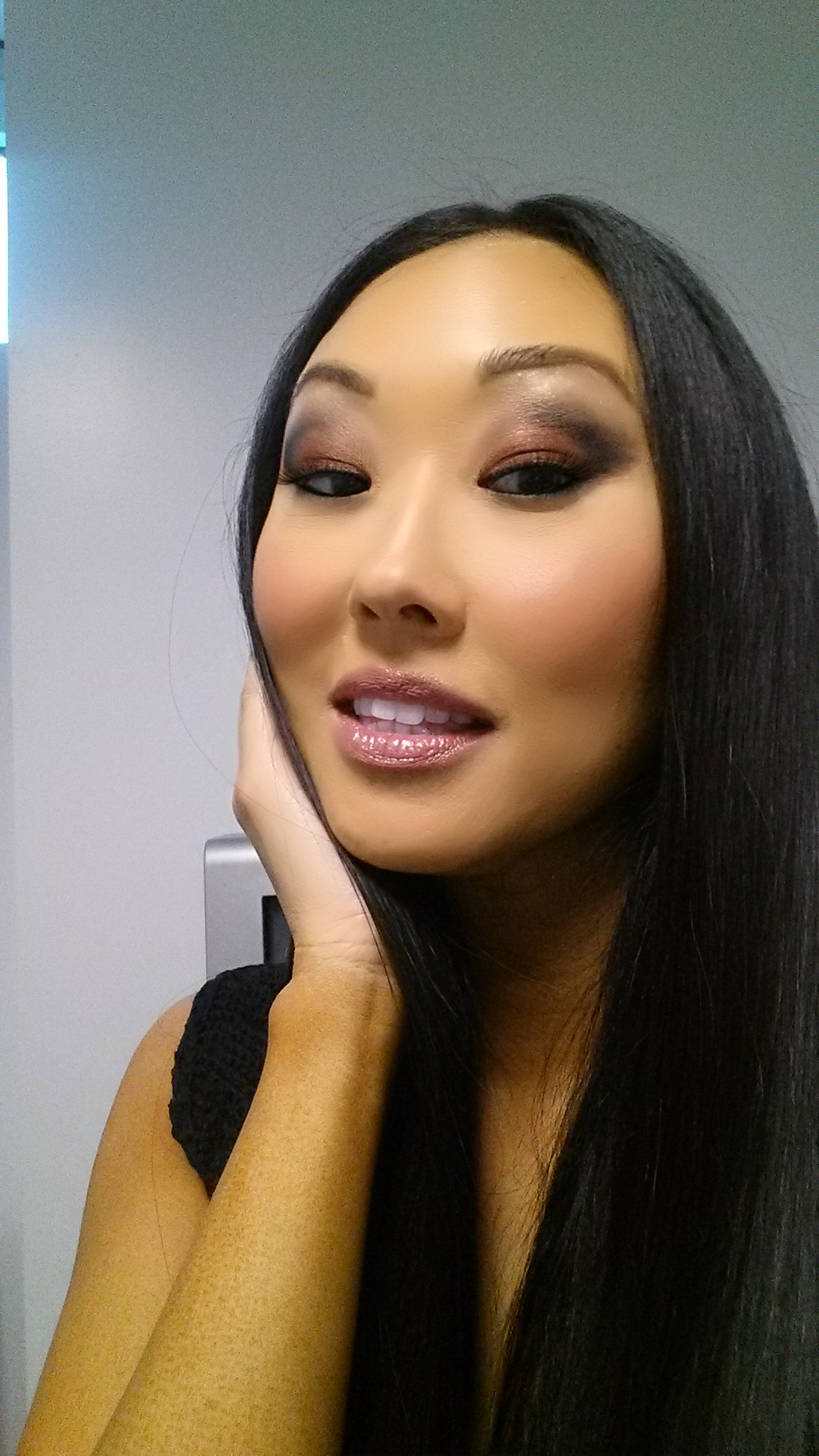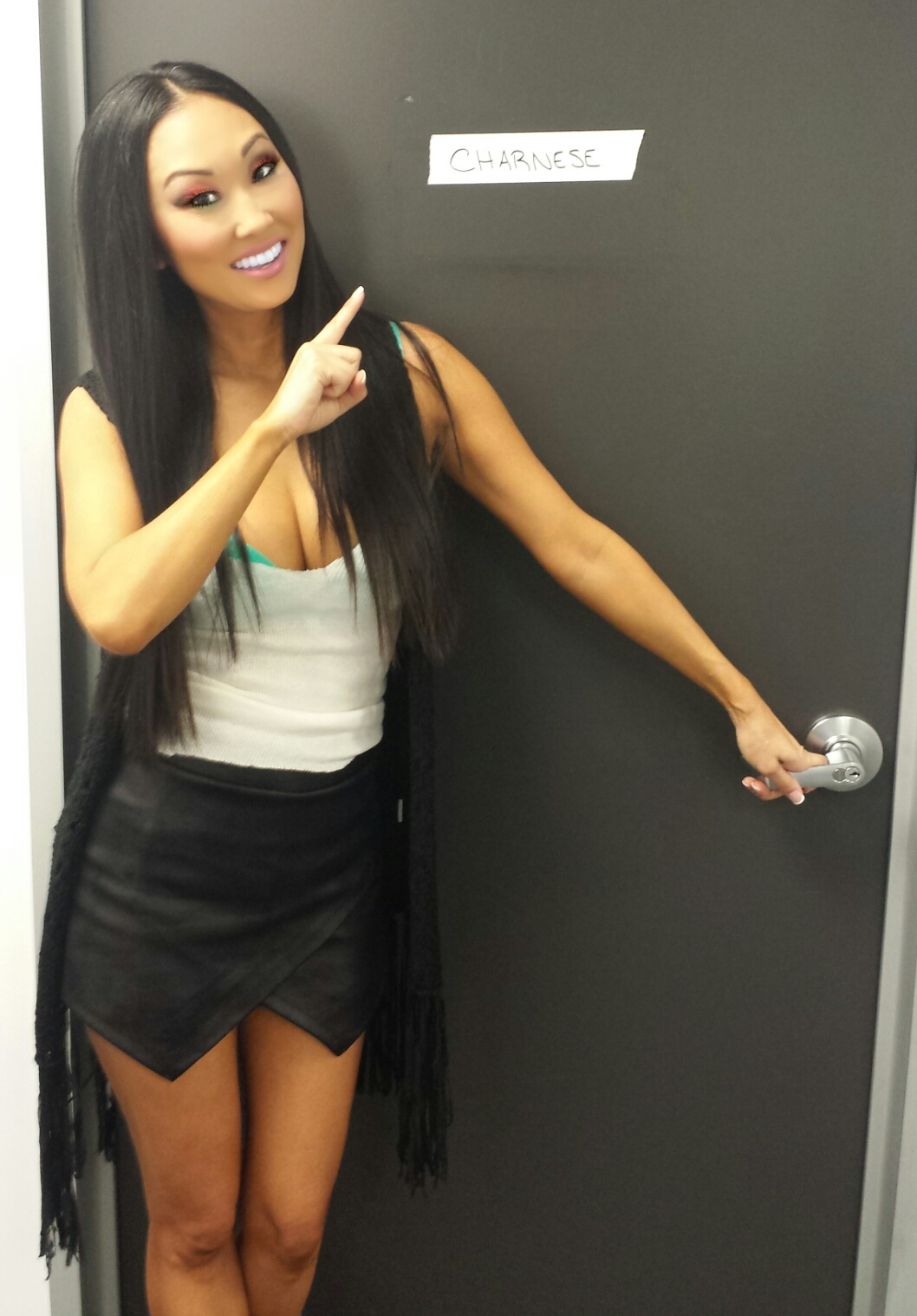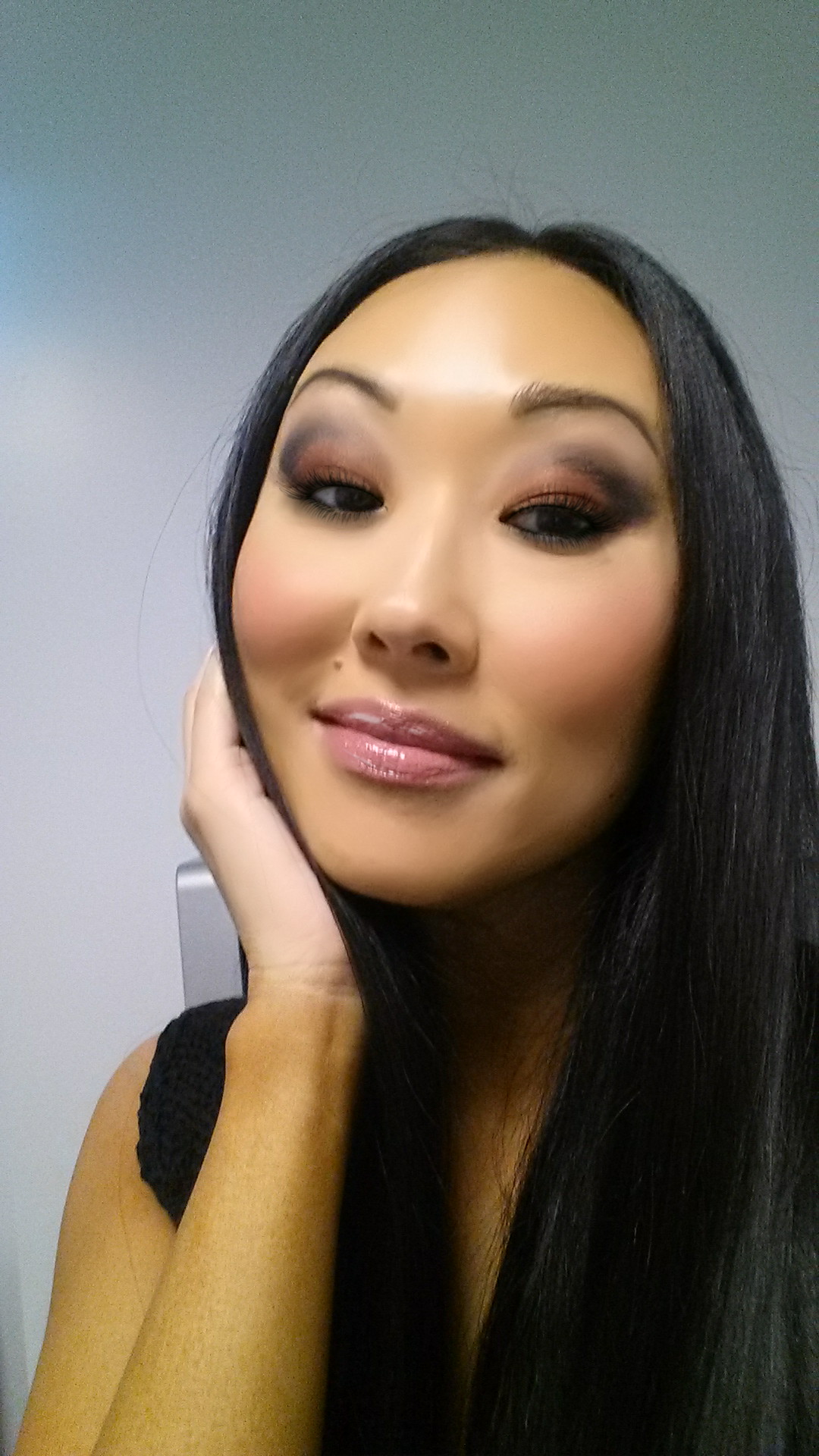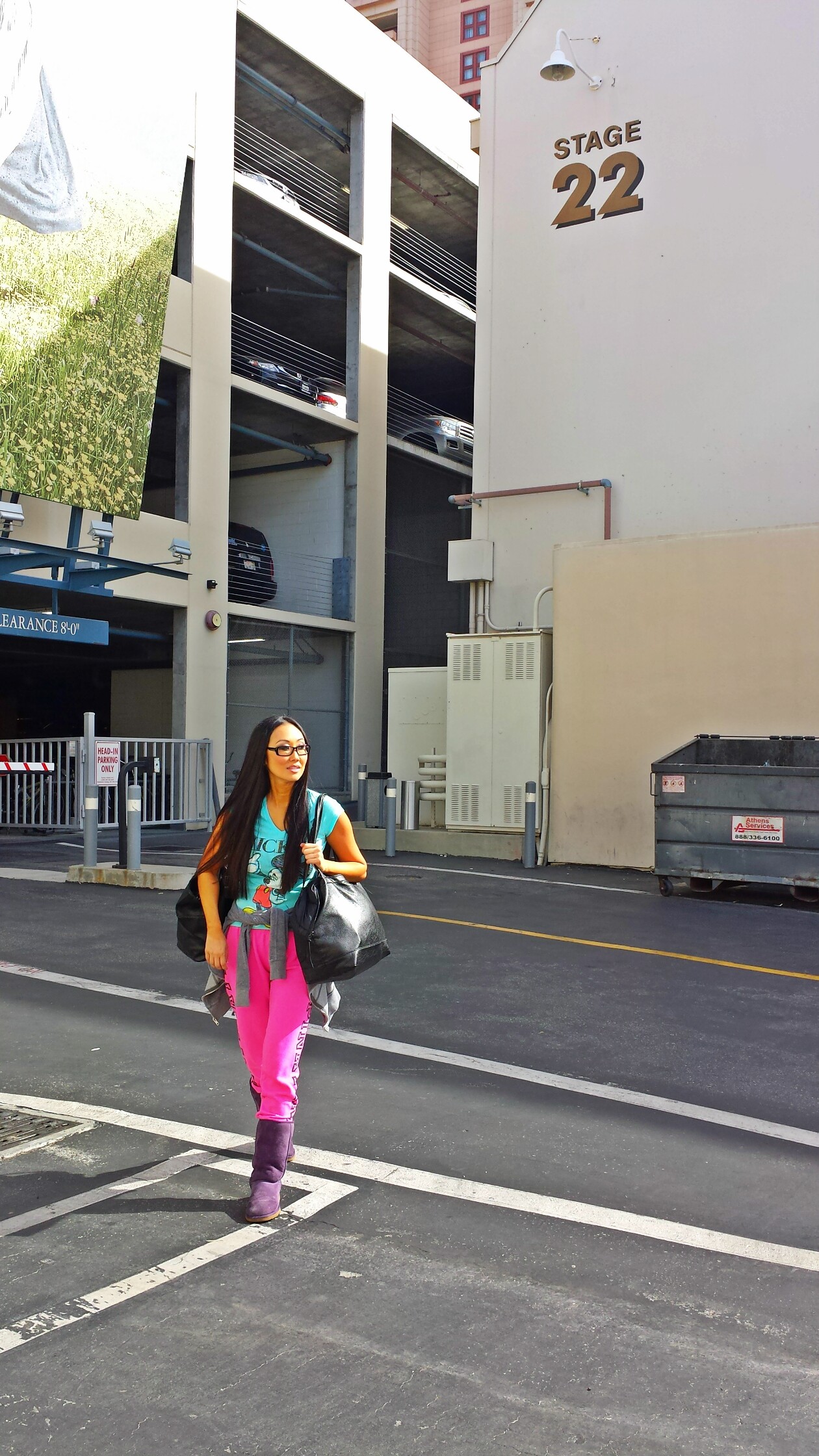 COSTA RICA

APRIL 4th
I will also be traveling next month to Costa Rica on behalf of VIVA GLAM MAGAZINE where we will be staying at the luxury resort, Alta Gracia. This resort is high in the mountains above San Jose and focuses on horses, spa and well-being. We will be shooting a campaign for GLAMARELLA COUTURE Jewelry for men on horseback. This is my third time to Costa Rica, but my first visit to the mountains. So, I'm quite excited to experience a different part of this beautiful country.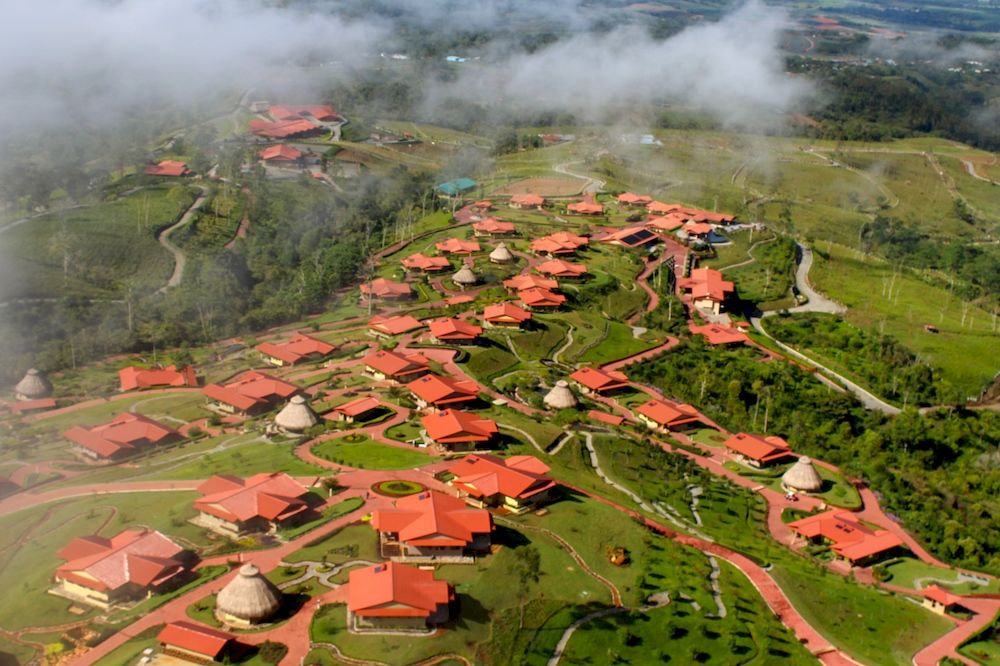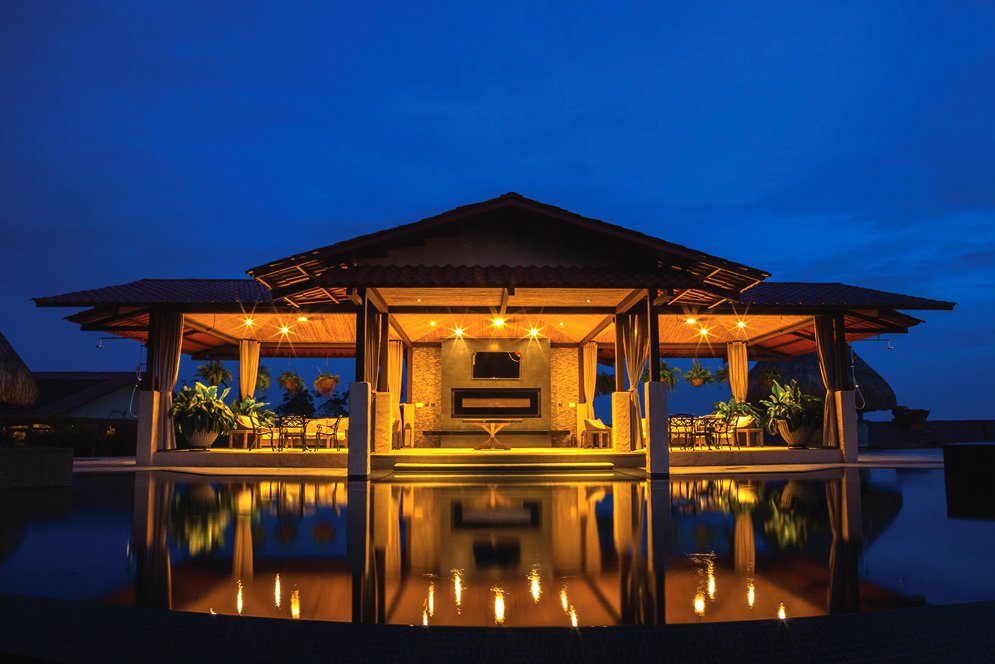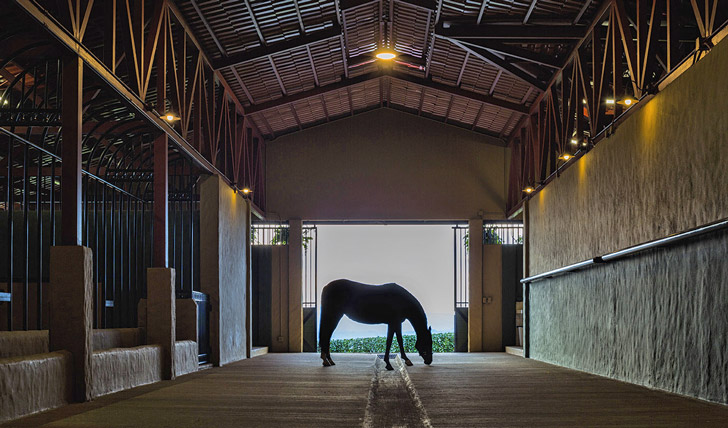 AN ANNIVERSARY OUTING part deux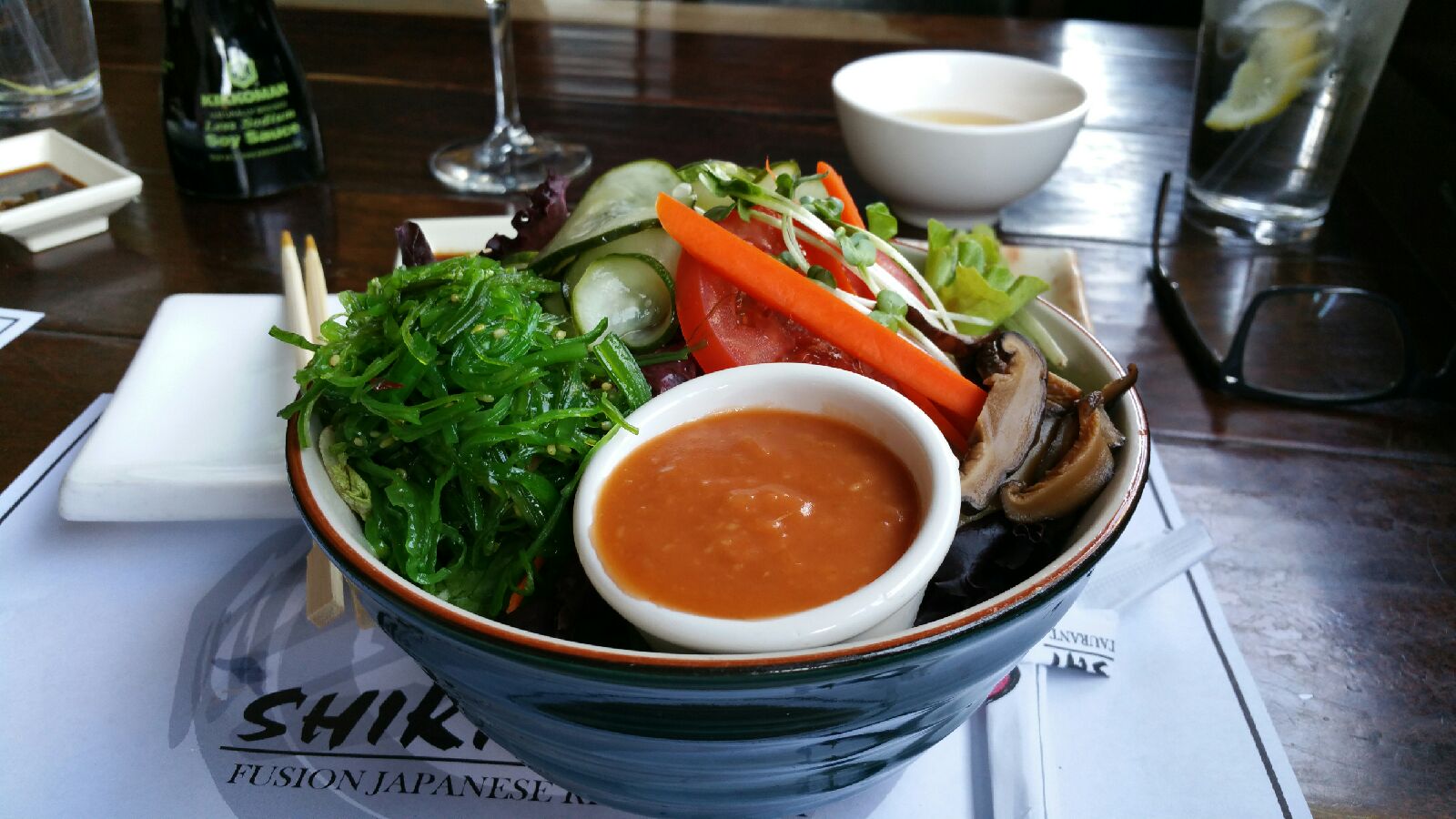 APRIL 4th
Just a few more pics of our fun day!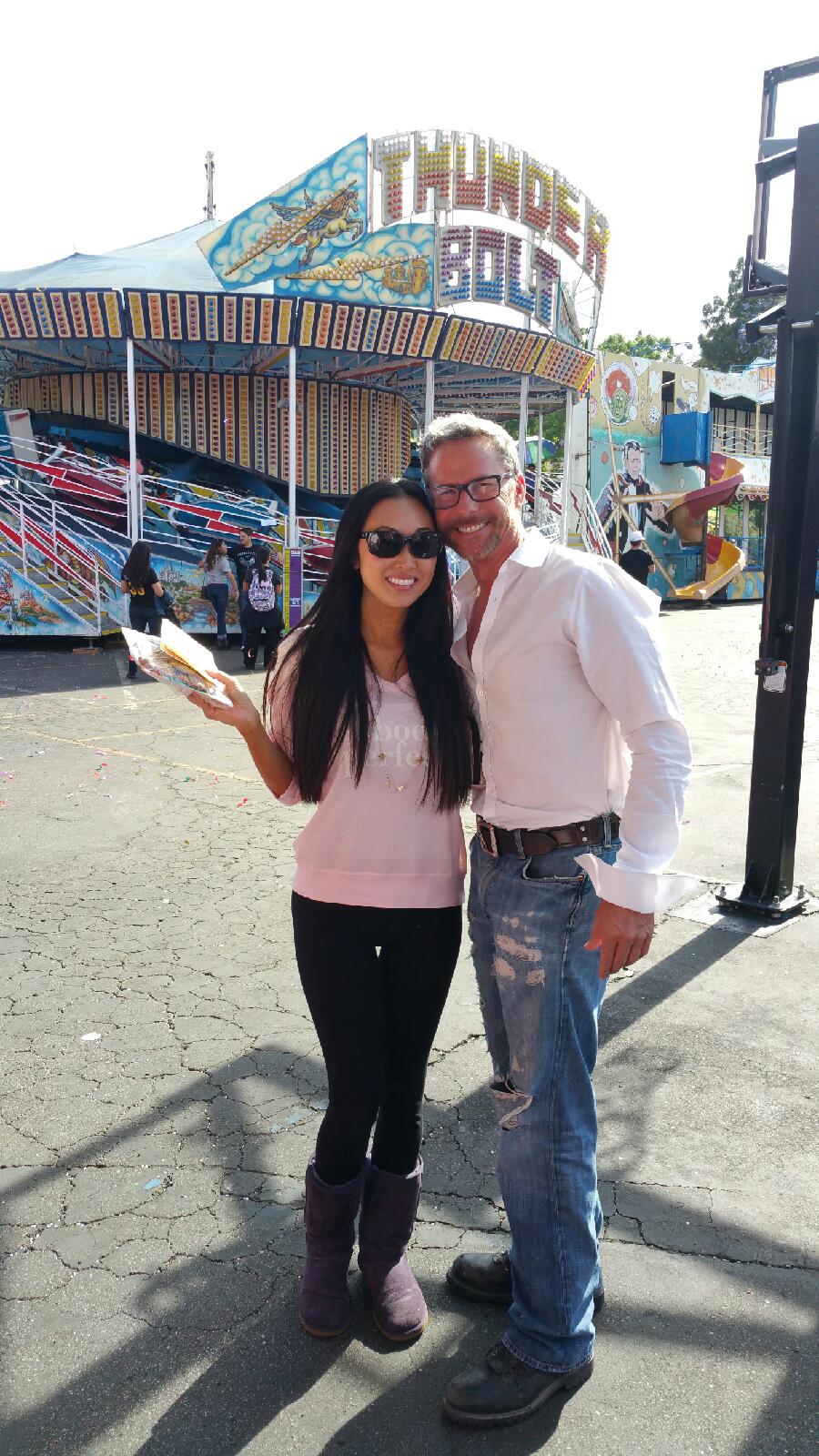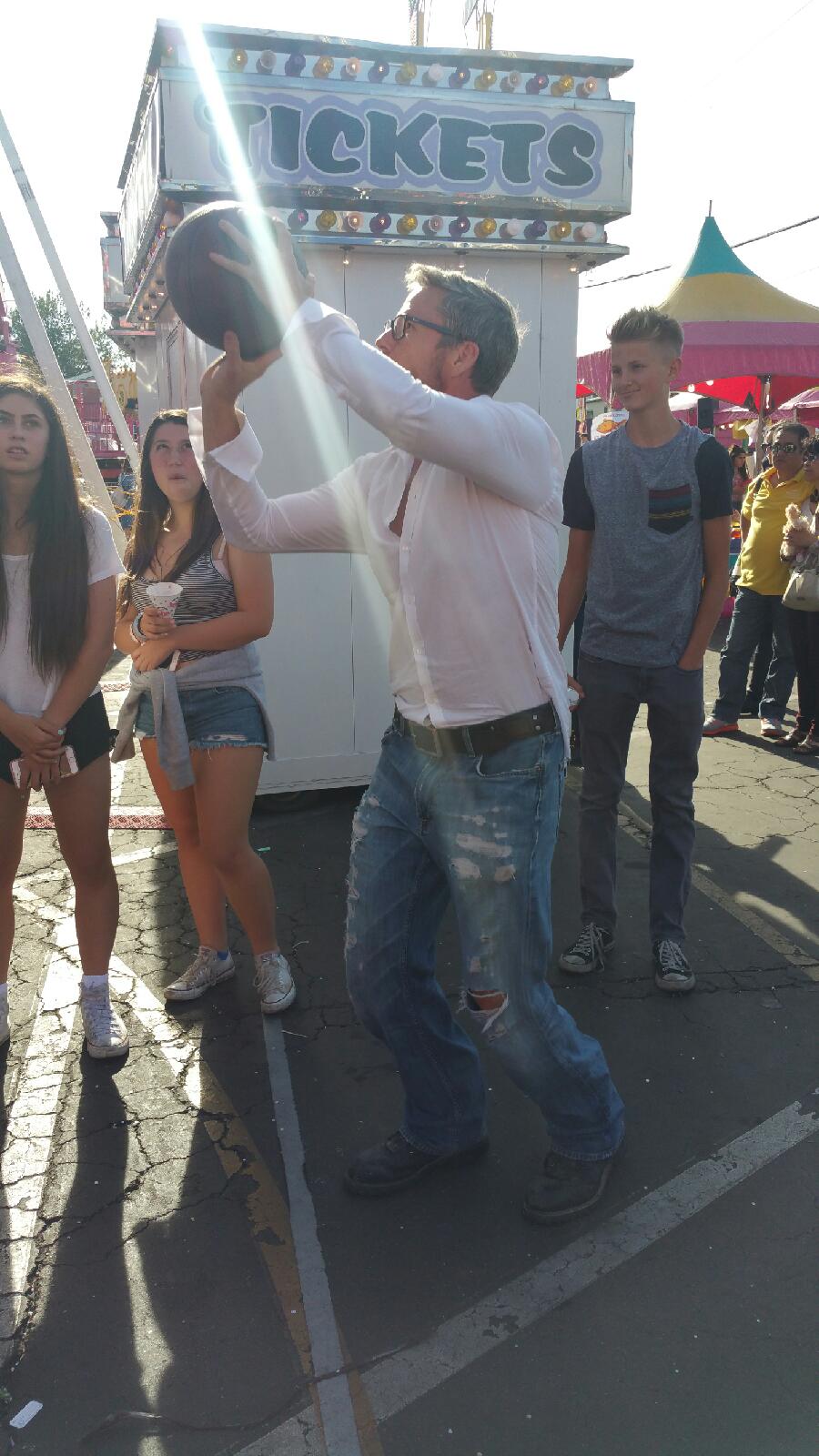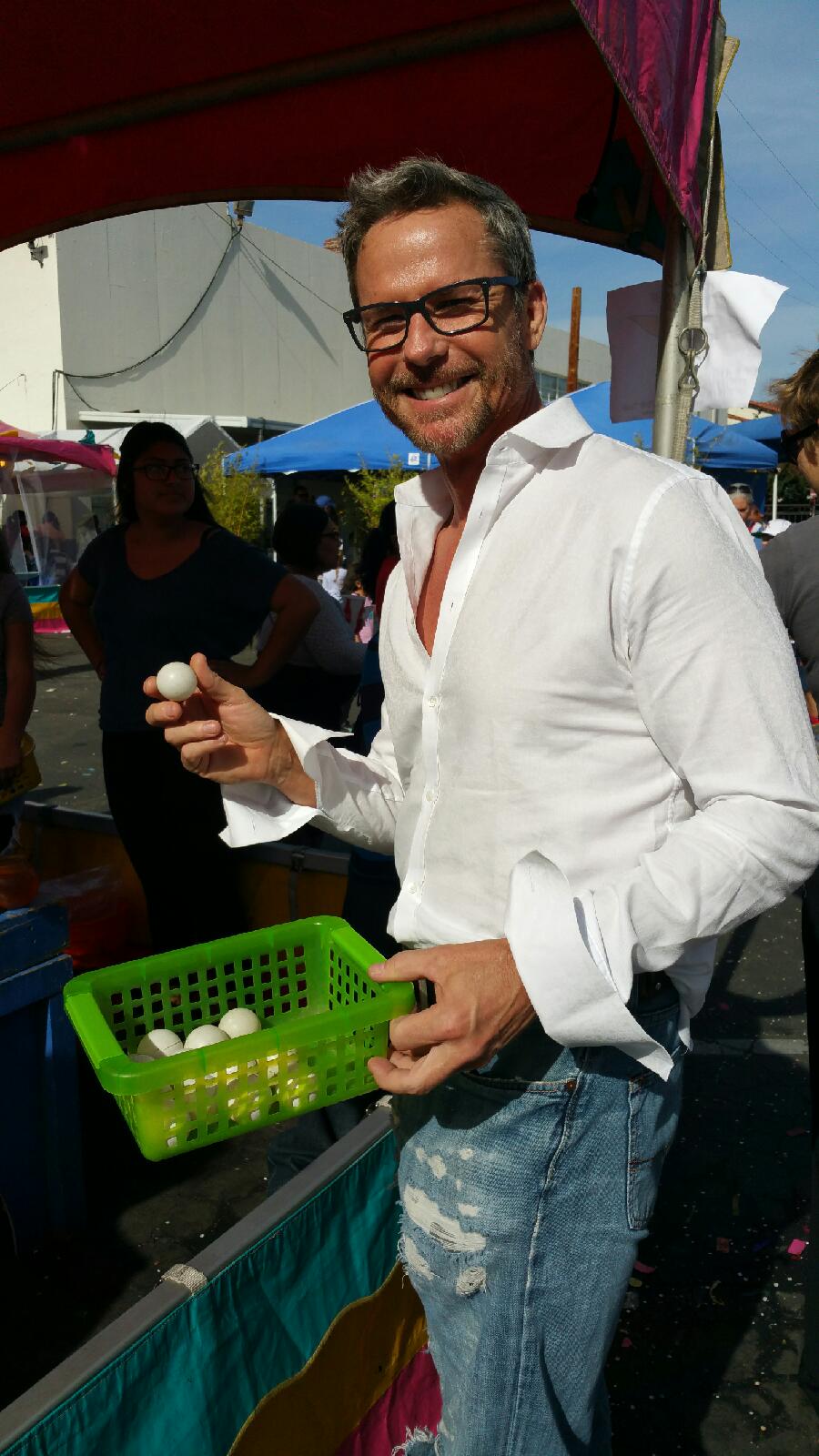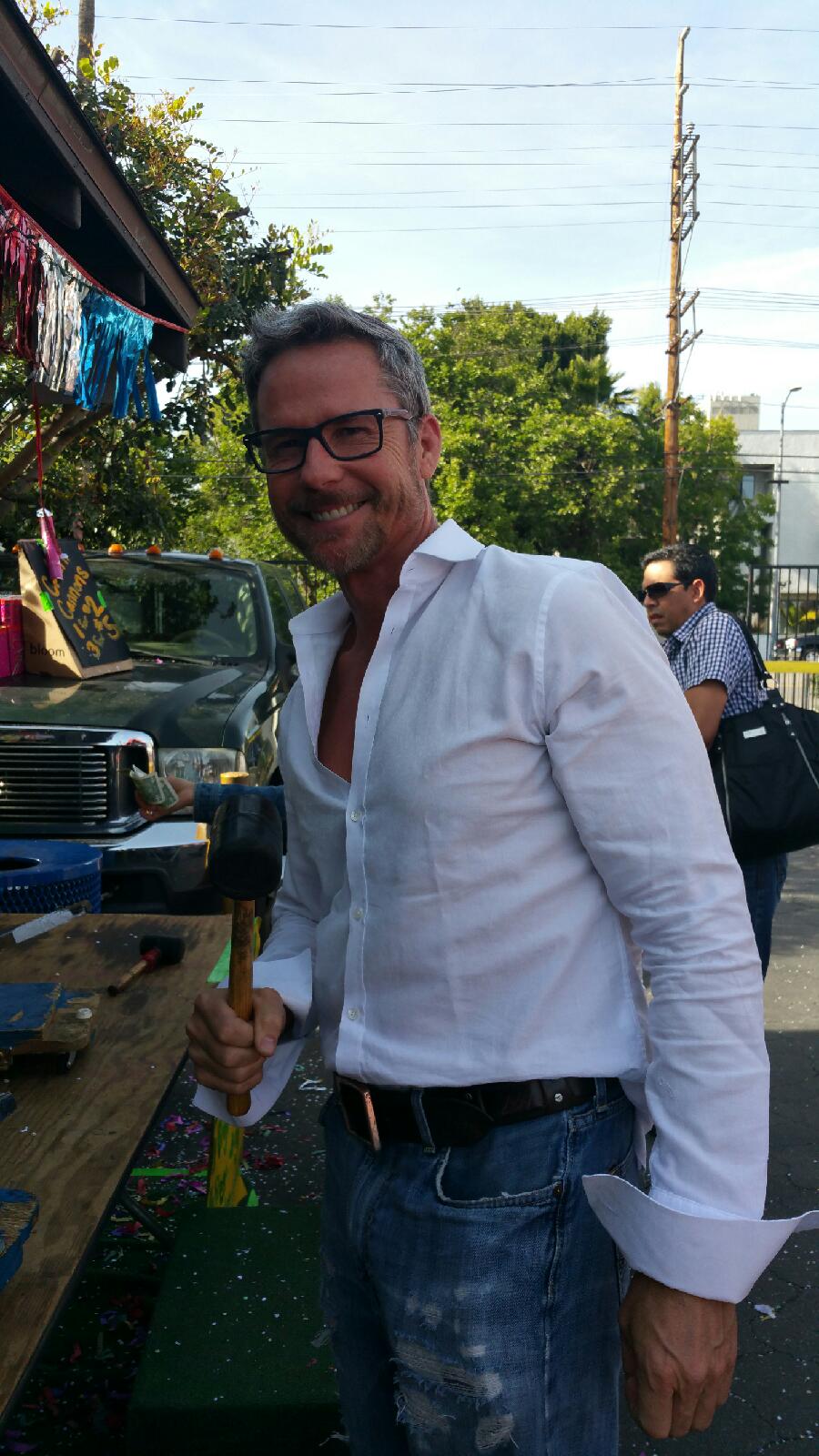 AN ANNIVERSARY OUTING
April 3rd
It was recently our anniversary and we celebrated knowing each other for 22 years by a little trip to our local carnival! Loads of fun and we played Frogger, bb guns, goldfish (we won 3!), basketball and a lot of other games that helped bring in donations to our church. After, we went for frozen yogurt, something we do every week so I guess that is not exceptionally special, and out for sushi. A great day and we always just enjoy each and every day with each other!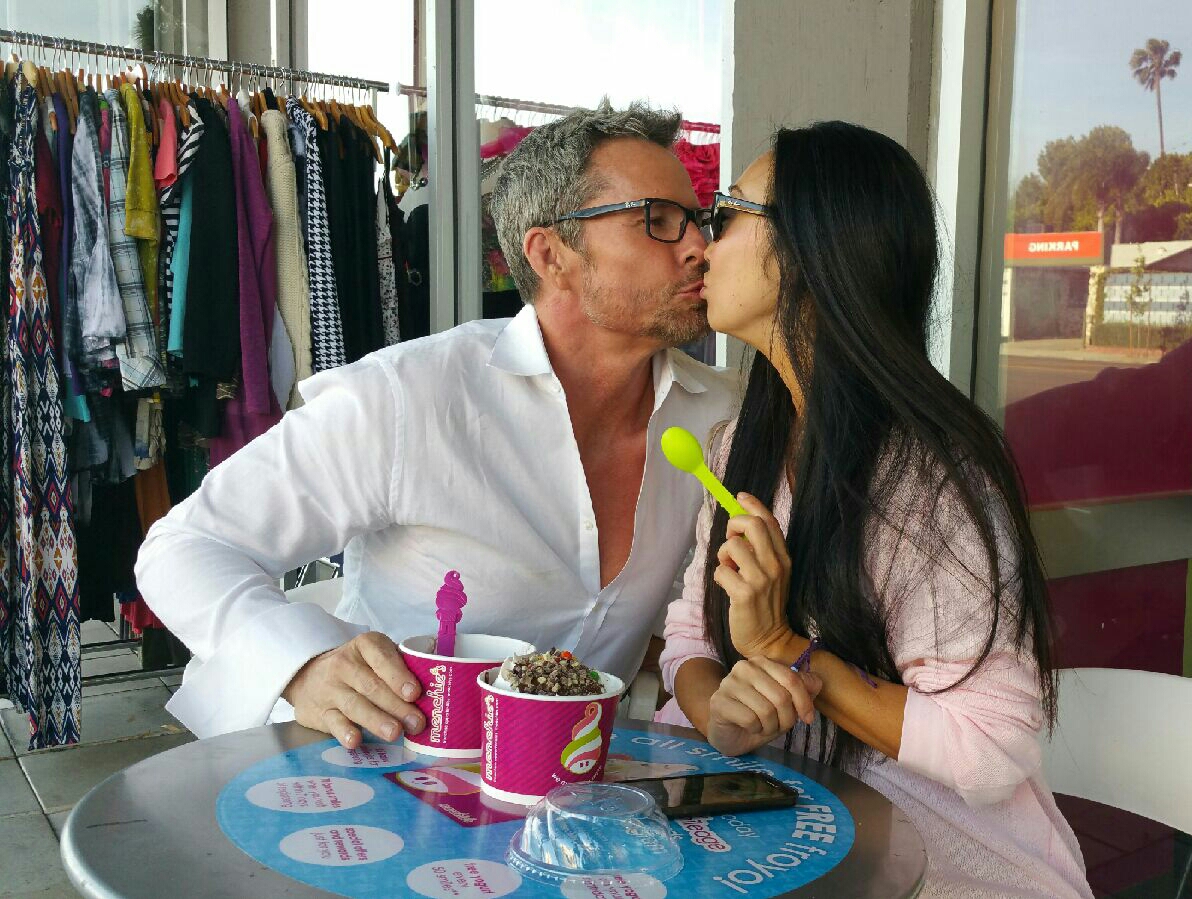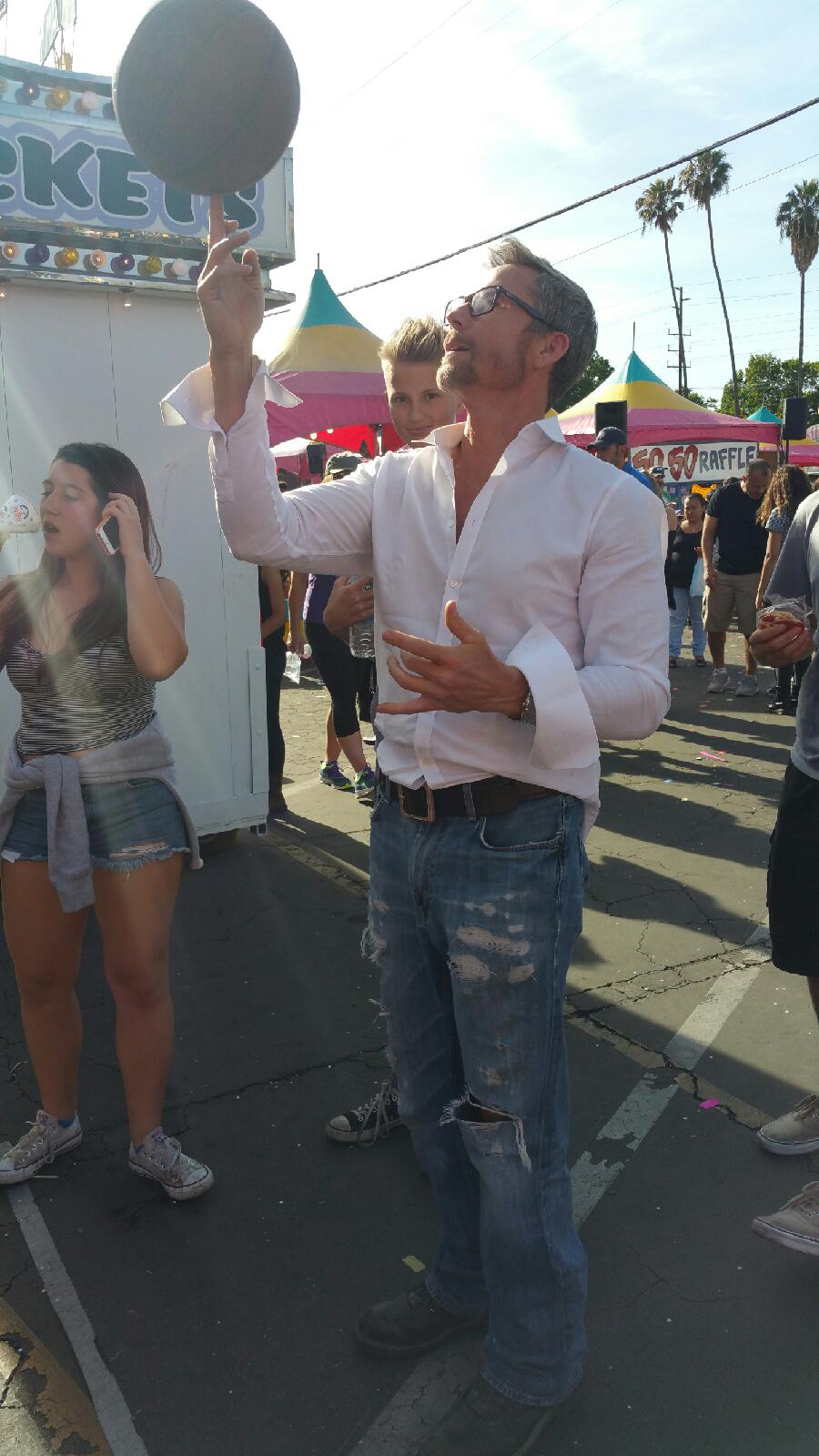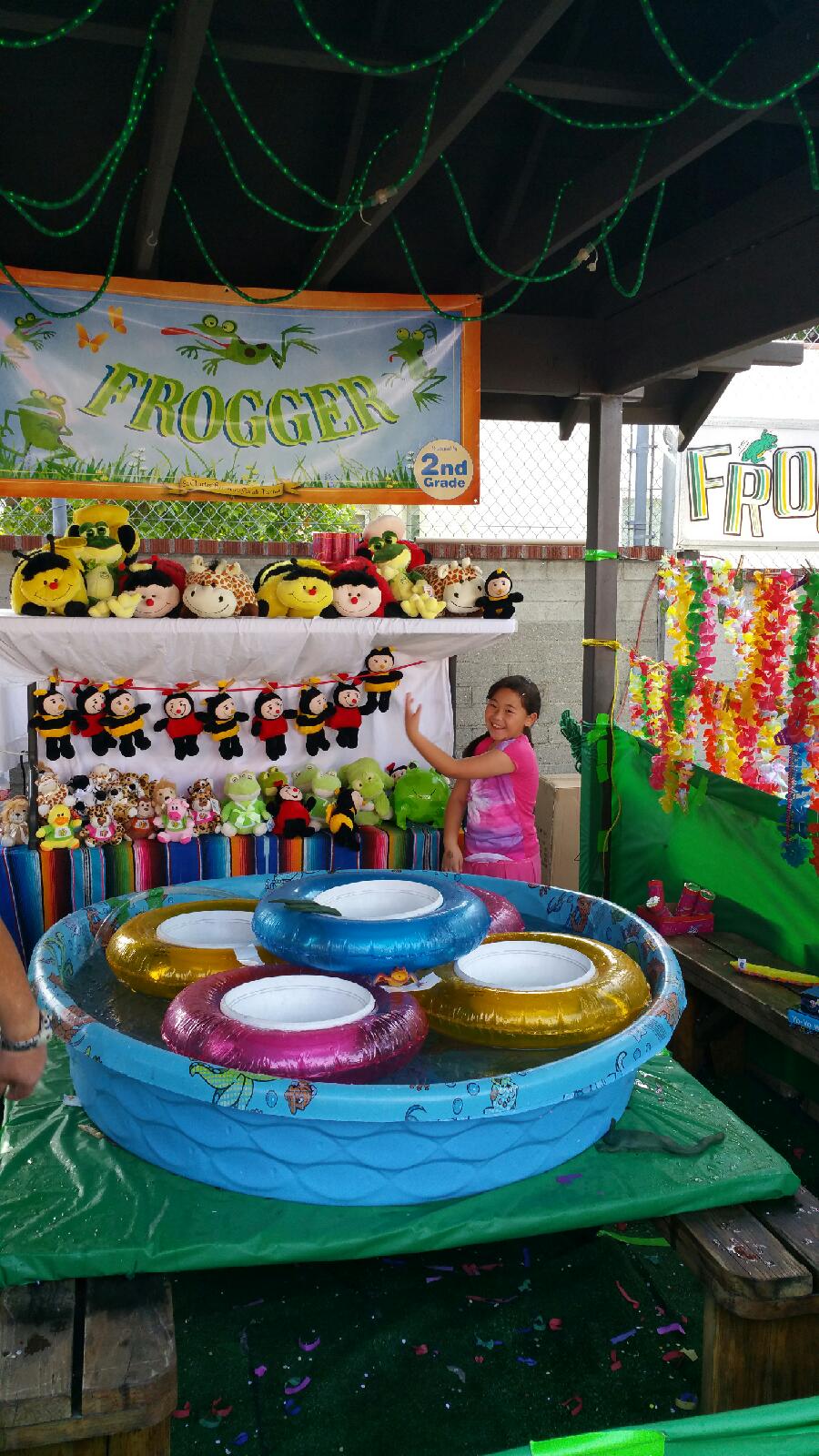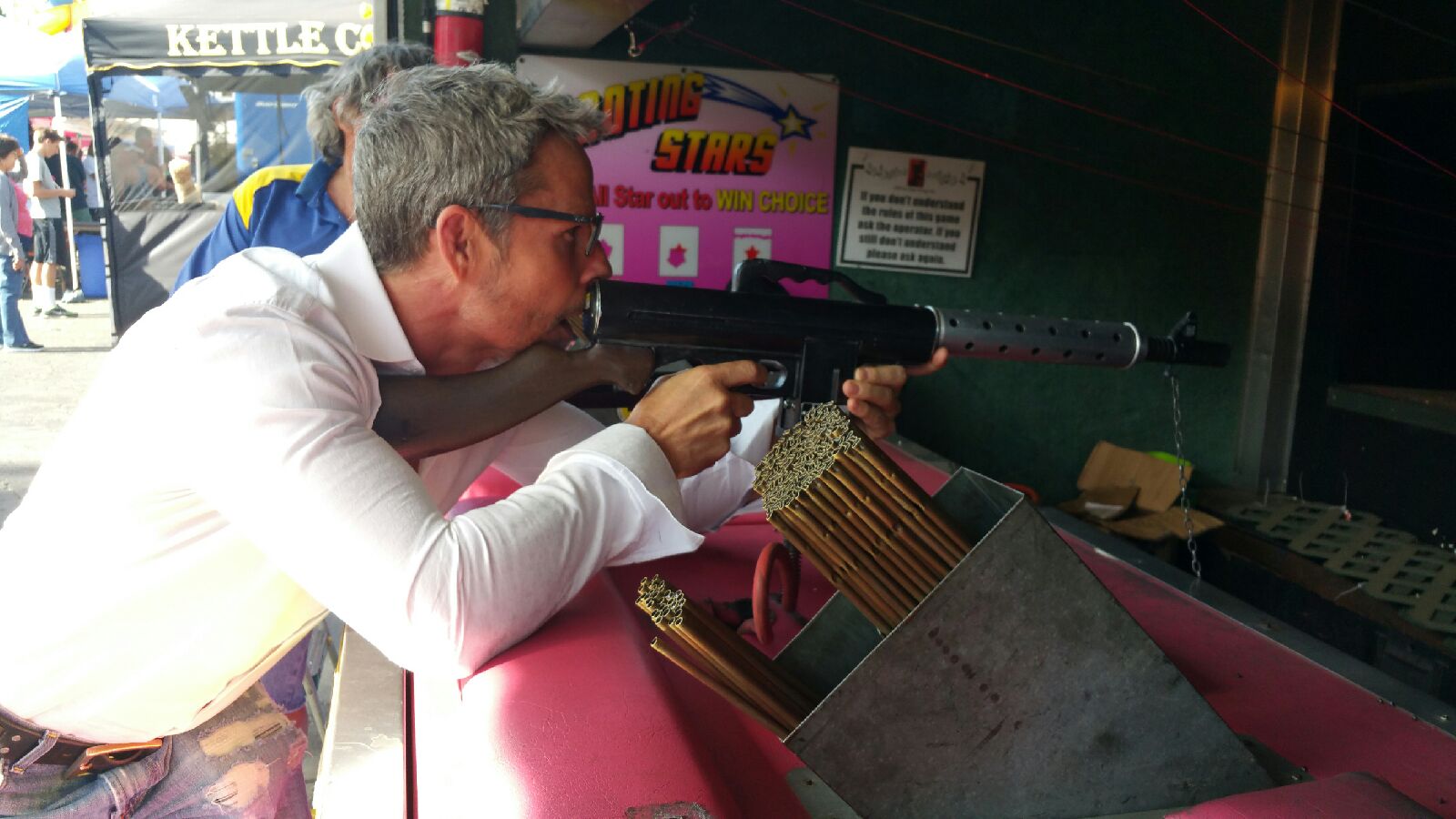 IT'S ALWAYS SUNNY IN PHILADELPHIA Week 1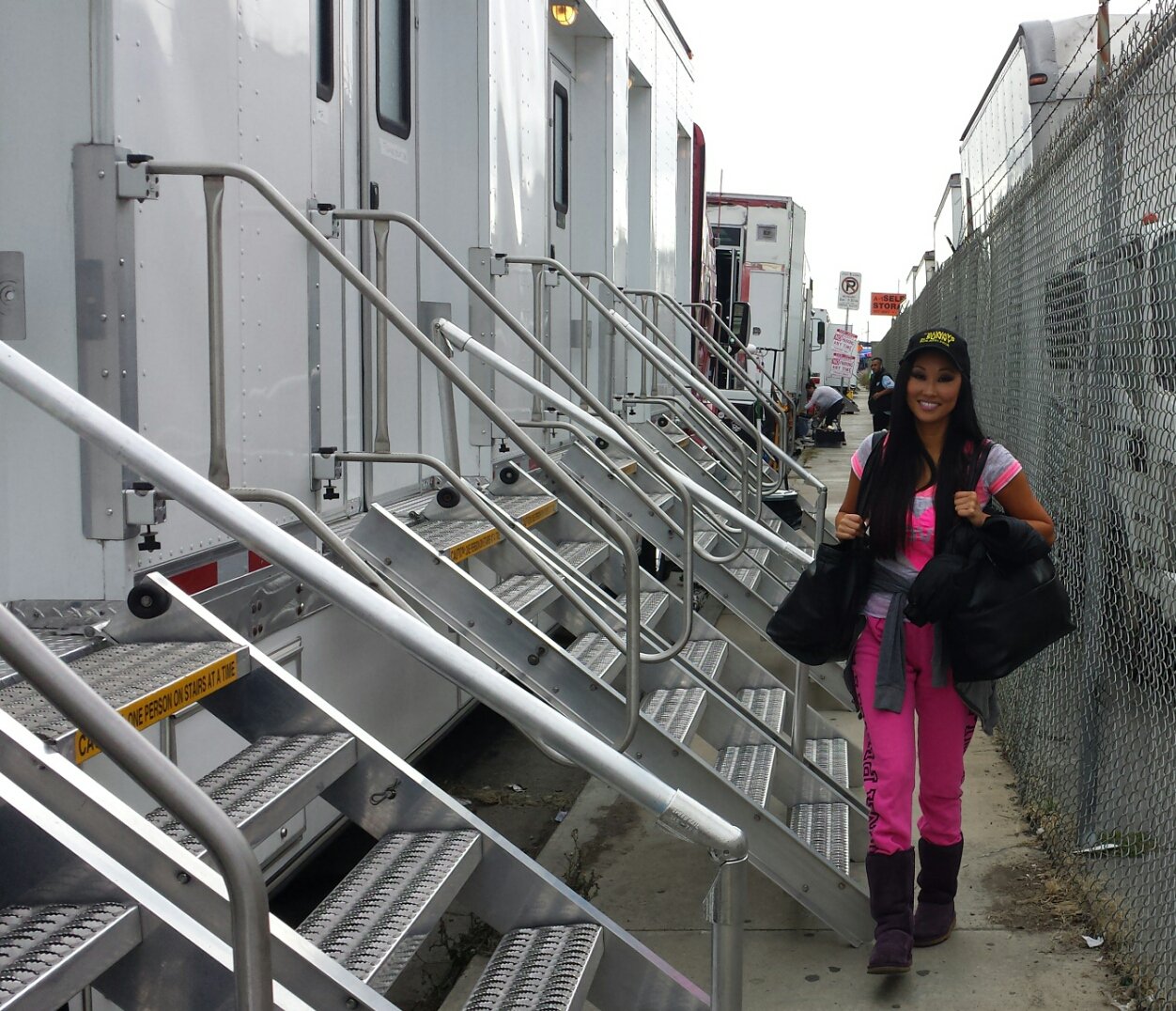 April 2nd
This past week was my first week on the show "It's Always Sunny in Philadelphia". I can't talk about the episode or character until after it airs later this season, but I can say what a wonderful cast and crew this show has! It has been such a pleasure working with them. They have been together for 11 seasons, so it is like a family. And there have even been marriages between cast and crew on this lovable sitcom!

Here I am with Danny DiVito whom I've worked with once before. He is hilarious. And in the makeup trailer being goofy. We are on location this week so I'm walking to my trailer in another pic. Next week we shoot on the FOX lot here in Los Angeles.

More to come next week, folks!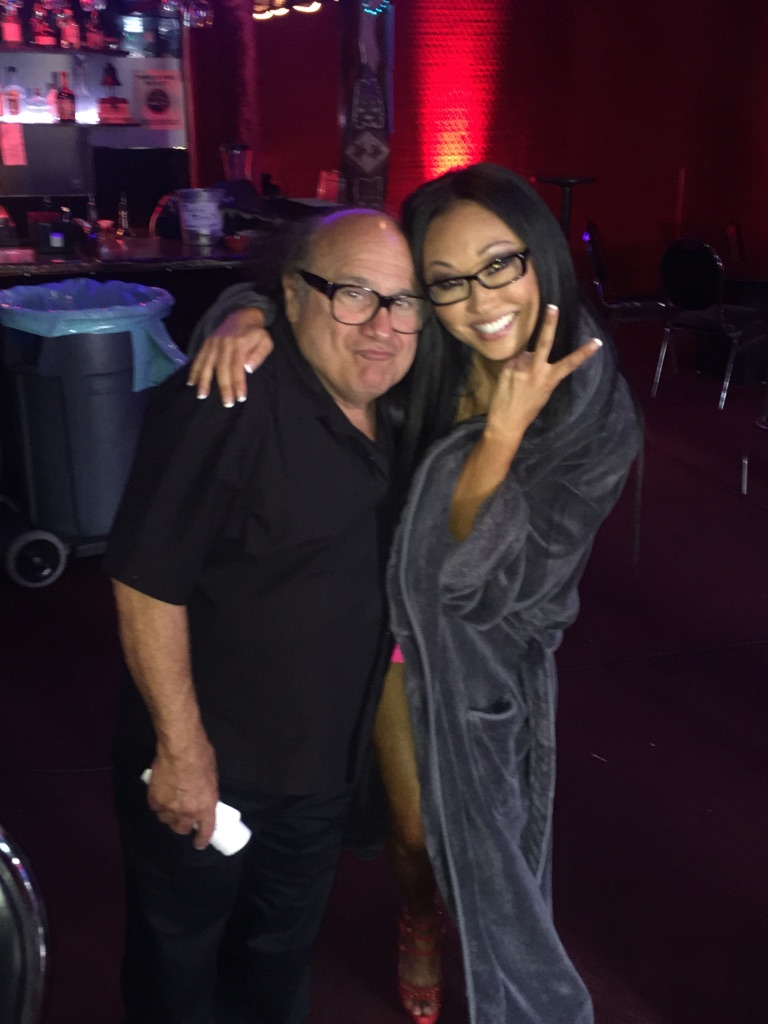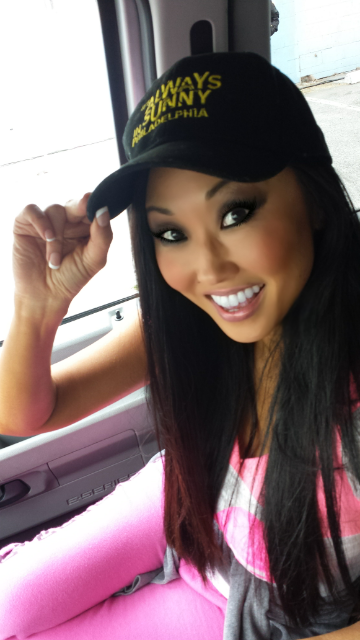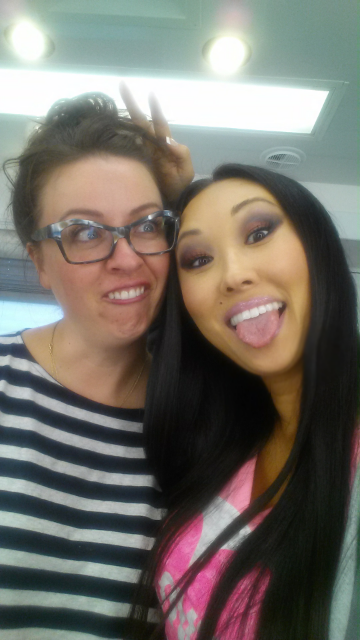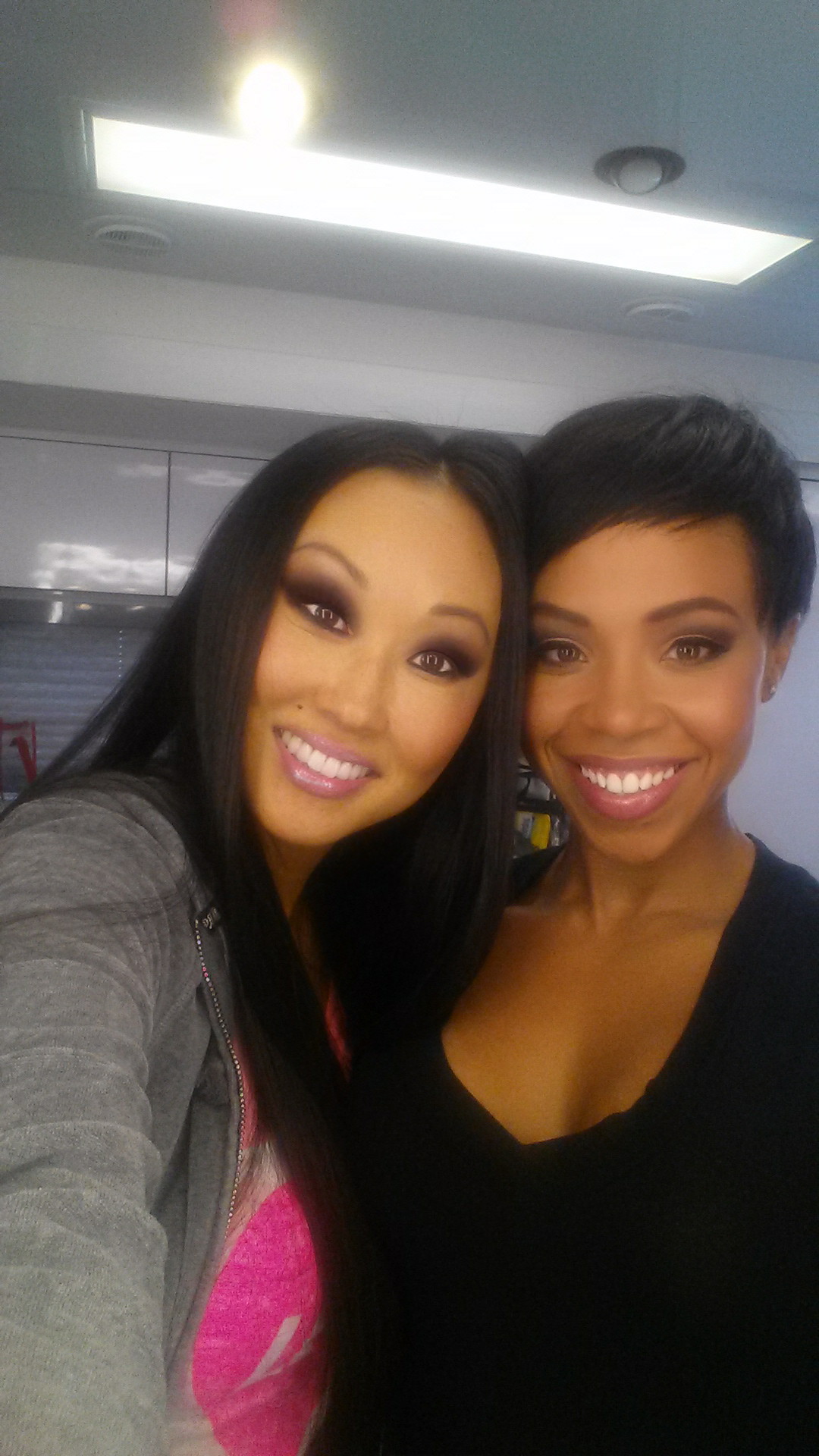 SWIMSUIT CENTERFOLD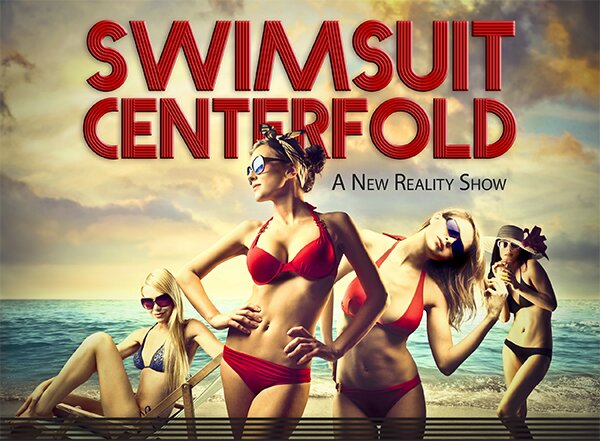 April 1st
I will be traveling this next month to Cancun, Mexico to be a judge on a new reality show, Swimsuit Centerfold. Get ready for the world's hottest new reality TV show and swimsuit pageant! I'll be judging 50 of the world's most beautiful models who will compete to be crowned Miss Swimsuit Centerfold. Set in the heart of tropical Cancun, Swimsuit Centerfold follows contestants through all of the adventures, thrills, and drama of this high stakes beauty competition. I'll be in Cancun for awhile shooting this new series with the amazing Katarina Van Derham. www.swimsuitcenterfold.com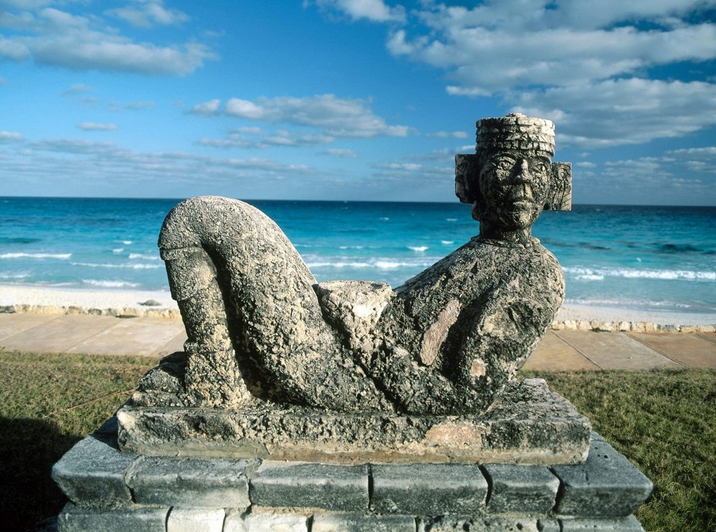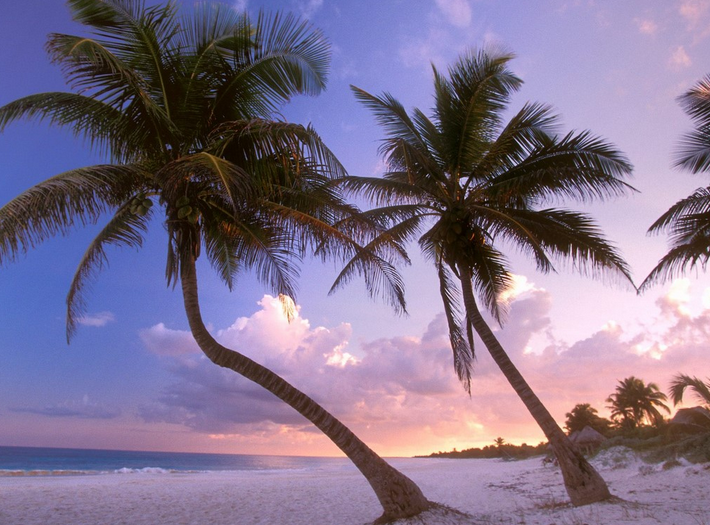 A 1000 Ways to Die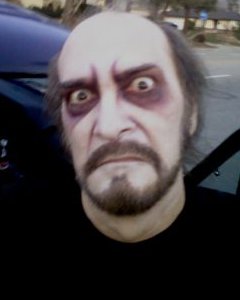 APRIL 2nd
Here is Paul, my web guy, dressed for his role in, "1000 Ways to Die", the show on SPIKE TV. I also seem to remember a book entitled, "The Fortean Times Book of Strange Deaths" which also describes odd and random ways to shove off this mort and coil. It also featured several photos like this one.

On a completely random note, today I cracked a molar eating cereal. Paul said, "Well, you finally bit off more than you can chew." As I am in the middle of filming "It's Always Sunny in Philadelphia", this is more than a slight inconvenience. And I will indeed be chewing far less this week, lol.
DESK.COM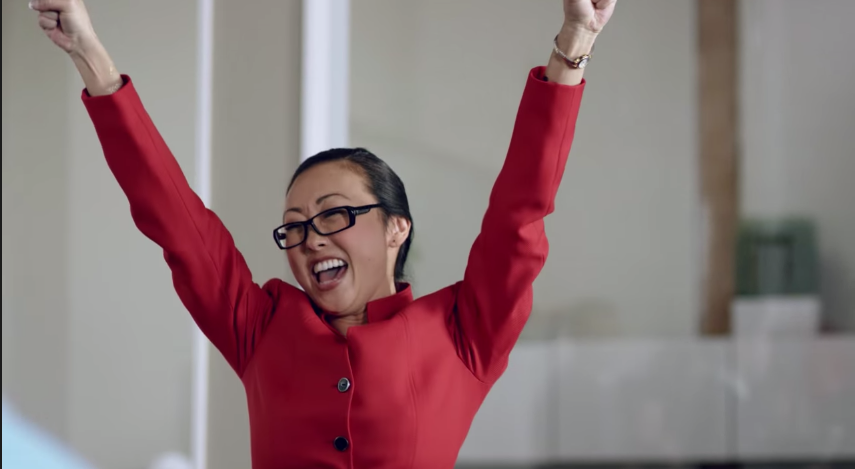 April 1st
Today, four spots for Desk.com came out that I shot earlier this year in San Francisco. I had signed a non-disclosure, so I wasn't able to say what it was that I was doing up there. Now, I can actually begin to post some pics from the shoot. Also, if you'd like to see my favorites, visit You Tube:

https://www.youtube.com/watch?v=IyCpjkOKNyc

https://www.youtube.com/watch?v=QcqsjMM4o88

I had the opportunity to work with a stellar cast and crew on this project and am very thankful indeed!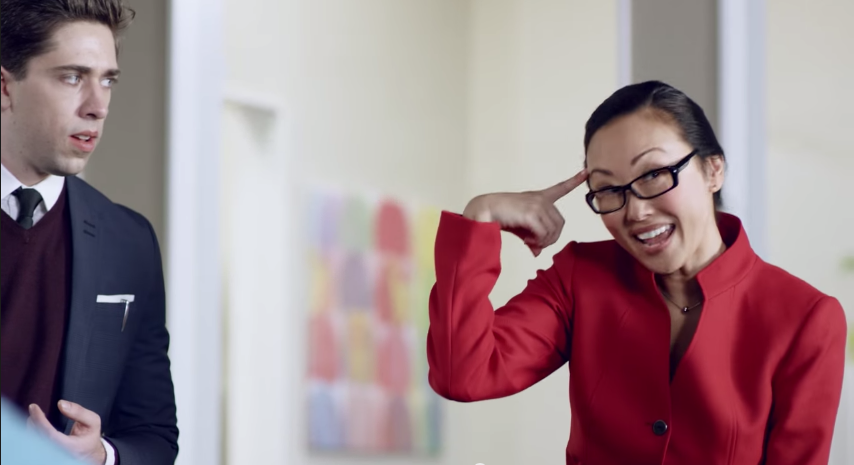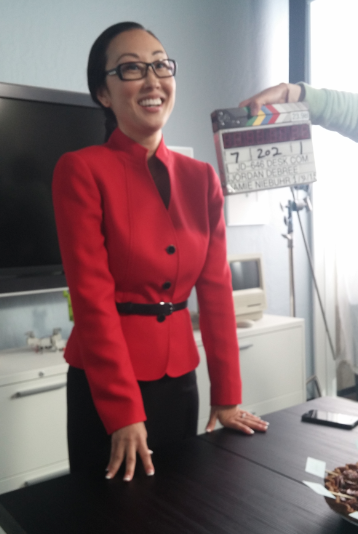 OOPS, I FORGOT ONE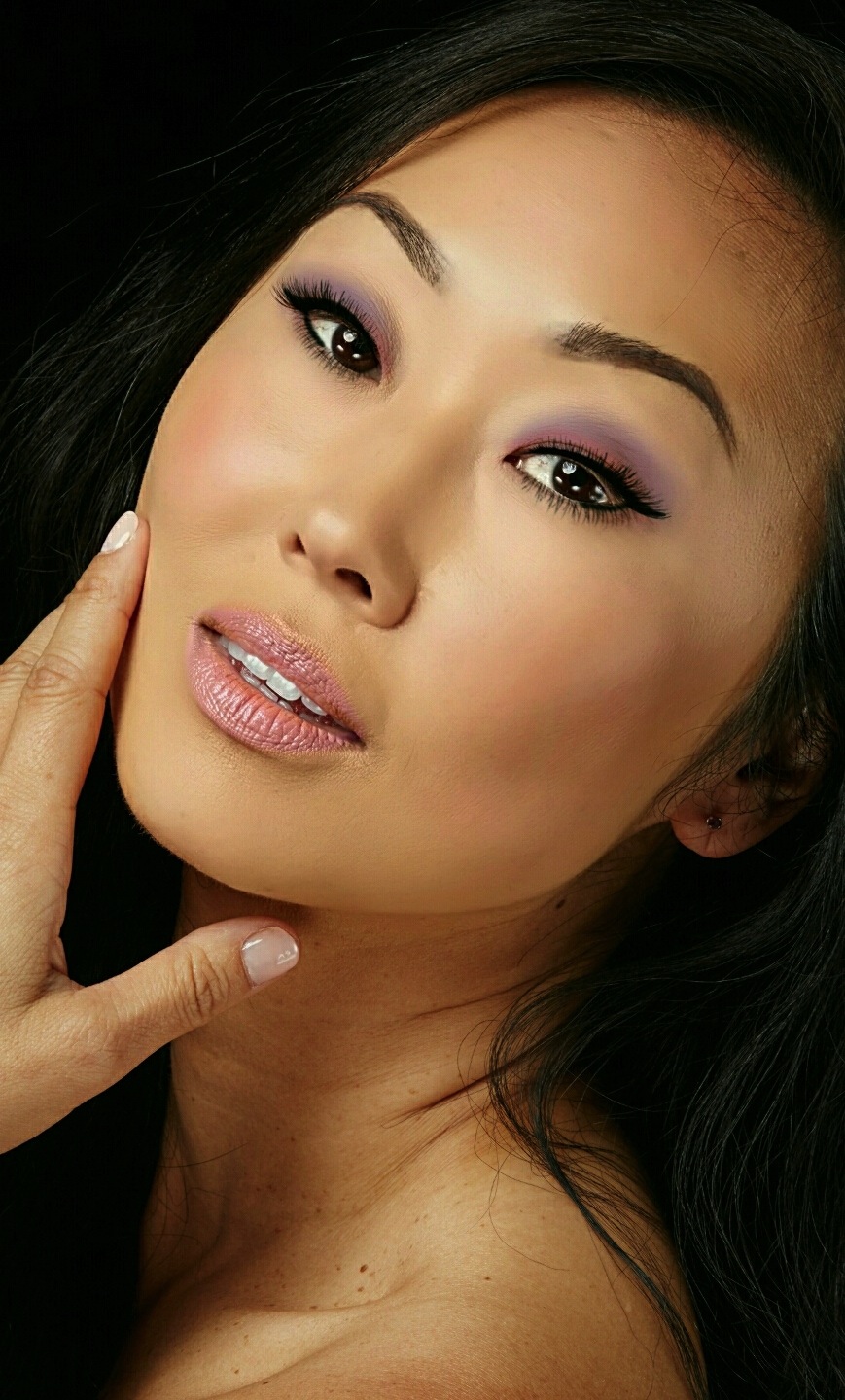 MARCH 30th
Oops, I forgot an image from Errisson's shoot. Here it is!

ERRISSON PHOTO SHOOT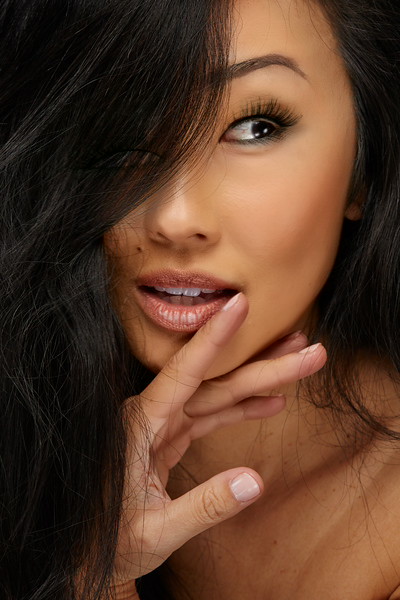 MARCH 29th
Here are some images from the aforementioned photo shoot with Errisson Lawrence. He's a great photographer and he has an exceptionally talented crew. I always enjoy working with him as he is so laid back and easy going, yet professional, focused and dedicated. Thank you again Errisson for everything!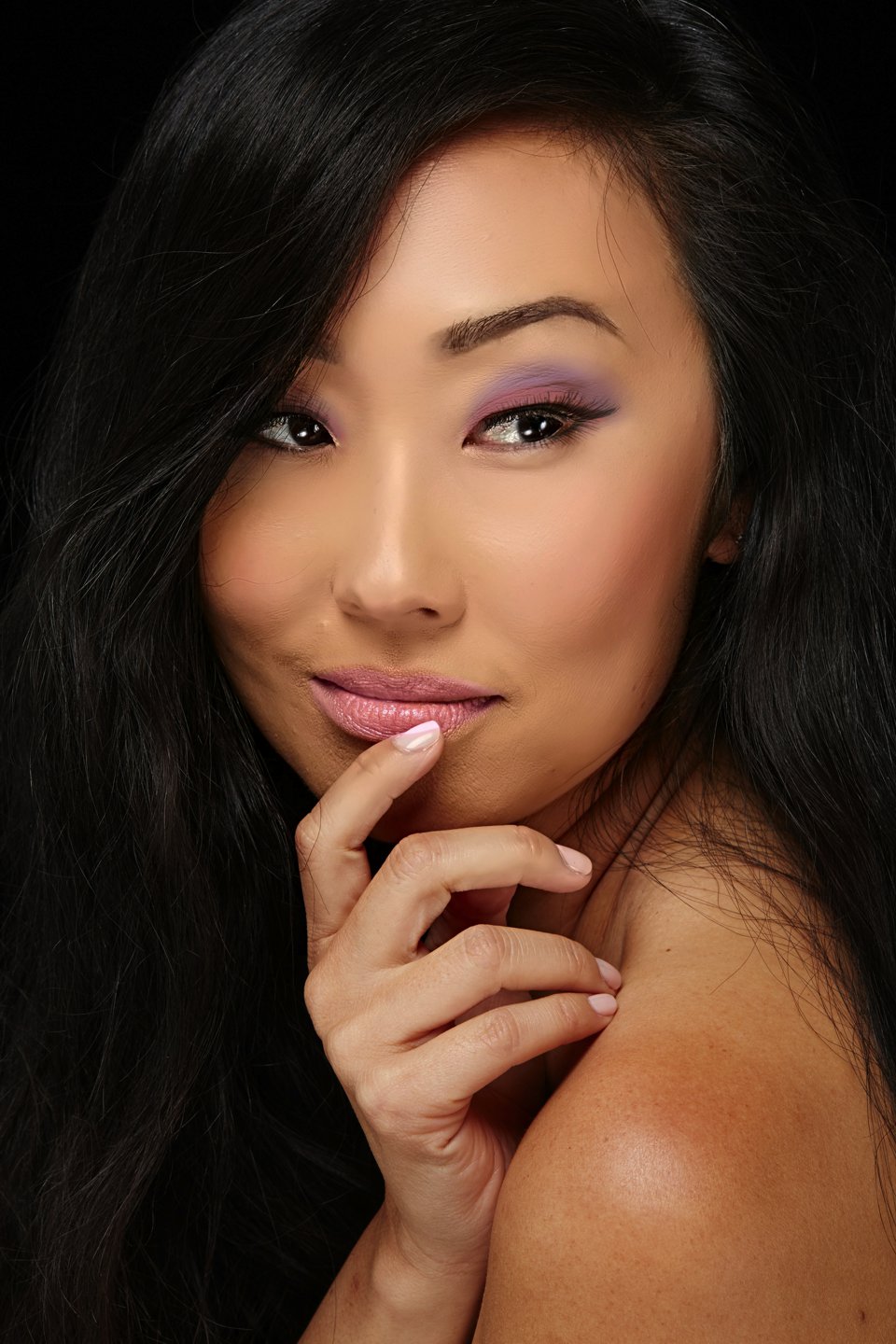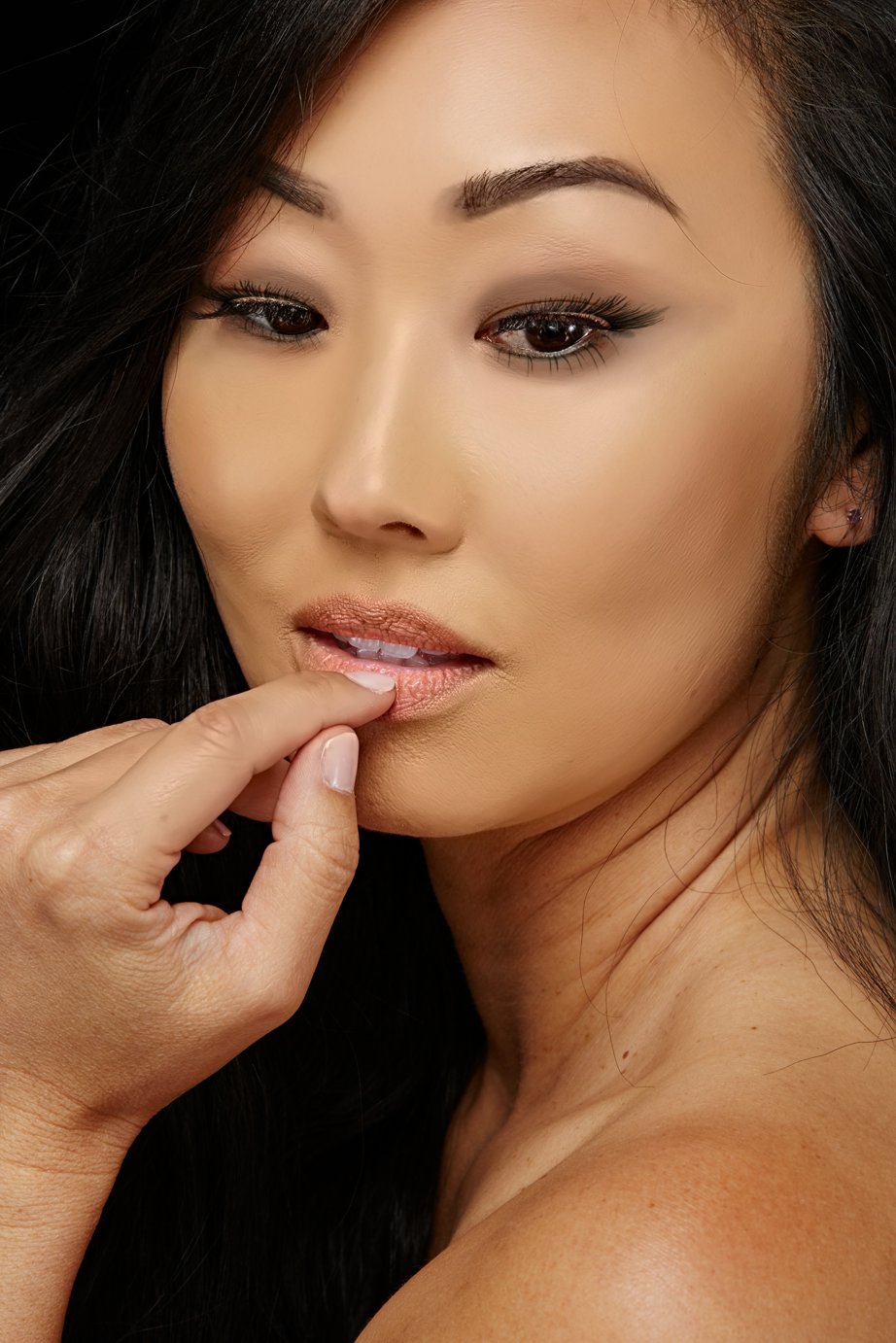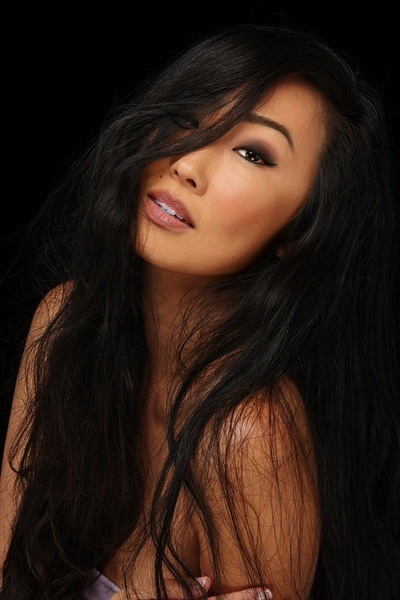 click me!
THERE'S A LOT MORE --- LET'S KEEP GOING!
click me!